Harkins hails young Scots in Sheffield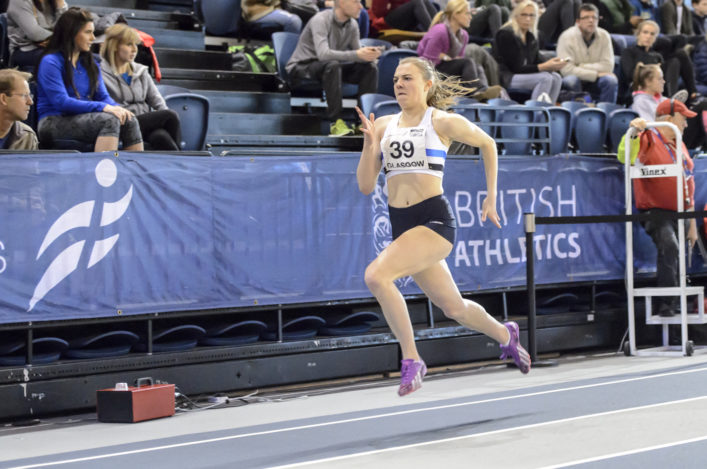 Alisha Rees – broke two Scottish U20 Records in Sheffield (pictured by Bobby Gavin)
England Athletics website report
Scottish athletes took Sheffield by storm again at the weekend – with a series of superb performances at the England Athletics Age Group Champs.
Pride of place is reserved for sprinter Alisha Rees as she broke not one but two Scottish U20 Records over 60m and 200m – with her 23.79 run now fourth on the Scottish all-time list indoors.
There were a string of medals and PBs, too, and Giffnock North AAC's Adam Clayton also came up with an Scottish U17 Record in the sprints, as he clocked 6.90 in the 60m final.
Scanning results, we're pretty certain the tally was 21 medals overall; with five gold, nine silver and seven bronze.
'I was in Sheffield for the England Athletics Age Group Champs and was really encouraged by performances by many young Scottish athletes,' said Rodger Harkins, Performance Director with scottishathletics.
'We commend every single athlete (and their coach) who made the effort to compete at British level and dip their toe into that deeper competition.
'A number of athletes won medals and came up with PB performances in a championship event. That is a really good sign and reflects a lot of hard work being done by coaches and by clubs.
'We're seeing impressions on the all-time lists at Age Group level on a regular basis by current athletes and that is good for the sport at the moment.'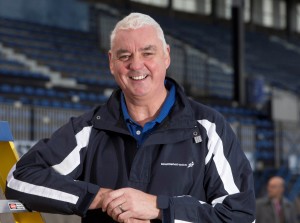 Rodger Harkins – praise for athletes, coaches and clubs
Let's look first at the U20 Age Group.
Alisha Rees won gold in the 200m with that run of 23.79 in the final and that added to a bronze already achieved in the 60m final. Her time then was 7.45 but a 7.43 run in the semi-final will be a new U20 Record for 60m, subject to the usual ratification process.
Endurance athlete Jemma Reekie had quite a weekend, too. Jemma picked up silver in the 800m with 2.09.03 and then won gold in the 1500m final with a run of 4.27.97.
Jill Cherry made it three Scottish golds in the U20 Women's division with her 400m success, as she clocked 55.65 to win.
Adding to the medal collection were triple jumpers Shona Ross and Kara Dobbie. Shona took the silver with 11.71m and Kara the bronze with 11.14mm.
Among the U20 Men, there was a silver for Fraser Angus over 200m with 21.60. There was a Scottish 2-3 in the 800m final as Ben Greenwood took the silver in 1.49.73 and Cameron Steven landed bronze with 1.51.62.
+++
In the U17 Men's champs there were a number of top Scottish performances.
Adam Clayton took a silver medal in the 60m with that 6.90 run bettering the previous Scottish U17 Record held by Cameron Tindle. Adam also came up with gold in the 200m final with 22.22.
Joel McFarlane claimed a long jump bronze with 6.53m and Ben Wightman took a silver in the shot with 14.60m.
Sprinter Lauren Greig won bronze in the U17 Women's 200m with 25.21 and there was a silver for Olivia Vareille in the 800m with 2.12.27. Laura Ferguson added to the medal haul with silver in the 1500m with 4.50.48.
+++
The U15 Boys Champs saw more medals headed back to Scotland.
Sol Stewart maintained the sprints theme of the weekend with a bronze in the 200m with 23.56. There was a silver in the 800m Murray Fotheringham with 2.03.47.
Reuben Nairne, competing in three events, took the gold in the pole vault with 3.25m. And there was a bronze in that event, too, for Reuben McFarlane.
Tags: Adam Clayton, Alisha Rees, England Athletics Age Group Champs, Jemma Reekie, Jill Cherry, Reuben Nairne, Rodger Harkins