Haile returns to Glasgow – and Pavey, too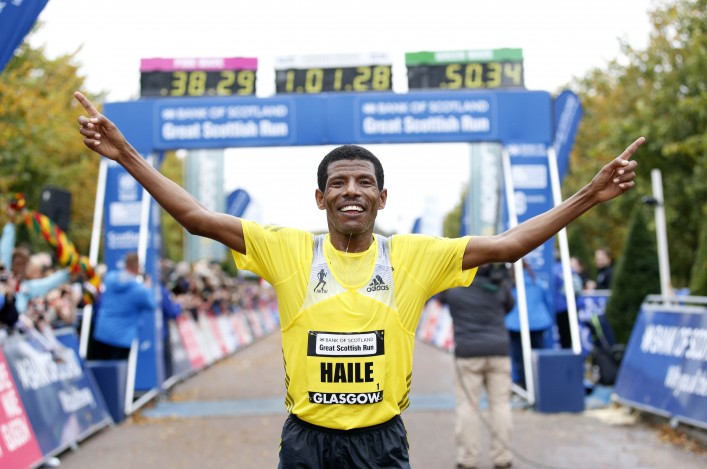 Haile Gebrselassie, the greatest distance runner of all-time, is to return to the event in which he made a record-breaking debut last year – the Bank of Scotland Great Scottish Run in Glasgow on Sunday 5 October.
The 41-year-old Ethiopian won last year's race in 61.09, the fastest time ever recorded in Scotland for the half marathon distance and also a world age-group record.
'I have fantastic memories of my first race in Scotland and I am delighted to be coming back to race in the Bank of Scotland Great Scottish Run for a second time,' said Gebrselassie.
'It's a great race with a great atmosphere and the organisation is superb.'
The 5ft 4in East African phenomenon known as 'the Little Emperor' has broken an incredible 27 world records, at distances ranging from two miles to the 26.2 miles of the full marathon during the course of a trailblazing career in which he has also won two Olympic titles and four World Championship gold medals at 10,000m.
Asked whether he might be able to improve his Scottish all-comers' half marathon record in Glasgow on 5 October, Gebrselassie replied:  'Who knows? The weather was not bad last year but there was a little bit of rain towards the end and it was a little bit windy in another part.
'So maybe, with better weather this year, I can run faster. What was important last year was not the time but to win the race. It was my first ever race in Scotland and I wanted to win it.
'I had a problem earlier this year – I had a small surgery to my knee – but that is gone now.  My training is going well. When you are an older athlete you have to be serious in your training and in how you take your rest and how you are preparing, but I am still doing well at 41.'
That is the age that Jo Pavey will be when she lines up for the women's race in the Bank of Scotland Great Scottish Run – returning to the city where she won a 5,000m bronze medal at the Commonwealth Games as a 40-year-old mother of two.
'Age does not matter,' insisted Gebrselassie.  'It is just a number. Jo Pavey showed that when she won her bronze medal in Glasgow and then won the European 10,000m title in Zurich. If you ask her, she will say it was not her feet or her legs that won her those medals; it was her heart.
'I think what Jo has done this summer is amazing.  Some athletes complain at the age of 30 or 31 that they are getting tired. Jo is a good example of what you can do when you get older – and maybe myself, too.
'Running is more than just competing. It is more than just winning. It is a passion. That is why I like running in races like the Great Scottish Run and the other Great Run races around the world – the Great North Run in Newcastle, the Great Manchester Run, the Great Ethiopian Run and so on.
'The organisation is perfect and the races are full of many people who have that passion for running. Running every day, or most days, helps them with their lives. It is the same for me.'
The Bank of Scotland Great Scottish Run is still open for entry via the website
Twitter @GreatScotRun using #greatscottishrun
Tags: