Grangemouth diary . . . Ferguson, Hunter, O'Hara, Nelson, Wright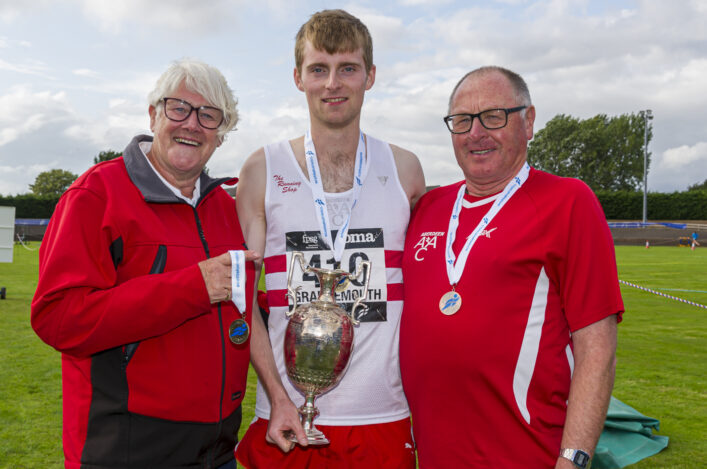 Michael Ferguson is joined by coaches Joyce and Ken Hogg after his 1500m gold at Grangemouth on Sunday (photo by Bobby Gavin)
FPSG Seniors and U17s – Sunday review
Michael Ferguson had every reason to savour the moment when he stepped onto the top of the podium at the FPSG Seniors Championships and signed our 'history book' as the 2019 Men's 1500m champion after a thrilling track win.
A few moments earlier, the Scotland international had watched as his girlfriend, Roisin Harrison, take victory in the Women's 200m final with a PB of 24.06.
Does that not make them, officially, an athletics 'golden couple'?
Adding further resonance to a great afternoon for Aberdeen AAC, however, was the fact that Michael's well-kent coaches, Joyce and Ken Hogg, are due to retire in the next couple of weeks.
'I'm thrilled to win gold for myself and also for Ken and Joyce,' said Michael.
'They have made a huge contribution to athletics in Grampian and Aberdeen AAC so it is nice for them to receive the coach medal honour.
'If you look back at the athletes they have coached you would find Scotland internationals, GB internationals, a European Champion (Rhona Auckland in the Euro Cross), National champions and countless other medal winners.
'I think it is testament to their hard work and coaching that there's a group of us now into our 20s who started out at 12 or 13 years of age. They have helped keep athletes in the sport.
'They have even developed 'tomorrow's coaches' because guys like James Joy and Eoghan MacNamara at Aberdeen AAC have learned so much from them. James is now the club Coaching Co-ordinator.
'From my own point of view, they have been hugely supportive for ten years so to win a Senior title under their charge is special – after a few dodgy championship performances down the years!'
+++
Still on the coach medal theme, there was another special moment earlier on Sunday in the Women's Hammer.
Rachel Hunter is ranked No 3 in Britain this season as she makes a successful comeback following a couple of difficult years.
The North Ayrshire AAC athlete delivered on her status as favourite to take the gold and win what is her second Scottish Senior gold. And that ensured a winning coach medal for dad Henry.
'He's never won a single medal in his life in anything,' grinned Rachel. 'He did athletics as a kid but not to any great level. But he has put in so much work to learn and grow as a coach and I'm thrilled that he receives one alongside my own Scottish Championship gold.
'It is a lovely touch from scottishathletics to recognise coaches in this way and I wouldn't be in the sport if it wasn't for my coach!'
+++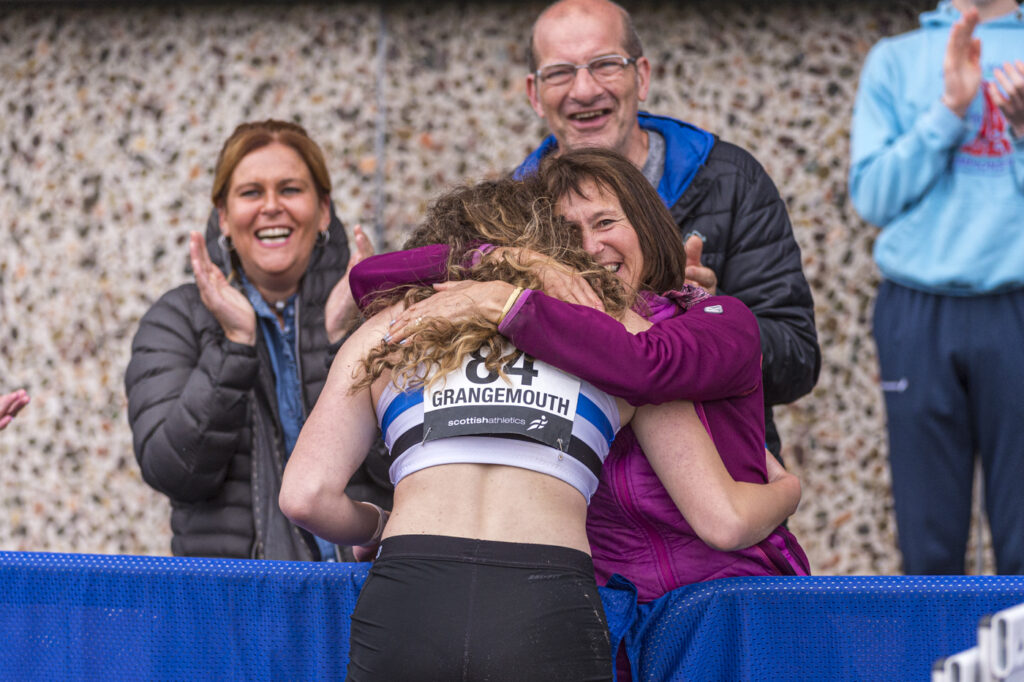 Photo by Bobby Gavin
The medals keep coming for the group coached by jumps specialist Linda Nicholson.
Stephen Mackenzie and Ellie O'Hara have become serial winners in that regard, with Stephen travelling from Ullapool to Grangemouth to win silver in the Senior Men's long jump on Sunday.
But it was Ellie's 6.07m long jump which caught the eye as she went beyond 6.00m for the first time in her final round jump on her way to double U17 gold.
Photographer Bobby Gavin captured the moment (he does it so often it's not lucky) when Ellie raced over to thank her coach.
'This is why we coach . . . rewards for hard work and dedication, and precious moments shared between coach, athletes and their families,' tweeted Linda.
+++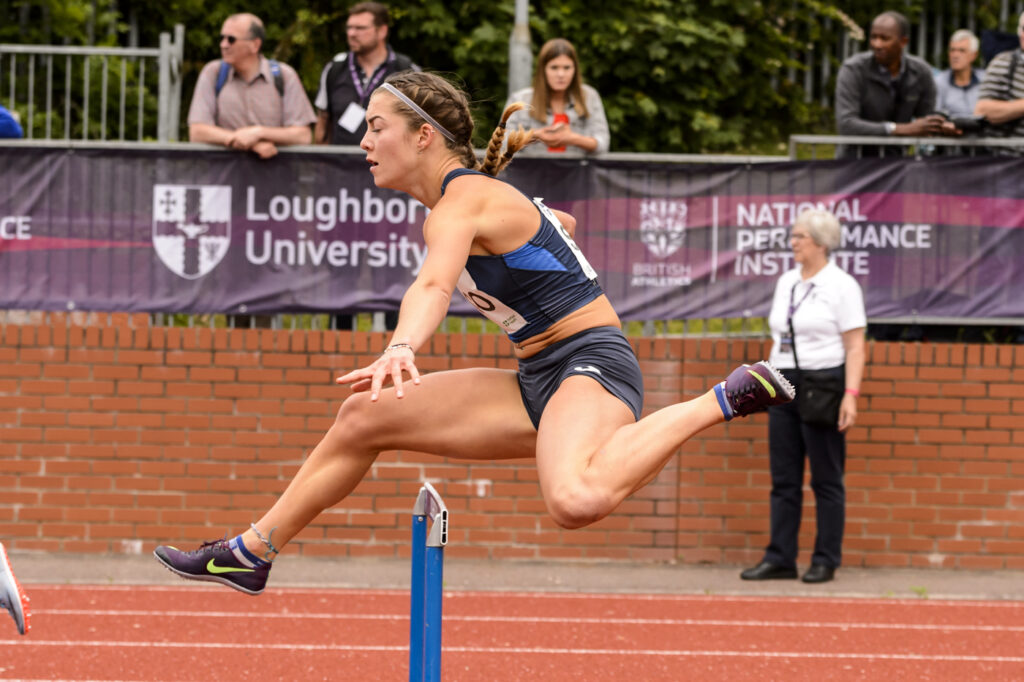 Anna Nelson in action for Scotland at Loughborough earlier this year
Anna Nelson raced for Scotland in Manchester in the 400m Hurdles last midweek and had hoped to contend for the Senior title at Grangemouth.
By the time she arrived at the FPSG Seniors, however, an ankle injury was in a boot and Anna instead made a surprise debut in the commentary box.
Connor Henderson has made a big contribution in this regard in the past couple of years and Anna's promising start drew good feedback from those at Grangemouth.
What is it about 400m Hurdlers? Hopefully both will back on the microphone at some stage during the Indoor Season in 2020.
+++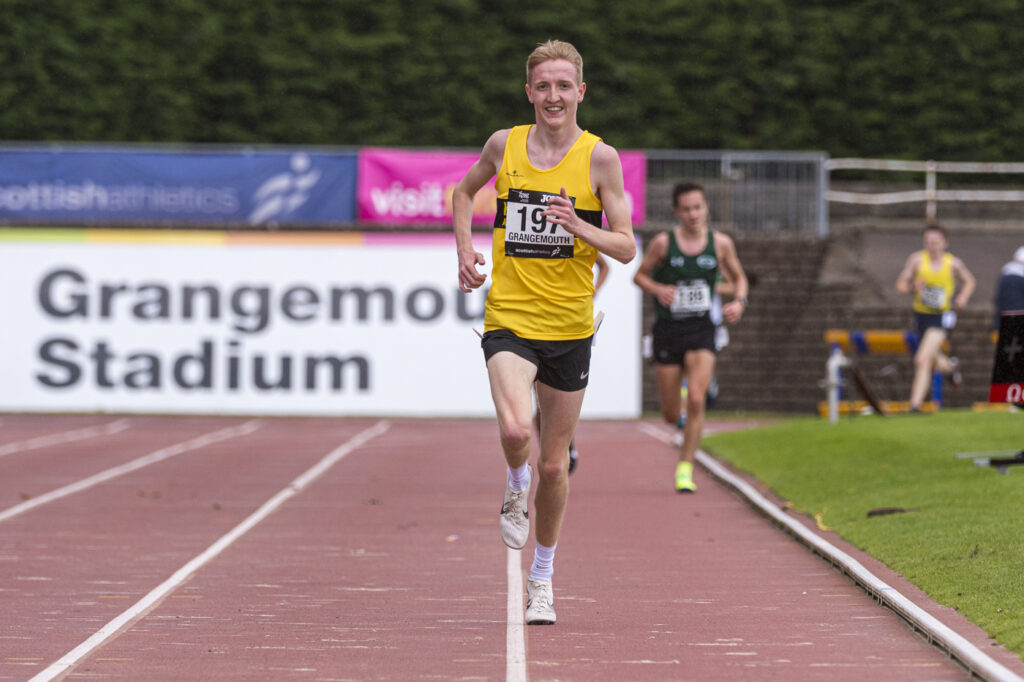 Smiles better . . . Cameron Wright on his way to the 5000m gold at Grangemouth on Sunday after double success the week before at U20 level (photo by Bobby Gavin)
If Cameron Wright of Kilbarchan AAC turns up at Grangemouth next weekend, someone may well present him with a medal simply out of habit.
Three races in eight days saw him make the trek to the top of the podium three times to collect gold in the U20 1500m steeplechase, the U20 1500m and then, on Sunday, the U20 5000m.
We were then duly reminded that Cameron also won the Scottish U20 3000m title earlier this summer . . . so now he is at four-in-a-row.
All this after the teenager, who is coached by Robert Hawkins, was out of action for a decent slice of the winter indoor and XC season through injury.
It should be interesting to watch his development over the next couple of years for this 4J Studios National Academy athlete.

Tags: Aberdeen AAC, Anna Nelson, Cameron Wright, Connor Henderson, Ellie O'Hara, FPSG Seniors and U17s, Grangemouth, Linda Nicholson, Michael Ferguson, Rachel Hunter