FPSG Seniors and U17s – Sunday review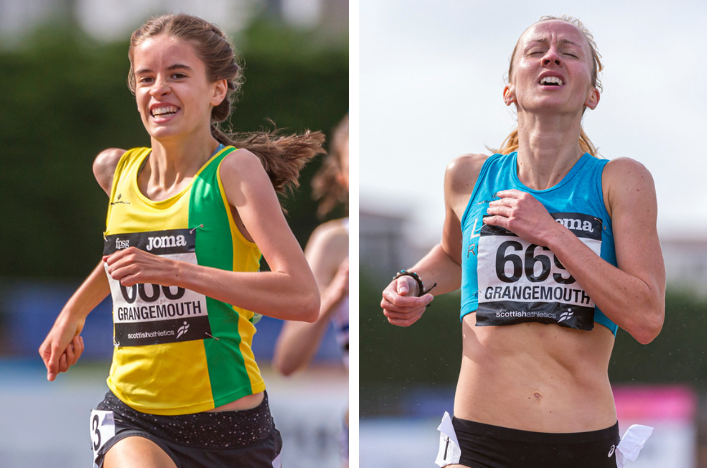 Sarah Calvert takes Seniors gold at 800m – at the age of 18 – but Sarah Inglis just misses the prize pot at 1500m (Photos by Bobby Gavin
*Report 'provisional' and still subject to further scrutiny! Apologies for any omissions or errors.
Nick Percy has been making the journey from the Isle of Wight to the Scottish Championships for nine years.
So he was more than happy to accept a half-share of the £2000 prize pot on offer at the FPSG Seniors after winning his fourth discus gold.
Percy joined high jumper Nikki Manson in hitting the standards asked by scottishathletics for the bounty when he threw out to 59.92m – with the prize pot at 59m for the men's discus.
'I made it with a little to spare and it was nice to do it again after winning the full pot last year late on the Sunday afternoon,' said Nick.
'I'll always support these champs regardless of whether there is prize-money or not.
'We've been coming for nine years now and I love the welcome and the atmosphere – the scottishathletics Officials are great. We will stay overnight in Burnley and then head back to Isle of Wight early on Monday morning.'
The 800m finals were claimed by two GB internationals – as Neil Gourley and U20 Euro finalist, Sarah Calvert, topped the podium.
Shetland athlete Seumas Mackay made a big contribution to the Men's race, leading it out for almost 600m before Gourley cruised ahead to win in 1.48.79. The silver and bronze medals were settled late with Stephen Mackay coming through for second with Ewan Dyer in third.
Calvert clocked 2.08.37 with her kick at 650m proving decisive to pull ahead of Philippa Millage and third-placed Hannah Cameron.
'I was last in this final last year when I was 17 and I didn't come here really thinking I could win it – but I'm happy with the way it turned out,' said Sarah.
Sarah Inglis wasn't quite so happy. The Women's 1500m winner clocked 4.13.42 to miss out on a slice of the prize pot by just 0.42 seconds as she just failed to hit  the required 4.13.00 standard.
In blustery conditions, it was a superb performance – arguably the best of the weekend – as Inglis went clear of the field inside the opening 100m and didn't let up much after a 63-second first lap.
'I'm gutted in many ways to miss out on some money but I have to be pleased to get so close to my PB (4.11),' said Sarah, nowadays based in Vancouver.
'There is a good 1500m run coming but at the moment this just works as setting me up for the 5000m at the British Champs in Birmingham.'
There was also a terrific men's 5000m final. Welsh athlete, Kristian Jones of Dundee Hawkhill, won it in 14.15.66 in race which saw no fewer than eight men break 15 minutes – in less-than-perfect conditions.
Central AC's Jamie Crowe took silver with Grant Sheldon of Cambuslang in third.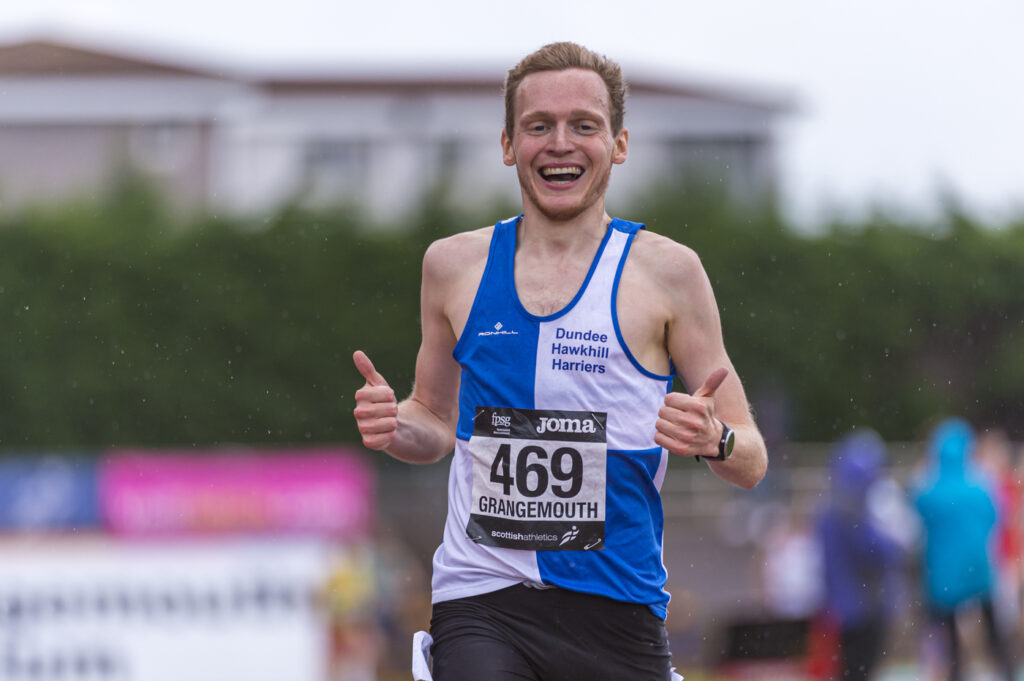 Kristian Jones crosses the line for  Men's 5000m gold in a race which saw eight men run under 15 minutes (photo by Bobby Gavin)
Scotland international Michael Ferguson won the Men's 1500m final in an exciting race which saw him time his kick just right.
And it was a special day for Aberdeen AAC with Michael being coached by Ken and Joyce Hogg, who are retiring after many years of coaching at the end of the season.
Michael's girlfriend, Roisin Harrison, added to the 'perfect day' feeling for the Aberdeen AAC duo when she topped the podium in the Women's 200m with a run of 24.06 taking her ahead of Chloe Lambert and Stacey Downie. Kilbarchan AAC's Krishawn Aitken took the Men's 200m gold.
The men's long jump had promised much and it did not disappoint.
In the end, an early jump from Che Richards – a Trinidadian athlete who is at Edinburgh Uni and is coached by John Scott – went out to 7.71m to win it.
Backing that up were Scottish GB U20 duo, Stephen Mackenzie and Alessandro Schenini. Mackenzie, after working a shift on Saturday at home in Ullapool, reached 7.53m with Alessandro in third this time in 7.46m. These two have had some terrific battles over the course of 2019.
There were top performances again from Para duo, Kayleigh Haggo and Gavin Drysdale.
Kayleigh set a new World Record in RR2 classification with 82.52 for the 400m. Gavin himself equalled his own the World Record for 400m distance in RR3 with 77.54. Margaret Newell was another Para event winner.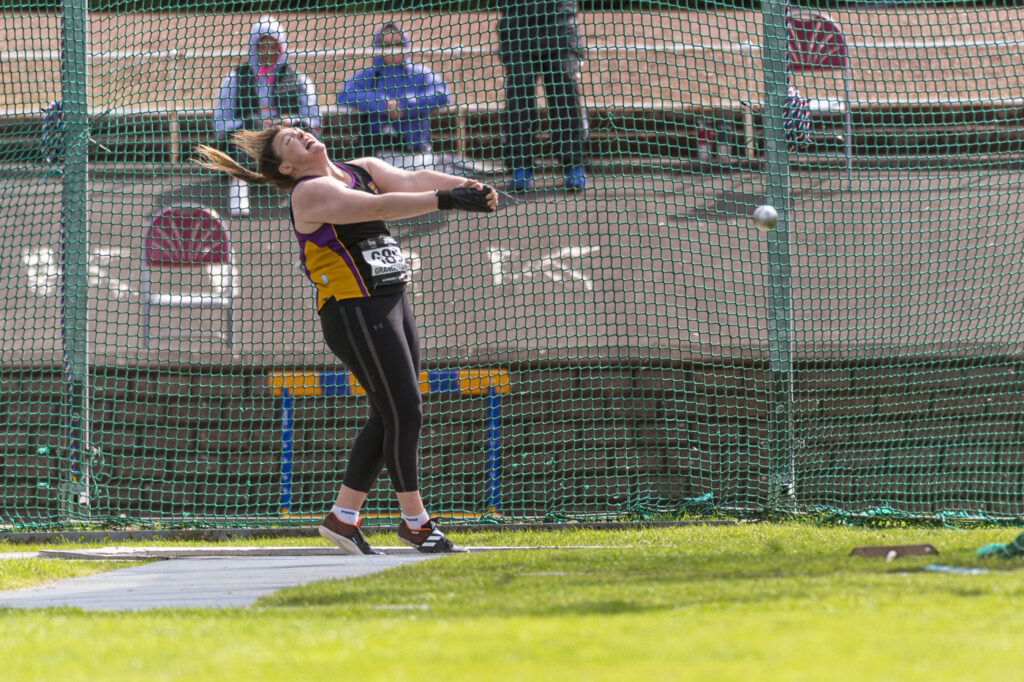 Rachel Hunter won only her second Senior Scottish title in the Hammer with a best throw of 64.01m.
'I had hoped to throw a little bit further than that and do believe I've a 65m or 66m one in there – and hopefully this season,' said the North Ayrshire AC athlete.
'But I have to look at the big picture this season. It is a comeback for me and I've won the Scottish title as well as taking second places at Loughborough and Manchester.
'I only threw 57m here last year and was second so I guess that is another sign of progress. And I'm third in the British rankings. Now we go to the British Champs and hopefully I can perform well there.'
Sarah Warnock retained her long jump title. Craig Charlton won the Men's shot put title with a throw of 14.44m – for his first title win at the age of 33.
Mhairi Patience was another first time Scottish champion in the Women's 400m hurdles.
'I switched to Edinburgh Ac this season to get a higher level of league competition and I have really enjoyed that. I'm taking a Masters degree now in Loughborough so I hope to be training with Anna Nelson, who was on the commentary today.'
Jack Lawrie, by contrast, is not stranger to the top of the podium when it comes to the Men's 400m Hurdles. He duly made it five-in-a-row in that final as he came home in 51.83.
Sprint hurdles titles were won by Katie Purves – with a PB and Andrew Murphy. In the 400m finals, there were wins for Scotland internationals Stacey Downie and Grant Plenderleith.  
Nikki Manson had won the high jump on Saturday and she duly returned to the podium with gold in the javelin competition with a throw of 40.01m.
It was the turn of the men's in terms of the high jump on Sunday and Allan Smith won it on countback after tying on 2.12m with Lewis McGuire.
Edinburgh Ac athlete Lauren Stoddart won the Women's 3000m steeplechase, with a run that went close to her PB. Hannah Lawler, another Edinburgh AC athlete, won the women's pole vault.
+++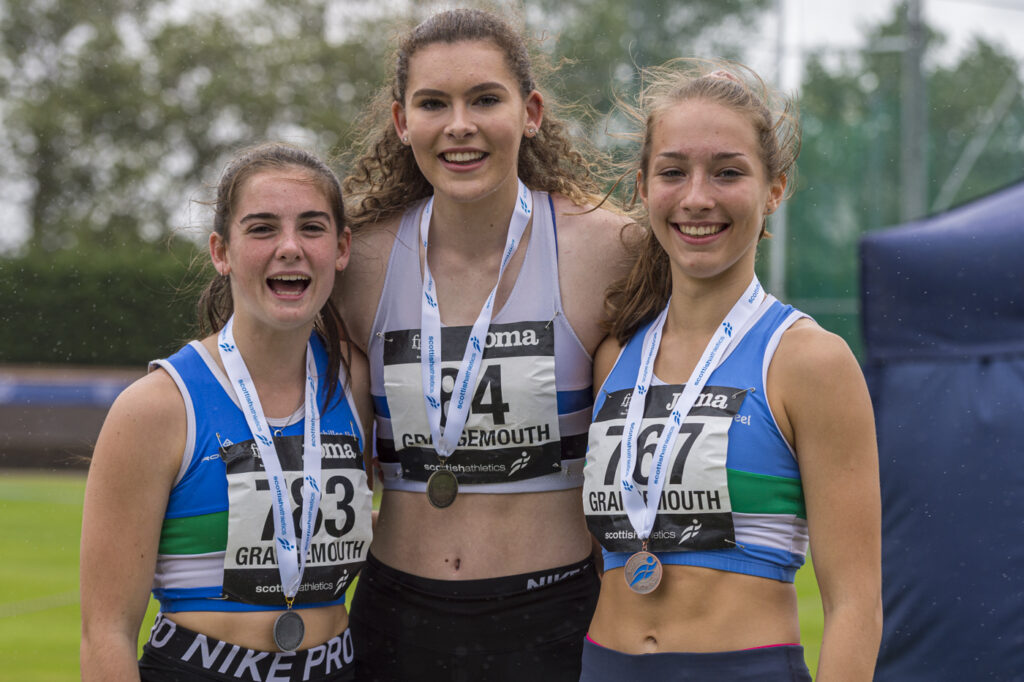 Ellie O'Hara celebrates her U17 long jump win to add to the triple jump success on Saturday (photo by Bobby Gavin)
Georgia Ledingham topped the podium with an Age Group Record and Championship Best Performance in the U17 Women's steeplechase.
The Corstorphine AAC athlete is with our 4J National Athletics Academy and came up with a superb run of  4.55.32 to take gold. Fife AC's Anna Hedley was also inside the previous CBP.
'Georgia had a good PB in the 1500m at the GAA Miler Meet a couple of weeks ago so we felt she could do well today,' said Georgia's coach, David Arnott.
'She's actually been injured and ill for much of the past few months so it's great to see her fitness and strength coming back. Georgia came into the National Academy this year and that has been very helpful because she's met other promising young athletes and learning from them.'
Kirsty Costello was another Kilbarchan athlete on top of the podium – as she won the U17 Women's Hammer with a CBP of 62.40m. And Kirsty then added the javelin gold to make it a double with 39.44m.
Isla Calvert came up with a CBP in the 800m final as she won it in 2.09.77. Edinburgh AC's Fabian Despinoy won the men's 800m in 1.57.08.
Reuben Nairne added the sprint hurdles title to his pole vault success the day before and did so again with a CBP of 13.18 seconds. Murray Fotheringham, another Giffnock North athlete, won the long jump with a CBP 7.34m leap.
Ellie O'Hara made it a double gold weekend when she won the U17 Long Jump title – and she did so with a PB leap of 6.07m. It was the Edinburgh AC athlete's first time over 6m and her delight at achieving that in her final round was clear.
Sarah Barbour took the women's pole vault with 3.23m and Pitreavie AAC's Sam Turnbull won the men's high jump with 1.82m.
The 200m finals saw Giffnock North duo Alyson Bell and Finlay Waugh claim golds in 24.64 seconds and 22.24 seconds respectively. Coirilidh Cook won the 80m Hurdles in 11.77 – with her sister, Briagh, taking the silver medal – as Airdrie's Brodie Young won the Men's 400m in 49.73.
Jack Patton of Kilbarchan AAC won the Men's 1500m final in 4.02.83 and U15 athlete, Edinburgh AC's Katie Johnson, took the women's race in 4.36.36.
*Cameron Wright made it a hat-trick of Scottish U20 tiles this season with a fine win in the 5000m final in that age group.
The Kilbarchan AAC athlete had won the U20 2000m steeplechase and 1500m gold the previous week at Grangemouth.
He followed that up with a run of 15.10 to win the U20 5000m race from Inverclyde AC's Cameron Watson. Central AC's Hamish Hickey took the bronze medal.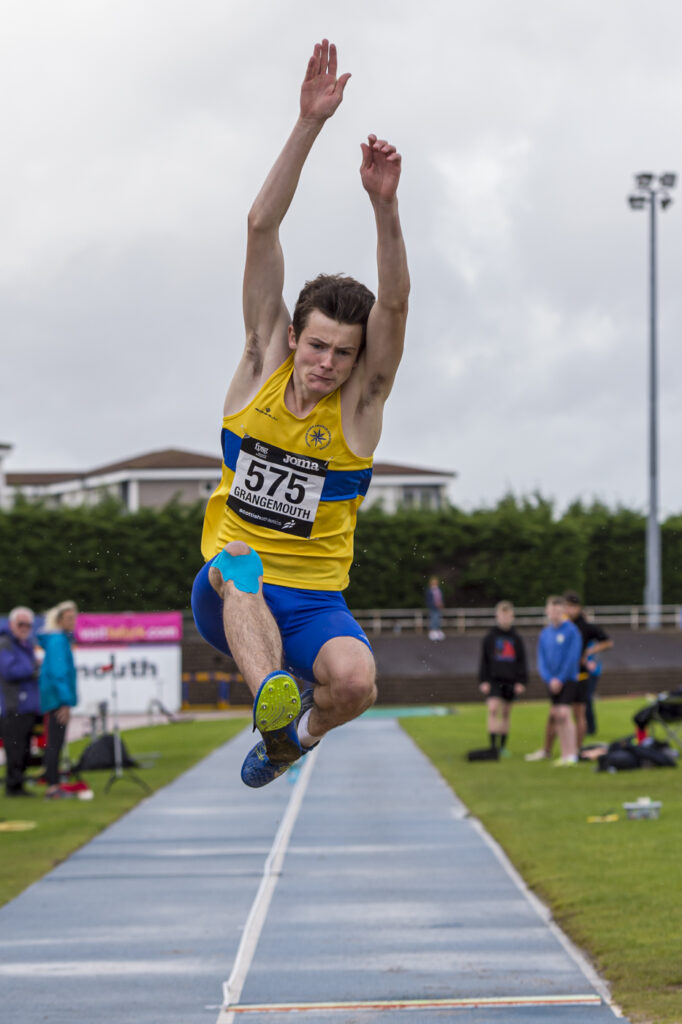 Murray Fotheringham on his way to U17 long jump CBP (photo by Bobby Gavin)
Tags: FPSG Seniors and U17s, Gavin Drysdale, Grangemouth, Grant Plenderleith, Kayleigh Haggo, Kristian Jones, Neil Gourley, Nick Percy, Nikki Manson, Sarah Calvert, Sarah Inglis, Stacey Downie