Glasgow 2014: Day Four morning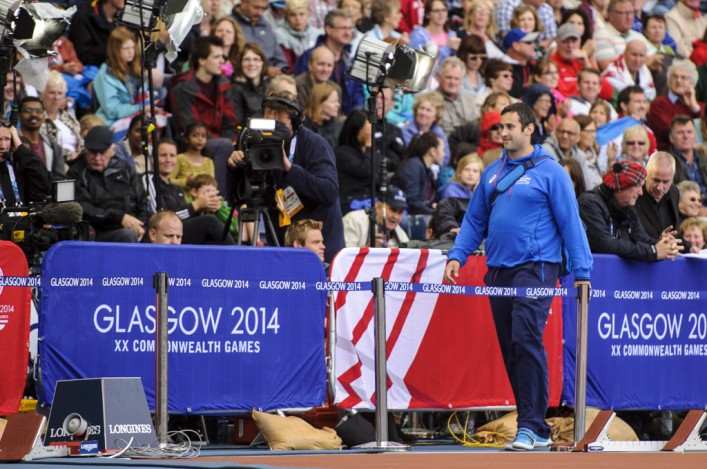 Angus McInroy broke his own Native Record and claimed a final place at the Commonwealth Games for the second time in his career.
The morning session on Wednesday also saw progess for three Edinburgh AC athletes as Jayne Nisbet made the high jump final and Lynsey Sharp and Emily Dudgeon reached the 800m semi-finals.
There was disappointment, however, for long jump pair Jade Nimmo and Sarah Warnock, high jumpers Rachael Mackenzie and Emma Nuttall and Nick Percy in the discus qualifying as all failed to progress.
McInroy threw a Season's Best 57.28m to beat the Native Record he held himself from four years ago and progress to the final with Percy out at 56.71m.
Nisbet cleared 1.85 but Nuttall (1.81) and Mackenzie (1.76) can only now cheer on Jayne in Friday's final. Nimmo edged out Warnock by one cm in the long jump at 6.23 but only 12 athletes progressed from 27 in qualifying.
Sharp was comfortable in her heat, finishing second in 2.03.04 while Dudgeon's 2.02.35 was two hundredths away from a PB at Hampden ahead of Thursday's semi-finals.
Here are comments from some of the Scottish athletes at Hampden:
Angus McInroy said:  'I'm pretty pleased with that. I managed it with my third throw and it was so hard to stay relaxed out there. I've come up with a Season's Best when it mattered and a new Native Record and that feels pretty good.
'We will see what happens in the final – there's been pressure on us as Scotland athletes trying to perform for the crowd and I watched it in the hammer with Mark Dry handling it best.'
Jayne Nisbet said: 'That was an amazing experience, the crowd was unbelievable.  It was a bit surreal at first.
'I felt really confident coming in to this, I've had quite a few really good sessions this week so I knew I had it in me. I just want to go out and jump as high as I can on Friday.'
Emma Nuttall said: 'I'm disappointed and frustrated but I've only myself to blame. If I had cleared 1.81 first time then I'd probably have made it.
'It has been a rollercoaster because, after the indoor season, it was looking really good and I hoped to medal. Then I had a few injuries and actually wondered if I would be here at all. I will be 26 for the next Commonwealth Games and I will try and learn for this for Gold Coast and hopefully Rio before that.'
Rachael Mackenzie said: 'It was great to be here and compete. I worked hard to qualify and it means a lot to have worn the Scotland vest. I'd about a dozen people supporting me from Inverness. To get 1.81 would have been nice and a PB but it didn't happen.'
Jade Nimmo said: 'That was amazing – the best atmosphere I've had at a competition. I improved on each round to get to 6.23, which is a season's best, but I had it in my head I would need 6.30m. I will come back and do the Scottish Champs at Kilmarnock – I am entered for the long jump and the 100m.'
Sarah Warnock said: 'After two fouls, it is pretty difficult to get one out so I'm actually pleased to manage 6.22m. It was probably worse for family and friends watching me do two no jumps even more than me.
'The whole experience has been something really special. We won't get this again anywhere I don't think so it is important to enjoy it and I did – even with the two fouls. I will defend my Scottish title at Kilmarnock and I'm entered for the 100m and the triple jump as well.'
Nick Percy said: 'It was the best opener I've ever done in a competition but then I had two fouls. It is also over the qualifying mark for the Games for Scotland so it was good to do that again. I will learn from the experience.'
Tags: Angus McInroy, Emily Dudgeon, Emma Nuttall, Jade Nimmo, Jayne Nisbet, Lynsey Sharp, Nick Percy, Rachael Mackenzie, Sarah Warnock