Glasgow 2014: Day Seven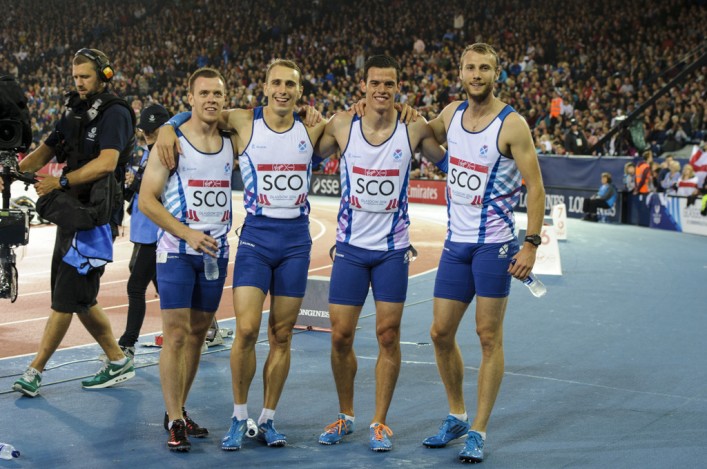 Team Scotland wrapped up the athletics action at Hampden with two sixth place finishes and a fifth in the 4 x 400m Men's relay.
Chris O'Hare left the arena disappointed not to have medalled in the 1500m but he has the looming European Championships as a major new focus later this month.
O'Hare was a little adrift at the bell in a packed field but started to surge in characteristic fashion but initial hope around 150m from the end ebbed away on the home straight.
Laura Whittle had already claimed sixth in the Women's 5000m final while the 4 x 400m men's squad had every reason to feel pleased with their 3.04.07 time on a wet night and 24 hours after setting a National record on the same Hampden track at 3.03.93.
O'Hare, who ran 3.40,63 with the race won by Kenyan James Magut in 3.39.31, said: 'I knew that coming in I was going to have to be brave and give it everything I've got, dig down deep and give the last 200m everything. I didn't quite have it in the last 50.
'I came off the bend and thought I can get a medal here if I just keep working.  But maybe that's a bit naive. For me right now I'm in the learning phase and the upswing.  I just need to keep doing what I'm doing and giving it everything I've got."
It was the best performance by a Scot in the men's 1500m since Graham Williamson finished fourth back in 1982.
Whittle, who clocked 15.33.72 with Beth Potter at 9th and Steph Twell at 14th in a 5000m race won by Mercy Cherono, said: 'I fell out of love with the sport two or three years ago – certainly in a competitive sense. I watched the Olympics and that made me want to come back so it has been brilliant reaching this level.
'Finishing sixth is a 'silver medal' for me in terms of position; that's what I thought beforehand. I worked my way through from the back of the field over the course of the race and I've finished first Scot and second Brit, which feels great.
'It is long time since I've been at a major championships. The last one was the Euro U23s. So just to get involved in a championship final like that was really special.'
Potter, who was sixth in the 10,000m final earlier in the week, finished in 15.44.38 with Twell at 14th in 16.30.66.
Scotland changed the order for the relay with Grant Plenderleith on the second leg from Kris Robertson with Jamie Bowie on the third and Greg Louden bringing the baton home.
In the end, England won it from the Bahamas in a tight finish as Louden held on well for fifth. Robertson afterwards announced he's retiring from this level of athletics.
He said: 'That's my last race – my last as a professional athlete. It has been a struggle to be fit for this at times but I'm proud of what we achieved at a Commonwealth Games.
'We made the qualifying time and then we knocked a bit off that to get a National Record. Tonight we were up against some really quick teams and we're happy with what we did to finish fifth.
'The time is actually not all that much slower and given the conditions, and it being the second race, that's decent. We've three guys there who are younger than me and I really think they can improve – watch out for them setting PBs next season.'
Pole vaulter Henrietta Paxton didn't get over opening height 3.80 amid dreadful conditions for that event, with one of her poles breaking in the warm-up.
Tags: Beth Potter, Chris O'Hare, Glasgow 2014, Grant Plenderleith, Greg Louden, Jamie Bowie, Kris Robertson, Laura Whittle, Steph Twell