Geneva; Sweden; Scottish Schools; West 10K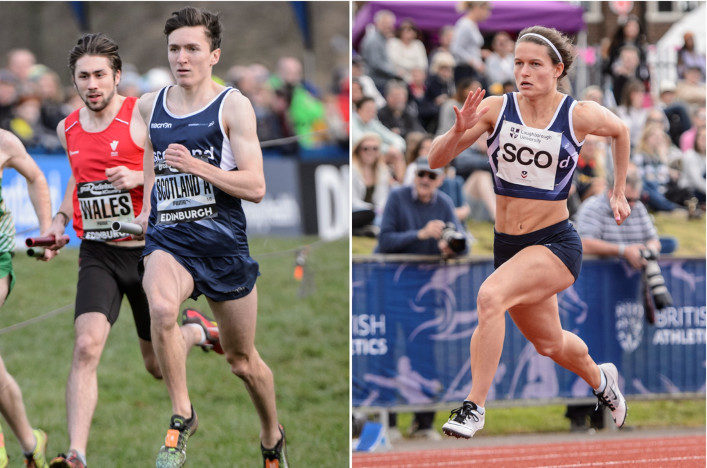 Jake Wightman and Zoey Clark – both maintained superb 2017 form over the weekend
Video interview with Zoey (with thanks to Vinco)
Zoey Clark raced into contention for a Senior vest with Team GB and NI with a fine performance in Switzerland.
The 400m runner won the A Race at the EAP meet in Geneva as she defeated two French athletes in a competitive finish to record a big PB of 51.84.
That's inside the qualifying standard for the London World Champs, and Gold Coast 2018, and there could yet be an
opportunity for selection by British Athletics for the European Team Champs in France later this month.
Kirsten McAslan, gradually returning from injury, bettered 53.0 for the first time this year to clock 52.90 to win the B Race and Allan Smith enjoyed a Season's Best 2.24m to take third in the high jump. Aberdeen athlete Jade MacLaren ran to a PB in the 800 with 2.06.67 to make the top five in the Scottish rankings.
There were also a couple of very impressive performances in Gothenburg in Sweden – with Jake Wightman and Jemma Reekie continuing what has been an excellent 2017 so far for both.
Wightman maintained his form form with another PB in the 800. Having started the season with a best of 1:47.13, he has now lowered his best to 1:46.36, 1:46.07 and now 1:45.82.
U20 athlete Reekie took another big step forward, bettering 4:20 for the first time in the 1500m with 4.15.90 ahead of the Euro Juniors Trials this forthcoming weekend in Bedford.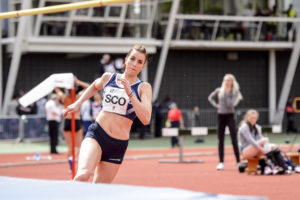 Emma Nuttall – Edinburgh AC athlete is coming right back to her best form
*High jumpers were hitting the heights this weekend with Allan Smith's 2.24m and Nikki Manson at 1.85 in the NCAA finals.
And that was extended in a jumps meet in Sweden as Emma Nuttall cleared 1.86 for a Season's Best and David Smith went over 2.21m to set both up for the British Champs later this month. For Emma, that was her best jump since 2014.
As always, best place to check on these Results is www.scotstats.net
*In America, Sarah Inglis raced her first 5000m of the season and came up with 15.41. 29. This followed on from a 1500m run of 4.12.99 in Canada, which takes her third in the Scottish rankings. Lennie Waite ran 10.02.41 for the 3000m steeplechase in the same meet.
+++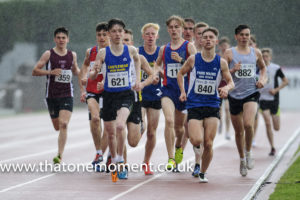 Results from the Scottish Schools Secondary track and field Champs are now availalbe here in the downloads and on the SSAA website.
Thanks, as always, to the scottishathletics Officials who make such a big contribution to these events as well as athletes, volunteers, teachers and parents and also the staff at Grangemouth.
*Photos by Bobby Gavin are available on our Facebook page with more on www.thatonemoment.co.uk
+++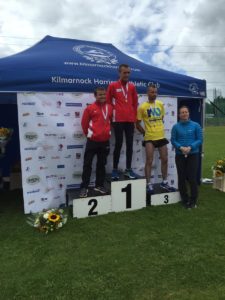 Men's 1-2-3 at Roon the Toon 10K in Kilmarnock
The Roon the Toon 10K race in Kilmarnock on Sunday hosted the West District 10K champs for the first time.
And there were gold medals for a duo who had been among the pre-race favourites – Stuart Gibson of Cambuslang Harriers in 31.39 and Fionnuala Ross of Shettleston Harriers in 34.57.
Gibson won it from team-mate Robert Gilroy with the bronze headed for Richard Mair of host club Kilmarnock Harirers. Kenny Wilson of Moray Road Runners took second place in the race itself with Robert third.
Ross headed Shettleston team-mate Avril Mason and Laura Wallace of Ayr Seaforth for the West medals. In the race itself, Inverness athlete Jenny Bannerman was second to Ross.
The West Masters medals were as follows:
1 Robert Gilroy; 2 Louis O'Hare (Kirkintillohc Olympians); 3 Billy Richardson (Irvine RC)
1 Avril Mason; 2 Louise Ross (Bellahouston Road Runners); 3 Jennifer Telford (Scottish Prison Service).
*There was an exciting finish to the wheelchair race as Sean Frame won by only two seconds in 26.31 from Sammi Kinghorn.
With thanks to Clare Barr
Tags: Allan Smith, David Smith, Emma Nutall, Fionnuala Ross, Grangemouth, Jake Wightman, Jemma Reekie, Scottish Schools, Stuart Gibson, Zoey Clark