GB vests; World 24-Hour; Para Champs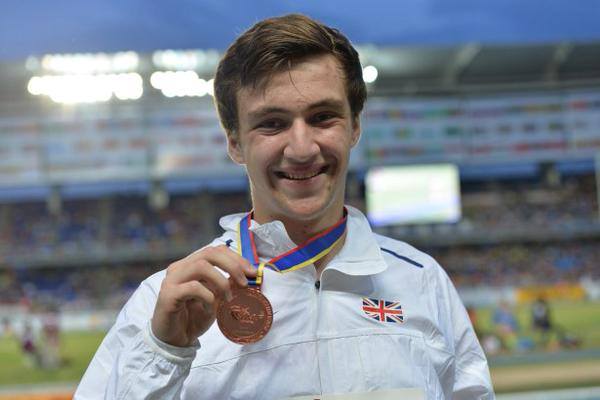 George Evans (pictured in 2015) – third place at the weekend in Mannheim
Three Scottish athletes represented GB and NI at the weekend at events in Mannheim in Germany and Tallinn in Estonia.
Thrower George Evans and sprinter Alisha Rees were with the GB Juniors team competing at an U20 International match – with Cameron Tindle unfortunately having to withdraw through illness.
Rees competed over 200m and took second place with a run of 23.62 as she prepares for the same event at the Euro U20s in Italy later this month. Evans is also preparing for Grosseto and his finished third in the discus event with a best throw of 55.86m.
Decathlete Andrew Murphy won a Senior GB and NI vest for the first time at the European Combined Events Team Championship in Estonia and finished 15th with a points tally of 7084.
The Kilbarchan AAC athlete had a strong opening day and duly finished third of the four Brits selected – after coming up with three individual PBs across the 10 events in 100m, high jump and 1500m.
Andrew's individual score-card is here: 7,084 (11.32/-1.1, 6.66/+1.7, 12.82, 1.98, 51.35; 15.16/-1.1, 34.88, 4.60, 44.96, 4.41.69)
+++
There were mixed fortunes for the British – and Scottish – athletes at the World 24-Hour Champs in Belfast over the weekend.
Jess Baker, originally from Slough but currently living in Sydney, Australia, ran a superbly judged race to finish in 7th with a lifetime PB of 237.061 km (147.310 miles).
Scottish duo Debbie Martin Consani 39th( Garscube) was 39th and Sharon Law (North Ayrshire) was 67th as they ran 204.118km and 182.642km respectively. GB women placed sixth in the team competition.
Steve Holyoak was the best British man placing 24th with 243.840 km (151.5 Miles). This distance earned him the Silver medal in the World Masters Competition.
Paddy Robbins (Bournemouth) with 240.462km was second GB counter in 28th place. Dan Lawson, Current European 24 hour champion, and James Stewart (VP-Glasgow) were among the leaders for the first half of the race.
Stewart developed a bad hamstring issue around 14 hours approaching 100 miles, and although trying to stay running, retired shortly after. Lawson had crept up the leaderboard to third place at 19 hours but had to retire with a knee injury after recording 231.280 km.
Marco Consani (Garscube) recorded 218,577 (60th) Robbie Britton recorded 172,804km.
With thanks to Adrian Stott
+++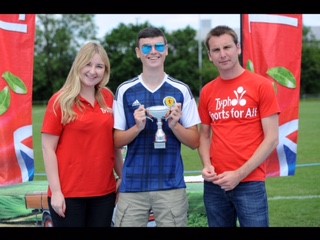 Ross Paterson competed over the weekend in the Typhoo-sponsored English Federation of Disability Sport Junior Championships in Coventry.
And the scottishathletics National Academy athlete had a superb event as he won gold over 100m, 200m and 400m in the U20 T38 class and was awarded the Male athlete 'Performance of the Championship' trophy.
Iain Boyd from Aberdeen also travelled to Coventry for the event,  winning gold over 100m, 200m and 400m in the T37 U20 class.
With thanks to Ian Mirfin
Tags: Alisha Rees, Andrew Murphy, Debbie Martin-Consani, George Evans, James Stewart, Marco Consani, Ross Paterson. Iain Boyd, Sharon Law, World 24-Hour Champs