'GB vest worth Transatlantic journey' – Josh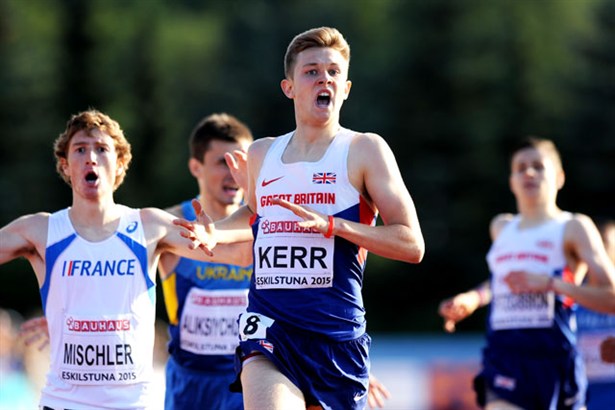 Euro U20 joy for Josh in Sweden in the summer of 2015 at 1500m
He won the 1500m title at the U20 European Champs in Sweden some 18 months ago and then made the final at the same distance at the World Juniors in Poland last summer.
Now Josh Kerr will once again represent GB and NI at a championship event when he makes his Euro Cross debut in Chia, Italy, on December 11.
The Edinburgh AC athlete, now a student at New Mexico University, made a transatlantic journey to Merseyside last weekend before claiming third place in the Junior Men's trial race to land an automatic slot from British Athletics.
Kerr will now follow in the footsteps of his university team-mate, Jonny Glen, by racing at the Euro Cross at this level and told scottishathletics he is relishing the prospect of a trip to Sardinia (with the team announcement from British Athletics due on Wednesday).
'I'm delighted to make the Euro Cross selection and it was definitely well worth coming back from America for that,' said Josh.
'The Uni at New Mexico, where I am studying Communications, were very good about letting me come away, although I've been doing course work online in between training and preparing for the trials race in Liverpool.
'This is my last couple of months as an U20 athlete in IAAF terms and having competed at that level on the track for GB and NI, I wanted to see if I could also make it for cross country. It was a case really of going for it while I still had the opportunity in this age group.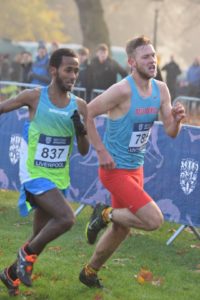 Josh Kerr powers home at Liverpool for third place (photo by Gus Oakley)
'Nonetheless I've not done that much cross country in Britain for a couple of years and you don't really know how it will go. I ran for Scotland at Holyrood Park back in January in the 4 x 1K relay and it wasn't my best run by any means.
'But I had targeted this race for the past three or four months to be honest and trained for longer distances while out in America.
'It was far muddier than anything you get in New Mexico at this time of year, even with the frost in Liverpool.
'Now we are heading for Sicily and, while I don't know for sure what the course out there is like, I'm certainly thinking and hoping it could be quite dry and suit me maybe more than some other athletes. It is bound to be less muddy than Liverpool.
I was sixth, maybe, seventh place with just less than 800m to go (in a 6.7K race) on Saturday. That's the worst place to be when you know the top five are getting automatic qualification!
'But I did feel I still had a wee bit extra in the legs for the finish. I was hoping one or two might come back towards me when we turned into the final straight and that's what happened for me to make third place. It was a great feeling knowing I'd made it for the selection.
'We will see what happens in Chia – I definitely want to try and give it my best now I've a bit more experience of the distance.
'The final of the World Juniors at 1500m last summer was a big disappointment (finished 10th place). All the preparations were good and I was ready for it. In the race itself, though, it didn't go according to plan and I got myself caught in the wrong place and couldn't correct it in time.
'I wouldn't say I am trying to make up for that – I've had to learn from the experience – but it is great to be wearing a GB and NI vest again so soon afterwards and for a Euro Cross Champs. Hopefully we've a chance of a team medal out there.'
Tags: Euro Cross, Jonny Glen, Josh Kerr, Liverpool Cross Challenge, New Mexico University