FPSG National Relay Champs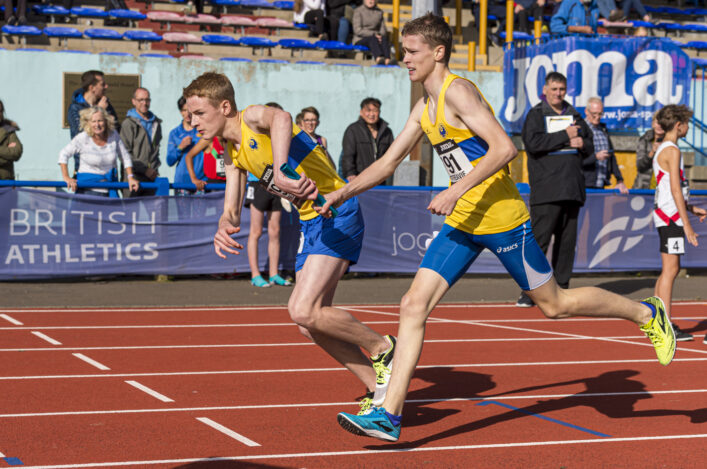 Photo by Bobby Gavin www.thatonemoment.co.uk. 
More photographs from Bobby on facebook
*Also taking place at the weekend – Jumps Series 3 results at Linwood – Results online
—-
There was a superb atmosphere at Pitreavie on Sunday for the FPSG National Relay Champs. The event, which brings to a close the Summer 2019 FPSG Athletics season, is a great occasion for club competition, and it was excellent to see the level of club support.
There was a Championship Best for Giffnock North AC in the U17 Girls 4x300m, with Katie Foss, Rachel Callan, Caroline MacConnell and Alyson Bell running 2:46.74 – one of no less than eight gold medals taken by Giffnock across all the age groups.
Congratulations were also due to some of the youngest athletes on the track, with a new U13 Girls 4x100m Championship Best set by the VP Glasgow AC team in their final, in a time of 53.22 – that team comprising Zoe Wilson, Lucy Carr, Eve Crawford and Zoe Douglas.
It was a fine day out too for hosts Pitreavie AAC, who scooped three out of the five senior titles claimed, and six golds overall.
In the Senior 4x400m Pitreavie took the double – the women's race won by Jade Hutchison, Taygan Henry, Sophie Siriwardena, and Sarah Coutts in 4:04.91. The men's race saw Alistair Moriarty, Ben Knowles, Craig Moriarty and Billy Doyle over the line in 3.28.53 to take gold.
The same four athletes – Moriarty, Knowles, Moriarty and Doyle – also scooped the Men's Senior 4x100m title, with a 45.44 finish.
Keeping them out of a full house in the senior races were Edinburgh AC and Aberdeen AAC. Edinburgh took the win in the Women's Senior 4x100m with Katie Purves, Emma Pedrana, Stacey Downie and Katie Reville finishing in 48.60. For Aberdeen it was victory in the Senior Men's 3x800m, with a winning run of 6:08.85 by Adam Brown, Harry Hall and Lewis Watt.
Thanks, as ever, to all the officials who made the event possible, along with athletes, coaches and supporters for ensuring such a superb finale to the season. Thanks also to FPSG Recruitment, sponsors of the Outdoor Season, for their support throughout the summer.
Tags: FPSG National Relay Champs, National Relay Champs, National Relays