FPSG Age Groups – Sunday review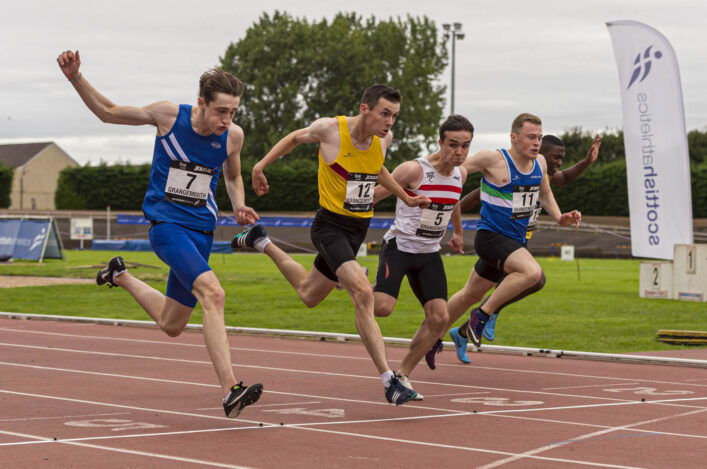 Angus Davren of Inverness lands the 100m sprint gold at Grangemouth – he also won the High Jump (photo by Bobby Gavin)
It would be glossing over the truth to suggest that, when the rains came to the FPSG Age Groups on Sunday afternoon, it didn't dampen the enthusiasm of competitors, spectators and Officials.
And it wouldn't be fair of those of us still trying to dry out!
But, once again, a defiant approach prevailed and, thanks to a huge effort from all concerned at Grangemouth, the programme of U13 and U20 events were delivered.
Staging these championships over two days – with more than 800 athletes on the start-lists – always presents a big challenge, regardless of weather conditions.
So we offer a big thank-you in particular to our dedicated team of scottishathletics Offcials for 'sticking with it' – as always – and also to some of the youngest athletes at our clubs who competed with such energy and commitment throughout Sunday.
PHOTOS on Facebook by Bobby Gavin
On the track and in the field there were a series of U20 double golds. Livingston's Sarah Calvert followed up her 800m win on Saturday by adding the 1500m while Cameron Wright of Kilbarchan claimed victory first in the 2000m steeplechase and then took an exciting 1500m final in the worst of the weather.
Ellie O'Hara of Edinburgh AC had a double jumps success while Kirsty Costello did likewise in the throws over two days. Angus Davren won the 100m and Men's High jump. And Shettleston's Andrew McFarlane won the javelin and the pole vault over two days.
And there was a fine Championship Best in the 1500m steeplechase by Sarah Tait of Lasswade as she came home in 5.07.12 – breaking Nicola Hood's Record from 2007 by just under one second.
Costello is no stranger to the podiums on these occasions and the Kilbarchan AAC athlete followed up her javelin success by winning the hammer. Kirsty threw out to 55.14m as the men's hammer gold went to Annan and District athlete Danny Gracie at 50.37m.
Wright showed his form earlier this summer for Scotland in Wales at the U20 International and then with a fine 1500m run at the GAA Miler Meet.
The Kilbarchan AAC athlete held off the challenge of Magnus Tait to win the 2000m steeplechase in 6.01.21 by a second's margin. The U20 Women's 1500m steeplechase was won by Esme Callander of Team East Lothian in 5.42.91.
Sprint golds at 100m went to different ends of the country. Giffnock North's Alyson Bell justified her tag as favourite by taking the U20 title in 12.22 while Angus Davren of Inverness Harriers won a very tight finish in the Men's in a time of 11.35.
Ellie O'Hara won the Triple Jump with 12.30m and the Edinburgh AC athlete added the Long Jump title with a leap of 5.82m. Miraji Ahmed (Shettleston) won the Men's Triple Jump with 14.54m.
Andrew McFarlane of Shettleston took the Pole Vault title with a clearance of 4.40pm – after winning the javelin the previous day. In the shot, there was a win for Tia Henry of Pitreavie AAC with a distance of 10.84m. VP-Glasgow thrower Alice Baxendale won the Discus title with 35.38m.
Aberdeen's Jane Davidson won the 100m Hurdles with a time of 15.05 seconds. And the 400m titles went the way of Emily Miller of VP-Glasgow in 57.35 and Billy Doyle of Pitreavie AAC in 48.51.
In the U20 Women's 1500m final, Cera Gemmell led much of the way but a burst of speed from Sarah Calvert saw her push into the last lap with a clear lead which only increased from that point on, bringing a win in 4:29.00. Gemmell and Niamh Carr then battled back and forth with Carr finally pushing ahead to take silver.
Jamie Burns took an early lead in the Men's U20 1500m final, but dropped back mid-race as Cameron Wright of Kilbarchan stepped out with confidence.
Wright translated that into a win in 3:57.88 – a double gold following his 2000m steeplechase win – but it wasn't an easy victory. Inverclyde AC brought serious pressure to bear with both Adam Hay and Cameron Watson looking like they could have taken him during the final lap, but having to settle for second and third places respectively.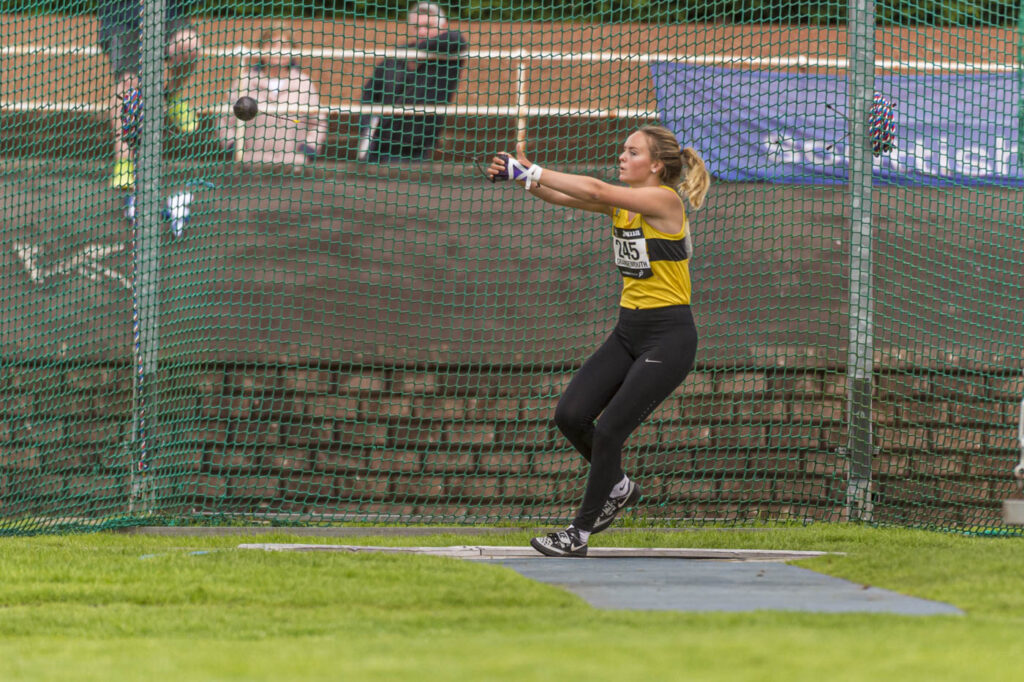 Kirsty Costello won the U20 hammer gold on Sunday to add to her javelin success the previous day (photo by Bobby Gavin)
+++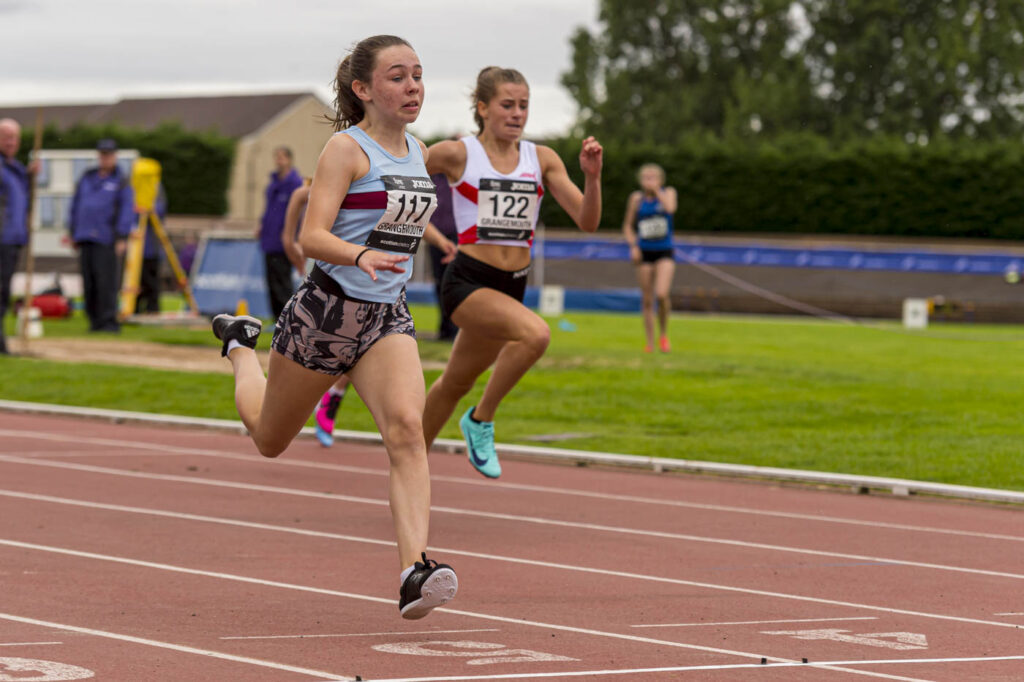 Grace Young of Cumbernauld on her way to 100m gold at Grangemouth (photo by Bobby Gavin)
The emphasis at U13 level is as much about getting a taste of competition as making the podium – and it was definitely unfortunate that the worst of the weekend weather fell on the same day as our youngest athletes were in action.
Thanks to all coaches, parents and clubs, therefore, who helped these young athletes to be at Grangemouth and good luck for their future development.
Whitemoss thrower Courtney Fraser took a gold double, as did Lasswade sprinter Shane Majekodunmi.
Cumbernauld AAC had two gold medallists in this age group – an indication perhaps of what is stirring at that particular club after a move to a superb new track facility a couple of years ago.
Scottish athletes to take gold in the field event at U13 level were as follows: Kyna Forbes (Edinburgh AC) High Jump; Archie Irvine (Shetland AAC) High Jump; Filip Kubicki (Gala Harriers) Long Jump; Harris Ross (Chirnside Chasers) Shot Put; Holly Hailstone (VP-Glasgow) Javelin; Logan Turnbull (Cumbernauld) Javelin; Kaitlyn Clark (Larkhall YMCA) Long Jump; Ruaridh Black (Edinburgh AC) Discus; Courtney Fraser (Whitemoss AAC) Discus and Shot Put.
Scottish athletes to take gold on the track at U13 level were as follows: Shane Majekodunmi (Lasswade AAC) 100m and 200m; Grace Young (Cumbernauld AAC) 100m; Callum Newton (Dunfermline) 75m Hurdles; Oliver Patton (Kilbarchan AAC) 1500m; Sarah Burns (Edinburgh AC) 200m; Sophie Frater (Glasgow School of Sport) 800m.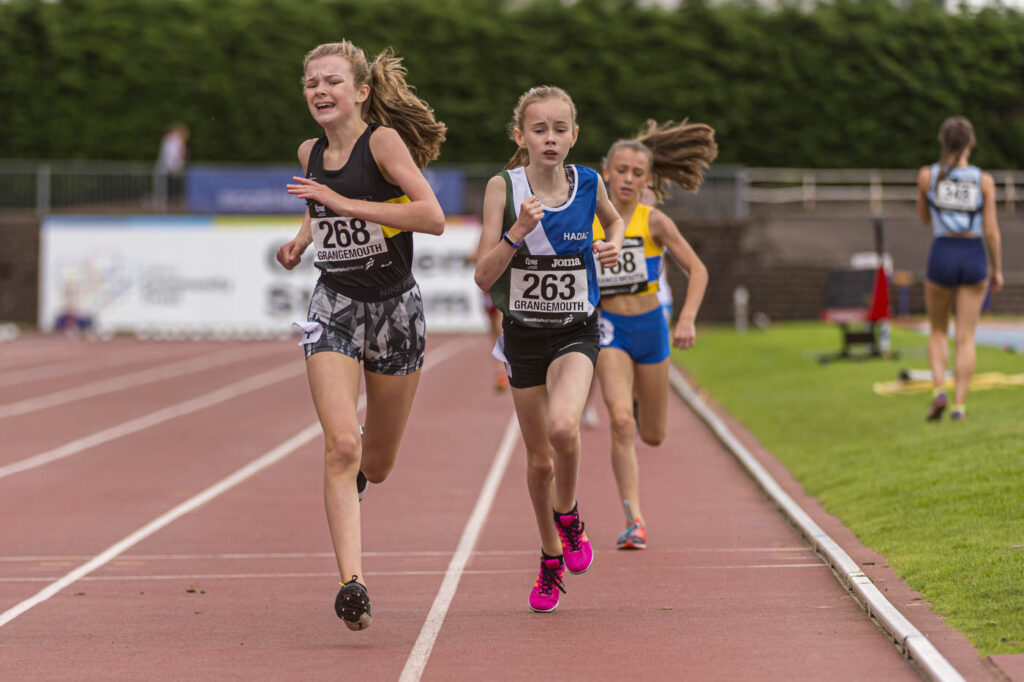 Tags: Angus Davren, Cameron Wright, Cumbernauld AAC, Ellie O'Hara, FPSG Age Groups, Grangemouth, Kirsty Costello, Sarah Calvert, Sarah Tait