Four Scots are British Champions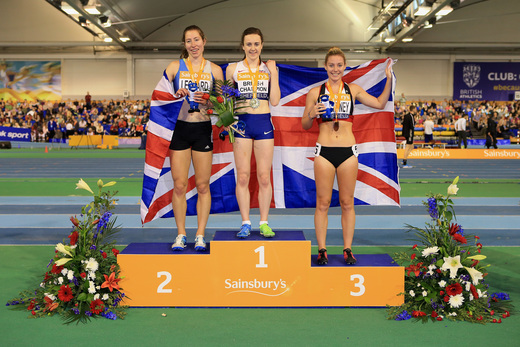 Laura Muir tops the podium in Sheffield for the third year in a row
Check out the Sheffield results
Scottish athletes staged another yet another thrilling raid on Sheffield – as the British Indoor Champs proved to be paved with gold.
Four emerged as British champions in an incredible Sunday afternoon or so as Guy Learmonth, Laura Muir, Kirsten McAslan and Allan Smith proved their class amid all kinds of track and field drama.
All that happened inside a spell of around 60 minutes which had the likes of Eilidh Child, our chief executive Nigel Holl and former First Minister, Jack McConnell, purring on Twitter about the Scottish athletes proving again they can 'perform when it counts'.
Sarah Warnock won silver with an indoor PB and there were three more bronzes via the performances of Zara Asante, Katy Brown and Jamie Bowie and a couple of other fine efforts at the EIS arena.
That matched the eight medal tally of 2014, with nine won the previous year being the best since 1995. The figure of four Scottish golds at the British Indoor champs hasn't been achieved since 2009.
And now the GB team for Prague for the European Indoors, which will be announced next week, is sure to have a Scottish flavour with Muir and Smith having already booked their places and the likes of Bowie, McAslan and Chris O'Hare firmly in contention.
British Athletics website report
It was a hat-trick of British indoor titles for Laura, who had won the 1500m two years ago and then took gold at 800m some 12 months ago in Sheffield. She held off the challenge of Alison Leonard to win in 4.13.6.
'I feel I'm running well – I'd like to medal at the Europeans, I'd really love to get my first major championship medal there,' said Laura.
'I'm hoping to get another good time soon, I'm not tapering for any of my races yet – the main aim this year is the World's in August. It's my third title here, the race turned out fast and was actually pretty hard work.
'I'm running the 1500m in Stockholm on Thursday then maybe the 3000m in Birmingham. I'm happy to do either the 800m or 1500m in Prague, it's hard to choose.'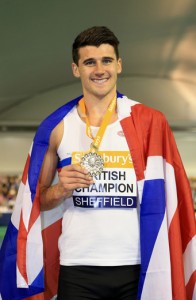 First British title – Learmonth
Learmonth won the 800m to claim his first British title in a tight finish from Glasgow-based James Bowness, with Guy having led from start to finish.
'I didn't really realise how close it was,' said Guy, who clocked 1.49.00 with the Euro standard 1.48.00.
'It wasn't too quick- it was a decent pace. I felt in control. I felt them come onto my shoulder with 200m to go but knew if I had enough in the tank at 600m, then I'd be in a position to win it.
'It's my first senior national title and I'm absolutely delighted. I'm kind of running like I was when I was a teenager. I came onto the scene when I was 17 years old and I was breaking all sorts of Scottish Junior Records.
'The last few years I've been working on all sorts of different tactics. Today I just wanted to run hard from the front. I had a target on my back since the Commonwealth Games which rises expectations. Next week I'll be going on to Birmingham, hoping for a quick time.
McAslan kept her nerves, and her footing, when two athletes in front or her tripped on the track with less than 100m to go in the 400m final and she went from fourth to second. Somehow, she summoned up a finish to clinch gold on the line with a PB of 53.05.
Kirsten said: 'I wasn't expecting the win at all – it was a really scrappy race so it is a big shock but I'm definitely happy. I'm really pleased to run an indoor PB and get close to 53.00.
'I saw Seren (Bundy-Davies) and Margaret (Adeoye) go down and then I just had to make sure I didn't stand on any of them. I had to switch back on after that because I switched off for a second but I had to focus on beating Laura Maddox who was in front of me. It was a difficult race – I've never experienced anything like that before in a race.
'I am just outside the European standard, which is 53.00.  It's something in the back of my mind. The indoor season is mainly about trying new things.
'I've been injured the last two seasons so I haven't been able to run indoors. I'll be racing next week so I'll have to see if I can get the time and I'll go from there.'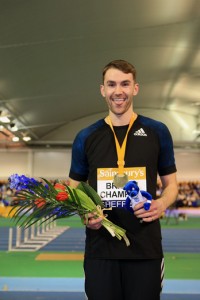 Lifetime best 2.29m – Allan Smith
Allan Smith was in superb form as he took the British indoor title after winning outdoors in 2014. Allan cleared 2.22 and 2.26 before then achieving a PB of 2.29 – which is the European standard.
'It was nice to jump the qualifying standard today,' said Allan.
'I didn't come in with big aims, I just wanted to see how I got on. Really, I know that on a world stage, 2.29m isn't that high so I want to jump higher now. I'm glad to be back at home in Scotland training – I'm training happy at the moment. I'm putting the work in so hopefully things keep improving.'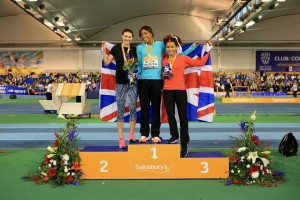 Sarah Warnock – silver medal with indoor PB
Warnock took a fine silver in the Women's long jump – coming up with 6.37m indoor PB in her third jump.
Scotland international, Zara Asante, had been the first to pick up a medal in the Women's triple jump. The athlete with Fife AC connections came up with a PB performance of 13.00m in Sheffield to claim the bronze as all three medallists came up with bests.
Katy Brown followed that up in the 800m with a really fine run as she set a PB of 2.03.39 in a race won well by Jenny Meadows.
Jamie Bowie won his first British champs medal with a bronze in the men's 400m, with Grant Plenderleith coming through well for fourth place in that race after he had run a PB the day before.
'It's my first senior British medal so it's a big prize for me today but it was a very competitive race,' said Jamie.,
'I'm delighted but I thought I had more in me. I'm hoping to make the relay team for (the European Indoor Championships in Prague) but I still need the qualifying time for the 400m, I have a few more races so hopefully I can get the time soon.'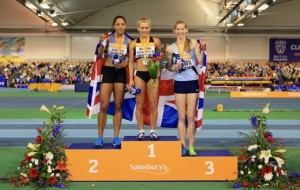 Katy Brown on the 800m podium after PB for bronze
*Mhairi Hendry finished sixth in the 800m with the Glasgow-based athlete having run a Scottish U20 record (subject to ratification) on Saturday.
Mhairi ran 2.07.00 to take a record away from training partner Laura Muir and secure her place in her first British Seniors final at the age of 18.
The Saturday action also included two PBs for David Feeney in the 60m hurdles.
All at scottishathletics would like to congratulate Scottish athletes and coaches who made the trip to Sheffield to compete at British level and performed with such distinction once again.
Tags: Allan Smith, British Indoor Champs, Guy Learmonth, Jamie Bowie, Katy Brown, Kirsten McAslan, Laura Muir, Sarah Warnock, Sheffield, Zara Asante