Four picked for World Indoors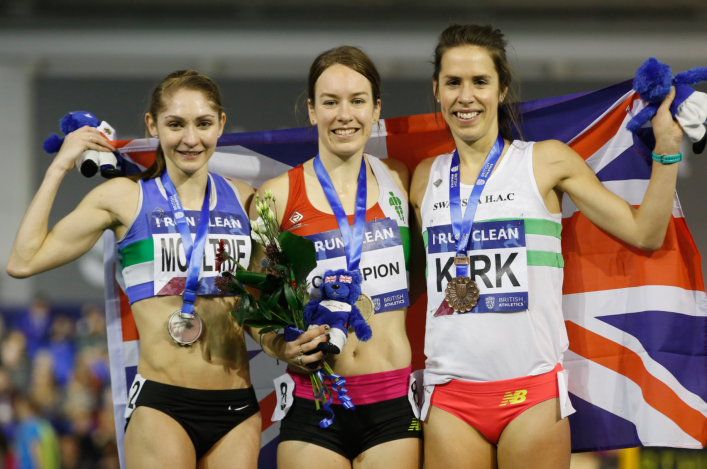 From the podium to Portland – for Steph Twell and Josephine Moultrie
Media release by British Athletics
Four Scots are headed to the World Indoor Champs in the United States with Team GB and NI.
Britain will take a team of 23 athletes to Portland for the event on March 17-20 and it will include Lynsey Sharp, Chris O'Hare, Steph Twell and Josephine Moultrie.
Twell qualified automatically after securing the qualifying time for 3000m at the Glasgow GP and then winning the trial at the British Champs.
Sharp and O'Hare were picked on the strength of recent indoor performances at 800m and 1500m respectively – and what a moment for Moultrie as she prepares to head to her first global champs with GB as a Senior athlete at the age of 25.
The Glasgow-based athlete took silver in Sheffield in the 3000m on Sunday and in doing so was under the 9.00 minute qualifying time for the World Indoors.
Josephine tweeted: 'Excited to head to my first major championships at the World Indoor Champs in Portland!'
And Twell, too, is rightly looking forward to testing herself with the world's best indoors following those good performances in Glasgow and Sheffield.
'I'm excited about the prospect of racing in Portland,' said Steph.
'After my race in Glasgow at the Grand Prix I'm positive about looking towards the top 12. I want to be racing these girls which I will be coming up against in the summer and I'd like to mix it up with them.
'I'm confident in my training and routine at the moment so if I can execute that, I know we are going in the right direction.
Performance Director for British Athletics, Neil Black said:  'This is a team that has been selected on the basis that every athlete can realistically make their final, but also with an eye on their individual development looking towards the Olympics this year and the London 2017 World Championships.
'There have been some excellent performances during the indoor season and we are confident that many of those selected will be challenging for medals.
'It is important to remember that British Athletics' focus, as well as that of the individual athletes, is geared towards Rio in this Olympic year and the World Indoors is one of many stepping stones our athletes will look to use.'
British Athletics team for the IAAF World Indoor Championships:
MEN:
60m: James Dasaolu (Steve Fudge);  Andrew Robertson (Dan Cossins)
1500m: Charlie Grice (Jon Bigg); Chris O'Hare (Terrence Mahon)
3000m: Lee Emanuel (Joe Franklin);  Tom Farrell (Mark Rowland) – Border
60mH: Lawrence Clarke (Samba-Koundy Giscard)
High Jump: Chris Baker (Sharon Heveran); Robbie Grabarz (Fuzz Caan)
 Long Jump: Dan Bramble (Frank Attoh);  Greg Rutherford (Dan Pfaff)
WOMEN:
60m: Dina Asher-Smith (John Blackie); Asha Philip (Steve Fudge)
800m: Lynsey Sharp (Rana Reider); Adelle Tracey (Craig Winrow)
3000m: Josephine Moultrie (William Parker);  Steph Twell (Mick Woods)
60mH: Tiffany Porter (Rana Reider); Serita Solomon (Michelle Bovell)
High Jump: Isobel Pooley (Fuzz Caan)
Long Jump: Shara Proctor (Rana Reider);  Lorraine Ugen (Shawn Jackson)
Pentathlon: Morgan Lake (Eldon Lake)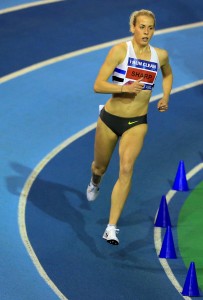 Lynsey Sharp – selected for World Indoors
Photos courtesy of British Athletics/Getty Images and Bobby Gavin
Tags: Chris O'Hare, Josephine Moultrie, Lynsey Sharp, Portland, Steph Twell, World Indoors