Five Scots picked by GB for Euro races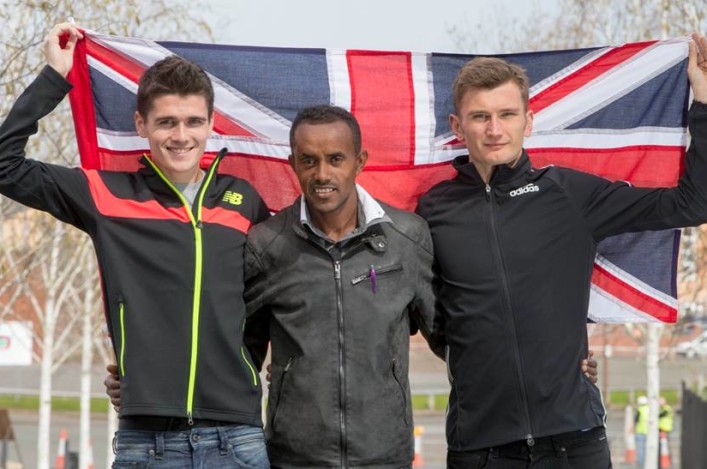 Amsterdam-bound: Callum Hawkins, Tsegai Tewelde and Derek Hawkins (photo by Jeff Holmes)
Scotland's #TrioforRio headline the British Athletics team for the half marathon Team Cup at the European Athletics Championships in Amsterdam, Netherlands on 6-10 July.
Callum Hawkins, Tsegai Tewelde and Derek Hawkins, as well as Alyson Dixon, who are all due to represent Great Britain at the Olympic Games over the full 26.2miles, have targeted a Team medal winning performance in the half marathon at the European Championships as the perfect way to prepare for Rio.
Susan Partridge joins the selection to make it four Scots in the 12-strong team overall – and, for a separate event, Luke Caldwell also landed the call from British Athletics for the European Cup at 10,000m in Turkey.
The European Championships will provide Shettleston athlete Tewelde, who is coached by John Mackay, with his British team debut. Kilbarchan AAC athletes Callum and Derek, coached by father Robert, view the event as the right preparation for Rio and for Derek it is a return to GB duty after a four-year absence.
Partridge suffered Rio qualification disappointment at the London Marathon – she was a DNF for the first time in 15 marathons in her career – but is highly-ranked at the half for 2016 and will be determined to seize the opportunity in Holland.
All at scottishathletics firmly congratulates these athletes and their families and coaches on being selected for a major championships. It is also great for the clubs involved in their development over a number of years to see the fruits of the labours of their volunteers.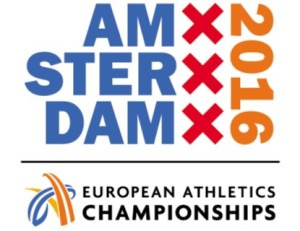 European Championships in Holland July 6-10
Men's Team:
Callum Hawkins, Tsegai Tewelde, Derek Hawkins, Dewi Griffiths, Scott Overall, Jonathan Hay.
Women's Team:
Alyson Dixon, Tina Muir, Charlotte Purdue, Gemma Steel, Susan Partridge, Lily Partridge.
'These are two very strong teams and we firmly believe both can finish on the podium in Amsterdam this July,' said Neil Black, British Athletics Performance Director.
'With a European Championships and Olympic Games scheduled so close together you have to take a sensible approach to selection and look at what is best for each athlete as an individual.
'With a firm focus towards Rio, we have liaised with athletes selected for the Olympics, and their coaches, before making a decision on selection.
'As will be the case with selection for all track disciplines at the European Championships, we believe for some athletes running in Amsterdam will benefit their performance in Rio, whilst for others, as in Sonia's case, this competition was never part of the season plan.
'This dialogue with coaches and athletes, of all track and field disciplines, is on-going and will also be taken into consideration when the main squad for Amsterdam is selected.  This is exactly the same philosophy we adopted in 2012 – the first time the Europeans and Olympics were held in the same year.'
Susan Partridge
+++
European Cup 10,000m in Mersin, Turkey on Sunday 5 June
British Athletics has also announced the team to compete at next month's European Cup 10,000m in Mersin, Turkey.
Lauren Deadman leads the way in the women's team after her personal best performance at the Highgate Harriers Night of 10,000m PBS/Olympic Trials last Saturday. The Havering athlete improved her best ever time for the distance to 33:05.55 as she finished seventh in the race.
Joining Ben Connor in the men's team are Andy Maud, who earns selection after a career best of 29:42.43 last week, and Luke Caldwell who last competed for Great Britain & Northern Ireland over cross country in Bulgaria two years ago.
Luke makes it three years in a row that there has been a Scot in the men's team – with Callum Hawkins having been to Macedonia in 2014 and Andrew Butchart to Italy in 2015.
Men's team: 
Ben Connor, Andy Maud, Luke Caldwell
Women's team:
Lauren Deadman, Jessica Coulson, Jenny Nesbitt
Tags: 000m, Callum Hawkins, Derek Hawkins, Euro Champs half marathon, European Cup 10, Luke Caldwell, Susan Partridge, Tsegai Tewelde