'Family ties are so important' – Chris O'Hare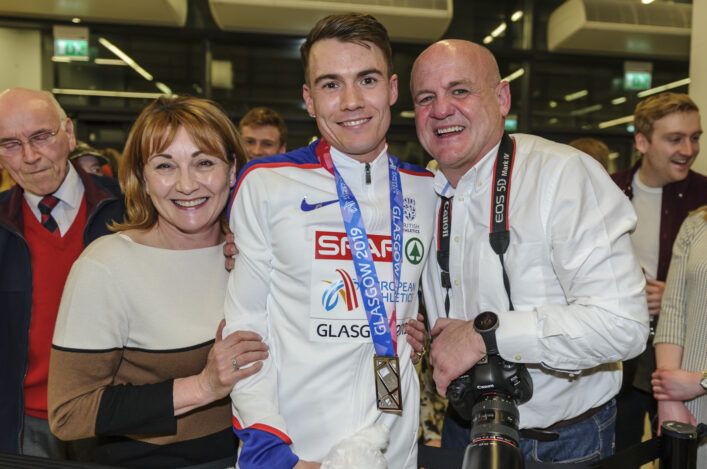 Mum Gillian and dad Terry with Chris after a superb silver in the 3000m at Glasgow 2019 (photo by Bobby Gavin)
Chris O'Hare clocked 3.56.6 last week in a 'road mile' on a special track in Boston on a weekend when there were so many good performances by Scottish athletes that his achievement was not much more than a footnote.
Chris has run the mile quicker than that a number of times but, as scottishathletics Historian Arnold Black has now identified, this was his 21st run inside the coveted four-minute barrier. Sol Sweeney became the 29th Scot to break four minutes for the mile earlier this year.
Athletics Weekly recently turned the spotlight very much on Chris as he spoke candidly about fatherhood, family and his remaining track ambitions in a fine interview by Katy Barden (nee Anderson).
Some years ago, Katy worked with scottishathletics in a communications role. Read on . . .
By Katy Barden
Chris O'Hare was trying to finish his session. Or, more accurately, he was trying to get it started. His four-month-old son Ronan, however, had a different plan.
'I had 4 x 1 mile then some fast stuff after,' says Chris. 'I was only half way through the first mile rep and he woke up screaming . . . '
O'Hare – who was preparing for the indoor season – wasn't just doing his wife Meredith a favour, or having a day of dad-son time, this was his new normal.
Meredith had returned to work after three months, by necessity rather than choice, and his athlete-husband role had evolved to include a full-time dad dimension.
'Other than track sessions, I did all my running on a treadmill in the living room with Ronan in his little seat next to me on the floor.
'At first it was great because the noise of the treadmill put him to sleep and it was no problem, but within a month of me doing that and getting used to it, it became quite significantly harder because he was like 'I'm awake, I don't want to sit in this chair, I want to be with you, or I want out on the floor', and he would just cry.
'I was often turning a double day where I'd do 8am and 4pm into one 11/12 mile run in the evening when Meredith got home from work.'
Chris savours indoors success with son Ronan a couple of years ago
His track sessions, in the company of his training group and coach Terrence Mahon, took place once a week at Harvard indoor track, but he was soon left to train alone – with Ronan in tow – when they departed for an altitude camp.
Things were working well though, and their respective routines appeared complementary.
'Ronan would always fall asleep in the car on the way there.  I'd get him into his pram and if I was lucky, I'd finish my session by the time he'd wake up. I'd change him, feed him his bottle, and then we'd go to the weights room to do lifts and I'd let him watch me in the gym.
'He was happy enough to watch me, until he wasn't . . .'
Life for O'Hare had definitely changed.
'Yes, being a dad is hard and being a dad as an athlete is hard, but that shouldn't take anything away from what mums do.
When I think about women runners who come back from having children, I never had to sit out any time from my running. Yes, it made it inconvenient, slightly more difficult, but if I was motivated to do it, it was doable.
'I would say that my preparation in 2017 for the World Champs in London was more difficult than most other western world athletes.
'But my difficulties – they weren't struggles – my hurdles to overcome were nothing compared to what female athletes, and even women who are not athletes, have to go through in bringing up children.'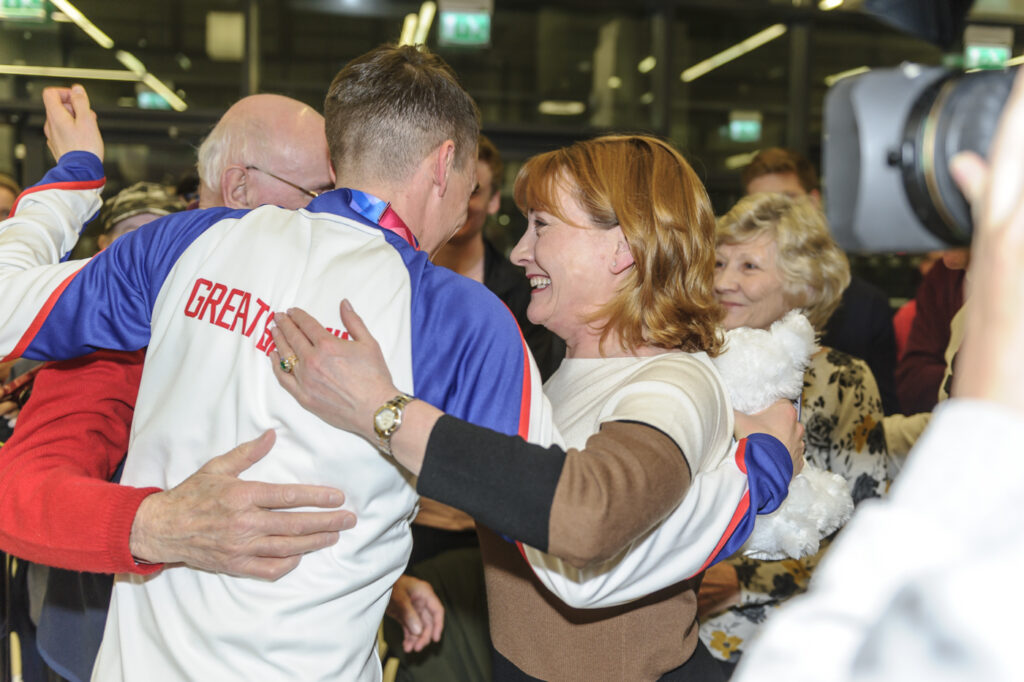 Mum Gillian relishes the moment with Chris after Glasgow 2019 silver in the 3000m (photo by Bobby Gavin)
O'Hare is a doting dad and acknowledges that his parents played a significant role in his own upbringing, instilling strong family values from a young age.
'Growing up, I never once thought, 'where is dad, where is mum?' They were always there,' he says looking back.
'Sure, dad might have missed putting us to bed, coming home late from work, meetings and stuff like that, but he was always there all weekend and without fail to take me all over the country for track and cross country.
'It's only now I realise it's because he made it that way, not because that's how it was – and to do that for four children is no easy feat.
'And not just my mum and dad, but both sets of grandparents were always there, were always supportive. I never questioned their love or questioned their being there for my siblings or for me, so it's never even crossed my mind that anyone would be any different to that: which is how it should be.'
At the end of 2017, when their son was a little over a year old, the O'Hares made the decision to relocate from Boston back to Tulsa to be closer to Meredith's family.
'When Ronan was a baby it was fine, but once he was moving around he required more from us, it was almost impossible with running and Meredith working full time.
'Moving has helped. It doesn't necessarily benefit me as much as it does Meredith because I'd obviously love for my family to be here too or not be so far away, but the fact that it benefits Meredith makes me happier. It's also huge knowing that when I'm leave for training or racing that she's got her mum and dad nearby for support.'
Gold Coast 2018 . . . the 1500m final didn't unfold the way Chris had hoped in Australia (photo by Bobby Gavin)
2018 was a big year for O'Hare with the World Indoors in Birmingham and the Commonwealth Games on the Gold Coast, but it was, by his own admission, a disappointing one.
That's despite running some quick times, including breaking his own Scottish national 1500m record in the Monaco Diamond League meet with 3:32.11, he says he messed up.
'Last year was tough. I had injury issues at the start of the year that knocked on through the whole year. My foot injury that had ruined the World Indoors carried on and ruined the Commonwealths and while being away is hard, it makes it harder when you're not achieving what you went out to achieve, when you're not justifying it.
'Collectively, I was away for almost seven full months last year. That's too much.
'When I was in Berlin for the Euros I'd been away at that point for two and half months and we had another two weeks to hang around in Europe until the Birmingham Diamond League. By the time I got home I'd been gone three months.
'When you're younger you just absorb all of these things, but you can't possibly comprehend – or I couldn't – how difficult it would be to be away from my son; it's a totally different ball game when it's your own baby.
'My mum and dad go everywhere which certainly makes it a little bit easier . . . it's nice to have people at major Championships.
'But the more difficult part is when you're finished with the Champs, or even before that when you're exhausted from training and exhausted from being away, and I think that's something I overlooked too much – that time to adjust back to family life and being a husband and a dad.'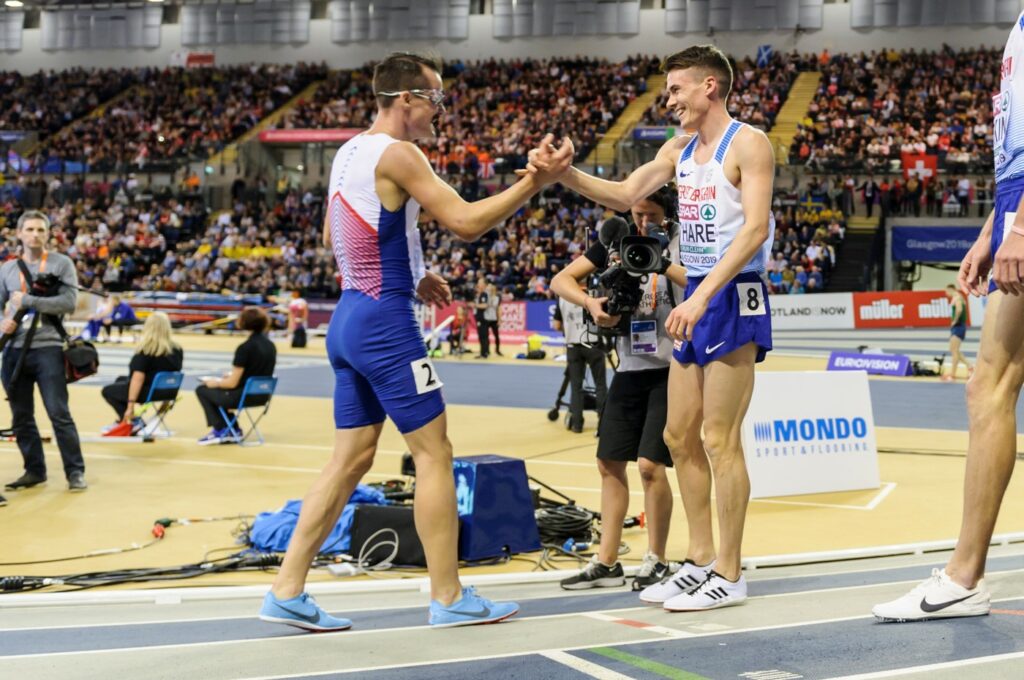 Healthy rivalry . . . Chris and Henrik Ingebrigtsen in Glasgow after thrilling finish to the 3000m final (photo by Bobby Gavin)
As he prepared for the 2019 indoor season O'Hare adopted a new approach – one which saw him, as well as his training partners, skip their traditional altitude camp.
After a hectic year he didn't feel like he'd spent enough time at home and wasn't ready to leave again so soon.
'I spoke to Terrence and said I honestly didn't think it was worth going because the thought of leaving at that point was exhausting. To leave for a training camp exhausted is no good and he said 'honestly, it's ok, it's not worth it'.
'A couple of the other guys said the same thing, so the whole team decided to give altitude a miss and when I got to Glasgow for the European Indoors I was fresh as a daisy.
'I'd been away from home at that point for about two weeks rather than six weeks, and it was so refreshing to go into a major Champs excited about competing and not just being excited to get home."
The decision paid off, with O'Hare splitting the Ingebrigtsen brothers Jacob and Henrik to clinch 3000m silver. His year is now geared towards the World Championships in Doha in October.
'I'm confident we can make it work outdoors as well.  For instance, missing altitude camps . . . the altitude training is obviously great, but for me the physical benefits don't outweigh the being at home for that period of time.'
There are other challenges to overcome, of course, not least the late summer-peak and the highly competitive nature of the men's 1500m in Scotland and the UK currently, but that's a positive thing says O'Hare.
'It makes everybody step up their game.'
Josh Kerr, Jake Wightman and Neil Gourley will doubtless second that emotion.
*A version of this interview by Katy Barden first appeared in Athletics Weekly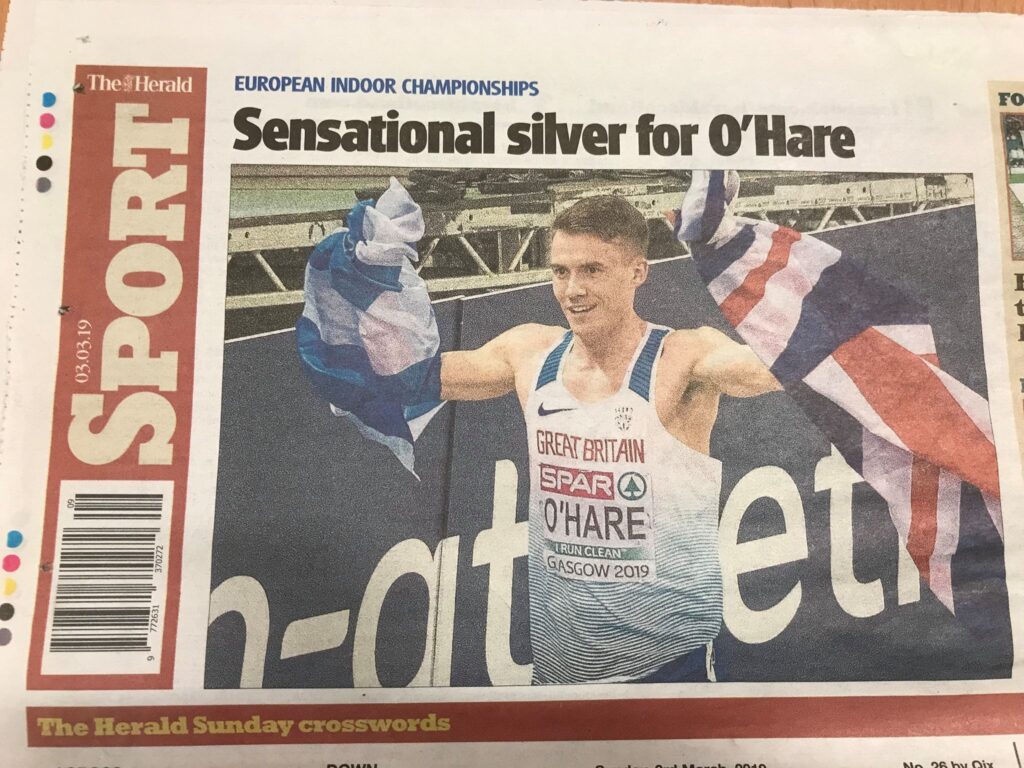 Tags: Chris O'Hare, Glasgow 2019, Gold Coast 2018, Terrence Mahon