Enter the Great Scottish Run – Charlie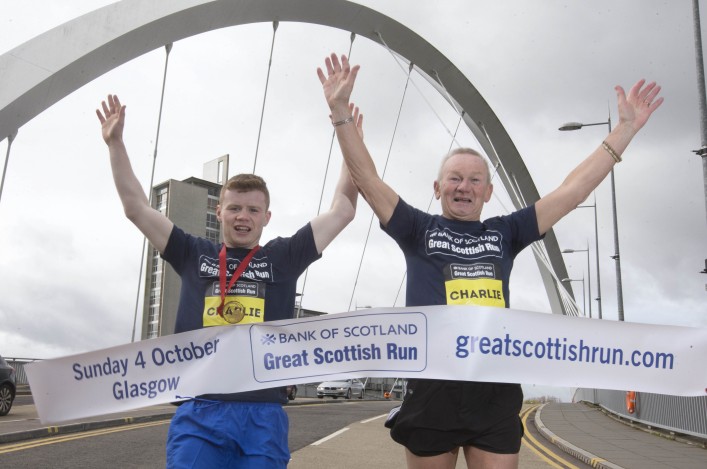 'Get aff the couch and get intae it' – says Charlie Flynn (Photo by Jeff Holmes)
Commonwealth Games gold medallist  Charlie Flynn joined veteran runner Charlie Docherty, 71, on a training run over the Clyde Arc to officially launch the 2015 Bank of Scotland Great Scottish Run.
Boxer Flynn, who shot to fame during Glasgow 2014 thanks to his ring boxing prowess and unmistakeable banter, has never taken part in a run before and has enlisted the support of his namesake, Charlie Docherty, who has participated in every Great Scottish Run since the event began.
Taking place on Sunday 4 October, Scotland's largest mass participation running event incorporates both a 10k and half marathon route that wind their way through some of Glasgow's best known streets and encompass a huge variety of iconic sights and buildings along the way.
The Great Scottish Run doubles up as the Scottish Half Marathon Champs for 2015, with Callum Hawkins having won the title in 2014. The day before the mainevent, Saturday October 3, also sees the popular 'Super Saturday' returning to the city with a toddler dash, family mile, mini run and junior event.
Last year, the event drew a record-breaking number of entries, with over 30,000 registering across the weekend and attracting elite athletes such as Haile Gebrselassie, Tiki Gelana and Michael Shelley.
Charlie Flynn, who will be running the 10k, said:  'Running is a big part of my fitness routine to keep in shape for the boxing ring, but I've never taken part in a large scale event like this so I'm excited to start training!
'I'm glad I've got someone like Charlie Docherty on hand to help me though; he knows this event inside out so I'm hoping to pick up some good tips today.
'I 'set off' the runners on the Bank of Scotland Great Scottish Run 10k in 2014 and the atmosphere in George Square was electric so it will be amazing to be in amongst all the runners this time round.'
Asked if he had a message for anyone thinking about entering the Great Scottish Run, Flynn said: 'Get aff the couch and get intae it.'
Enter the Great Scottish Run online
Radio Clyde website piece with links to audio interviews
Charlie Docherty, who ran for the now disbanded Loudon Runners in Ayrshire, said: 'The Bank of Scotland Great Scottish Run has been the highlight of my running calendar for over 30 years now and I can't wait to be on the start line again in October.
'Charlie Flynn is a fit young lad, I am sure he will do brilliantly in the 10k and I will certainly be there cheering him on!.
'As for myself, I started these in my 40s when I gave up smoking and, like so many people who have caught the running bug, I still love it. The Great Scottish Run is just a great race to be involved in.'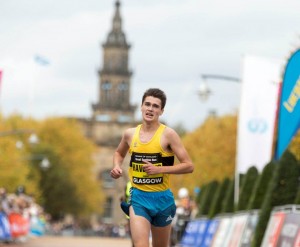 Callum Hawkins wins Scottish title on Half Marathon debut
Starting at George Square in the heart of Glasgow, the Bank of Scotland Great Scottish Run sees some of the world's best known athletes and tens of thousands of club, charity and fun runners follow the iconic 10k and half marathon routes through the city before they enter Glasgow Green and reach the tree lined finish straight in the shadow of Nelson's Monument.
Returning as official sponsor of the event this year is the Bank of Scotland, with its new 2015 charity partner BBC Children In Need.
Robin Bulloch, Managing Director, Bank of Scotland Community Bank, said: 'Continuing to be at the heart of local community is immensely important to us, and the Bank of Scotland Great Scottish Run brings thousands of runners together at all levels, last year raising over £1.5 million for worthy charities.
'Hundreds of our colleagues will take part in this year's race, many of whom will choose to raise funds for our charity of the year, BBC Children in Need.  We hope they will raise thousands of pounds which will help change the lives of disadvantaged children and young people across the UK.'
Chair of Glasgow Life, Councillor Archie Graham, said:  'We are delighted to host the Bank of Scotland Great Scottish Run.  Glasgow has an increasingly strong presence on the world sporting stage and this event, which has taken place in the city for some 30 years, has played a key role in building that reputation.
'This is Scotland's flagship festival of running, one which offers everyone the opportunity to get involved.  From first-timers like Charlie Flynn to those who raise a dizzy amount for charity like Charlie Docherty, all of whom will be running alongside some of the sport's top athletes.  The support they all enjoy from the ever-enthusiastic crowd is sure to spur them on to smash their personal best.'
The Bank of Scotland Great Scottish Run is open for entries at www.greatscottishrun.com
You can follow the event on Twitter @GreatScotRun using #greatscottishrun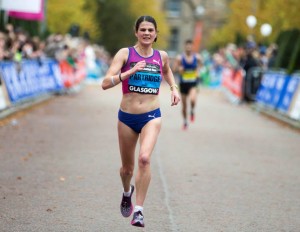 Susan Partridge won the Scottish women's Half Marathon title in 2014 
Tags: