Eilidh lands World Champs relay bronze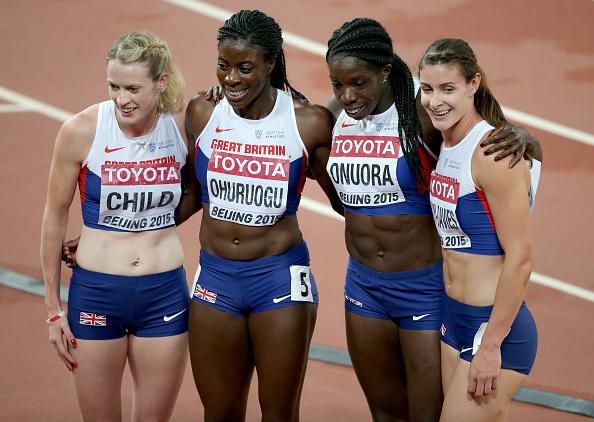 Eilidh Child added to her impressive medal collection with a superb display as GB took bronze in the 4 x 400m final at the World Champs.
The British quartet came home behind America and Jamaica in 3.23.62 with the European champion at 400m Hurdles running a fine third leg.
And there was a medal, too, for Kirsten McAslan after she played her part for the squad with a good run in the Beijing heat.
Eilidh was the fastest of the British 4 x 400m team in the final, timed at 50.61, as she ran the third leg after Christine Ohuruogu and Anyika Onuora had opened up – with Seren Bundy-Davies bringing home the baton.
'We knew we were capable of getting a medal, but we had changed things about a bit so we're just over the moon we could all bring something home,' said Eilidh.
'We all wanted it for each other as well.  There's so much depth to this team – we've got three girls, Kirsten (McAslan), who ran yesterday, Laviai (Nielsen) who is going to be the future of this event and Margaret (Adeoye), who was part of the team in Moscow.
'No one's spot is safe and come next year, we're going to be fighting up there and we're going to be on that podium again.'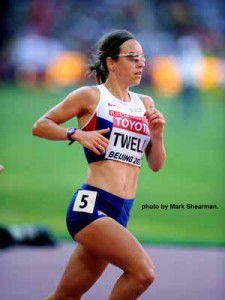 Steph Twell – 12 in the Worlds 
Steph Twell's final appearance in the 5000m finished with a 12th place in a time of 15.26.24 in Beijing.
The World Champs marked a return to the global stage for Steph for the first time since 2010 and she was rightly delighted with the way her comeback has un-folded.
Steph, of course, started the season by posting the GB qualifying standard in America and then took the British title at Birmingham. She followed that up with another qualifying standard and then progressed from the heats in China to Sunday's 15-women final.
'It was tough – there was a moment in the race when you had to make the decision to go or not,' said Twell.
'And I knew Susan (Kuijken) was going to be strong so I wanted to work with her. There's a point that I thought I should have gone with the Kenyans, but then to be in the final now I know what I need to step up to in future.
'It's been brilliant being back on the team – this has always been my motivation. Every training session, you think about it, being on this stage and the crowd out there, putting on the GB Kit – you want to be the best in the country and be mixing it with the best, and to do so you have to race regularly and now I'm here.
'I haven't been on the scene for five years and I know I have some lessons to learn, but I am going to go away and use this as motivation.'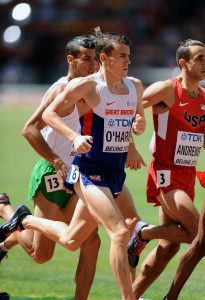 Chris O'Hare – semi-final pain
Chris O'Hare missed out on the final on Friday as his semi-final run ended in agony as he was edged back into seventh place in 3.44.36.
The European indoors bronze medallist looked on course to make Sunday's final late in the race but he didn't quite have the finishing speed required.
And Chris didn't pull any punches in his assessment after the race.
'It was perfect up until 50m to go, and then that was it: just rubbish,' said Chris.
'It's really frustrating, we've put a lot of work into that last 50m, unfortunately today I was seventh best.
'It's simple as that and I'm absolutely gutted. I really wanted to do something to show how fit I am. This season has been a rollercoaster, it's just rubbish. I'm lost for words.
'It doesn't matter if you run the perfect race if you don't qualify. It only becomes a perfect race IF you qualify. And I didn't so, perfect race or rubbish race, it was a rubbish race.'
With thanks to Alex Ferguson of British Athletics in Beijing for comments from Scottish athletes; thanks to Mark Shearman for photographs
Tags: Beijing, Eilidh Child, Kirsten McAslan, Steph Twell, World Champs