Eilidh sixth, Steph through to final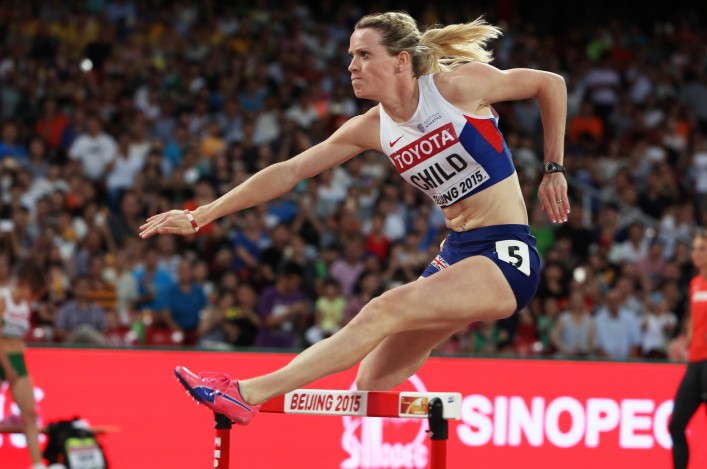 Top six place for Eilidh again – photo in Beijing by Mark Shearman 
Women's 400m Hurdles final Result
Eilidh Child finished sixth in her second successive World Champs final in Beijing to once again underline she's at the very highest level in the 400m hurdles.
Child clocked 54.78 in China after reaching the final eight as one of the fastest losers in the semi-final.
And, such are the high standards of the European champion, Child still felt she might have done better with that time half a second shy of her Scottish National record and three tenths of a second slower than the  season's best 54.46 she ran at the European Team Champs in Russia.
Ironically, last summer's Commonwealth Games nemesis, Kaliese Spencer, finished behind Eilidh on this occasion in eighth place with the Scot at one stage early in the race looking likely to contest the medal positions or even fourth or fifth.
'I just didn't execute the right race,' said Eilidh, who finished fifth two years ago in Moscow.
'I stuttered on a couple of the hurdles and I felt if it was smoother, I would have run a much better race. I was disappointed with the hurdling and it was all a little bit messy. I'm perhaps not making the right decisions.
'I feel like I should be amongst the medals or at least closer and I just feel like I'm throwing these opportunities away. This has been quite a difficult year. It's been a transition year with a new stride pattern and I wanted to have nailed it before I got here, but I hadn't really done that and I'd been deciding which way to go.
'I just don't think I'm quite decisive enough racing, so hopefully next year I'll be a bit quicker and make that stride pattern a bit more consistent.'
Asked about the Olympics next year being the bigger picture, Eilidh said: 'I would say so – hopefully this means that when it comes to Rio, I can have nailed that stride pattern to something quite consistent.
'My wedding is the next big thing in my life, so I've got to get back and organised for that. I don't feel as much pressure as I had out there tonight, so hopefully I will be a bit more chilled out.'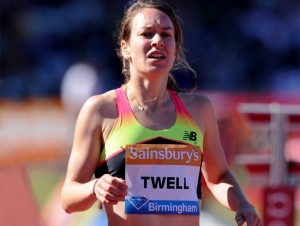 Steph Twell – final coming up
Steph Twell was thrilled to reach the final of the Women's 5000m – with the World Champs marking her return to the big stage after missing a number of major championships through injury.
Twell clocked 15.34.72 in seventh place in the first heat in fierce conditions in the Bird's Nest. It proved enough with the temperature even hotter for the second heat a little later and Steph's time was good enough for a fastest loser's place in Sunday's final.
'I've been watching the track like a hawk: it's so hot out there, I can't tell you,' said Steph.
'Your legs feel good, but your throat is so dry. It's been different to the humidity I've been training in and you can see that people were dropping like flies. It was even tougher 10 minutes later (in the second heat). 'I'm just so grateful I've worked hard to get here and now I can relax. I think I've needed to get a race out of my legs and just run.'
It is Steph's third visit to Beijing after competing in the World Youths and the Olympics in 2008 when still a teenager.
'I feel like I'm reliving my youth – it's like a second home now,' she added.
'I'm getting used to bigger competitions. It's my first campaign over 5k at a world level, but I still feel quite comfortable here and I think I executed a good race. There's more to come and I think it was just a case of running my legs out, but I'm happy and where I want to be.'
Steph's final start-list for Sunday
+++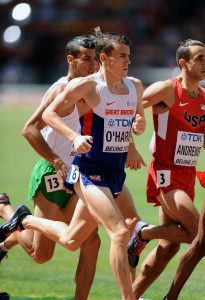 Chris O'Hare – photo by Mark Shearman
Chris O'Hare is bidding to reach his second successive World Champs final in the 1500m and he cleared the first hurdle with automatic qualification from his heat.
The European bronze medallist finished fifth in 3.
Chris suffered a couple of awkward moments on the last lap as the 1500m argy-bargy threatened to bring someone done but he then fought through on an inside line and didn't have to sweat on his time to join Charlie Grice in the semi-finals.
'Job done – by the skin of my teeth,' said Chris.
'I was getting a bit worried when I got tripped up with 380m to go, but I managed to compose myself quickly. Then I saw that I had Silas Kiplagat in front of me, and I thought just trace him, he's not going to be sixth, so if I can just trace him on the inside, that was my plan and it worked out in the end.
'It's a lot more stressful when you're on the inside and you are trying to get a spot on the outside, so I just made the most of the inside and you can make it work when there are six people to go through.
'It wasn't that fast so I knew it was going to be hot for the qualification slots. That's 1500m running for you.'
Semi-final start-list for Chris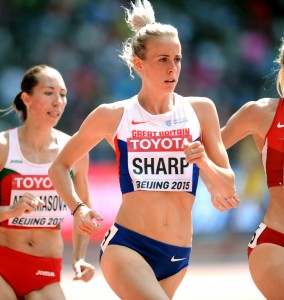 Lynsey Sharp – pictured during the heat, by Mark Shearman
There was semi-final pain in Beijing for Lynsey Sharp as she missed out on the final in her first World Champs.
Lynsey was caught up in the fastest of the three semis and duly finished eighth in 1.59.33 as the top four went through.
The Commonwealth and European silver medallist went with the pace of Eunice Sum early on but faded in the final 100m on a day when it would have taken breaking her own Scottish National record to reach the final and Sifan Hassan's new PB of 1.58.50 wasn't enough.
Fellow Brit Jenny Meadows also missed out but Shelayna Oskan-Clarke made it through with a PB.
'I think I didn't run my own race,' said Lynsey.
'I was concentrating too much on Sun and did not execute it the way I usually do. I know I am in great shape and have done all the training so there's really no excuse – I should have been able to cope with anything today. For some reason, it just did not all come together.
'Can I just say a massive well done to Shelayna? She's made the final, brilliant.'
Lynsey had made safe progress from her heat with a second place finish of 1.58.98. That run is the third fastest of Lynsey's career and only 18 hundredths adrift of her Scottish National record for the event.
After that race, she said: 'It was good, nice to get out there. I've just been sitting, watching and waiting everyone else compete, so it was just nice to get out on to the track eventually.
'I knew being first heat it would be fast and I just had to cover any moves anyone made. I knew there were a couple of girls who would take it out hard, so I just covered everything, and felt good.'
With many thanks to Alex Ferguson and Liz Birchall of British Athletics in Beijing for comments from the athletes.
Tags: Beijing, Chris O'Hare, Eilidh Child, Steph Twell, World Champs