Edinburgh Run feels great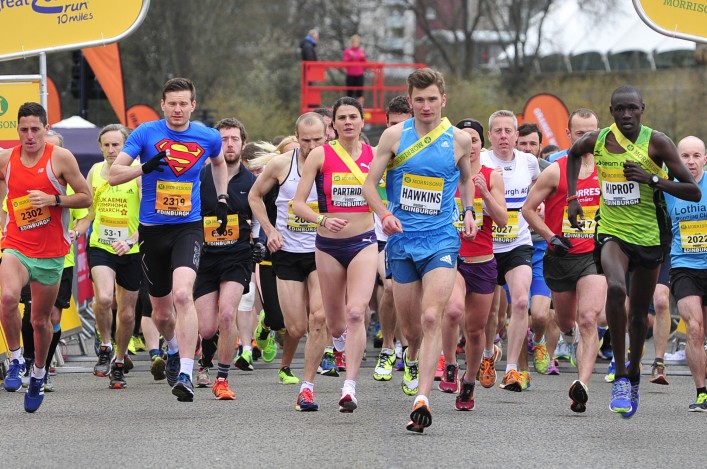 Commonwealth Games duo Susan Partridge and Derek Hawkins start the Great Edinburgh Run Relay
Andrew Lemoncello and Rhona Auckland each finished second in the Morrisons Great Edinburgh Run but were pretty satisfied with their performances over 10 miles.
With a brand new Team Relay option for 2015, allowing teams of two to split the full 10 mile route between them, the runners took in some of the capital's best sights including Holyrood Palace, Arthur's Seat, Greyfriars Bobby and Edinburgh Castle.
Susan Partridge teamed up with Helen Clitheroe to win the Women's Relay race while Derek and Callum Hawkins could be pleased with running  Boniface Kiprop (Uganda) and Loitarakwai Lengurisi (Kenya) pretty close. The Africans clocked 48:28 with the Kilbarchan brothers at 48:37.
Ethiopia's Tsedat Abeje Ayana was first over the finish line in the 10 miler, completing the route in 48:44, followed by Andrew Lemoncello in a time of 50:02 and Peter Huck in a time of 50:30.
USA-based Scot Lemoncello had reason to be happy with only his second competitive outing since taking a three month break at the end of last year because of a groin problem.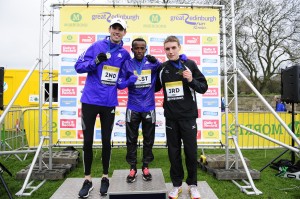 Andrew on the podium
'It was a lot better than last week,' said the 32-year-old, who finished fifth in the BM 10km road race in Brighton seven days previously.
'Last week got my legs going a wee bit and I felt a lot stronger over the longer distance in Edinburgh.  The wind and the course made it tough today. It was relentless. Every time I thought I was going to be really cruising, another hill came along or the wind was in your face.
'When Ayana pulled away up a really sharp hill I just couldn't do anything about it. But I'm happy with that. I was just about dead on 50 minutes. I was very pleased with that on this course – at this time of the season as well.'
The first woman finisher was England's Jess Coulson who came in at 56:06, with Auckland runner up in 56:12 and Ireland's Maria McCambridge third in 56:21.
Coulson showed the ten mile pedigree that earned her a runners-up spot behind Jo Pavey in the 2012 Great South Run.
'It was my 25th birthday yesterday, so it was a nice present,' said Coulson.
'I got away a little bit on the big hill between miles four and five. I didn't really want to go that early but Rhona wasn't coming with me so I just kept going from there.'
For Rhona, a first outing at the 10-mile distance was good preparation for track competition to come – with BUCS looming at the start of May and the British 10,000m Champs which could lead to European U23 selection.
'I enjoyed it and it was a good, competitive race with Jess and I well matched,' said 21-year-old Rhona, after the longest race of her career so far.
'I didn't really notice the miles because it was close and I was concentrating on that. I am going to focus on 5,000m and 10,000m on the track this summer and hope to get to the Euro U23s in July. That's the main goal for now.'
The Team Relay male champions were Kiprop and Lengurisi in a time of 48:28. They were joined on the winners' podium by the female victors, Partridge and Clitheroe, who completed the ten miles between them in 56:07.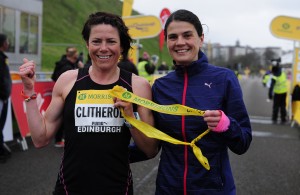 Susan celebrates success with Helen Clitheroe
'It was fun,' said Partridge, who finished sixth in the Commonwealth Games marathon in Glasgow last summer.
'I think it's a good idea to split the distance and run it as a relay. It's a tough course but I enjoyed it.'
Andy Mitchelmore from event organisers The Great Run Company said:  'It is always exciting to see so many runners take to the roads of Edinburgh, passing so many iconic buildings along the way.
'The Morrisons Great Edinburgh Run has been a key fixture in the Scottish running calendar since 2005 and the introduction of the 10-mile course last year was a great success.
'For 2015 we decided to include a Team Relay option to provide allow runners who are more comfortable with a shorter distance to still be part of the day and it has gone down really well with our participants so we look forward to welcoming back that option next year.'
Councillor Richard Lewis, Festivals and Events Champion for the City of Edinburgh Council, said:  'It was a spectacular sight to see thousands of runners snake around the city centre and Arthur's Seat for the Morrisons Great Edinburgh Run and it was fantastic that so many spectators came to show their support. Well done everyone who took part!'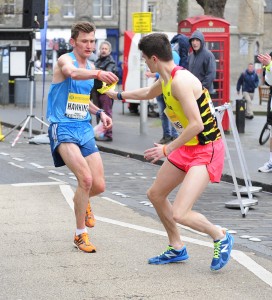 Handover: Derek and Callum in relay action 
Photos: With thanks to Joey Kelly
Tags: Andrew Lemoncello, Callum Hawkins, Derek Hawkins, Great Edinburgh Run, Rhona Auckland, Susan Partridge