Earn Scotland vests at XC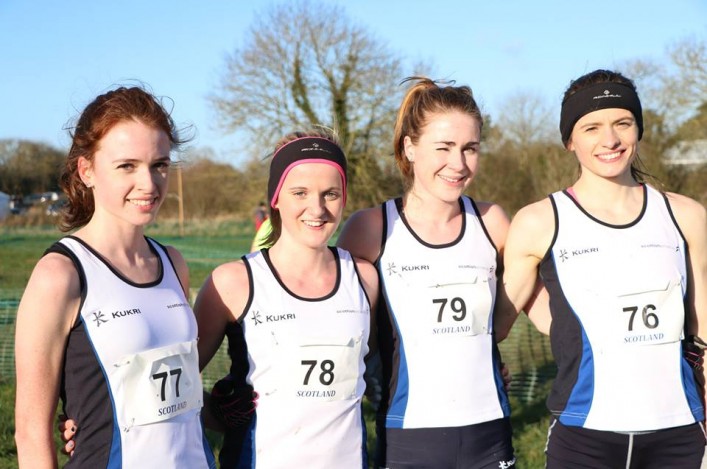 Scotland U23 Women's team at last season's Celtic XC event
Liverpool and the Scottish District XC Champs are next on the agenda in terms of the cross country season – and there are Scotland and Inter-District vests up for grabs.
The British XC Challenge event on Merseyside and the races in the North, West and East count as the main selection dates for opportunities looming in January.
Two of those are at international level and of course the District XC Champs offer a route to selection for the Inter-Districts at the Great Edinburgh XC event at Holyrood Park on Saturday 9 January.
Scotland will also host Celtic International XC races at the Great Edinburgh event with races at U23, U20 and U17 level against Wales, Ireland and Ulster.
Teams of four athletes will be picked to represent Scotland in those races, both men and women, across the three age-groups. Scotland won five teams races out of six at this event early in 2015.
A week after Edinburgh, the British Cross Challenge Series takes place in Antrim, Northern Ireland. Scotland can select up to three Senior men and three Senior women for this event (with one U23 in each group). Again, the form at the European Trial in Liverpool and the Districts will be taken into account.
Here are the relevant sections of the RR and CC Selection Policy for 2015-16:
*Celtic International: 4 each of U23 Men (born 1994, 95, 96), U23 Women (born 1994, 95, 96), U20 Men (born 1997, 98, 99), U20 Women (born 1997, 98, 99), U17 Men (born 2000 and 2001) and U17 Women (born 2000 and 2001) will be selected on current form, particularly the District Championships. Note age groups are under IAAF rules.
 *Inter Districts: Cross Country Teams will be selected by the districts on current form – especially the District Championships. Chair of selectors: East – Alex Jackson; North – Sophie Dunnett; West – Clare Barr. The age group categories are U13, U15, U17 and Senior/U20.
(At the Inter-Districts event, there is also a representative opportunity for Scottish Students).
*British Cross Challenge (Antrim): Up to 3 Men (including one U23) and 3 Women (including one U23) can be selected on current form – particularly the European Trial and District Championships.
The selections for these races will be made after the Districts (with the East taking place on December 12) and will be announced on this site after athletes have been informed.
Tags: Antrim, British Cross Challenge, Great Edinburgh XC, Inter-Districts, Scotoland