Drury, Black bounce back for gold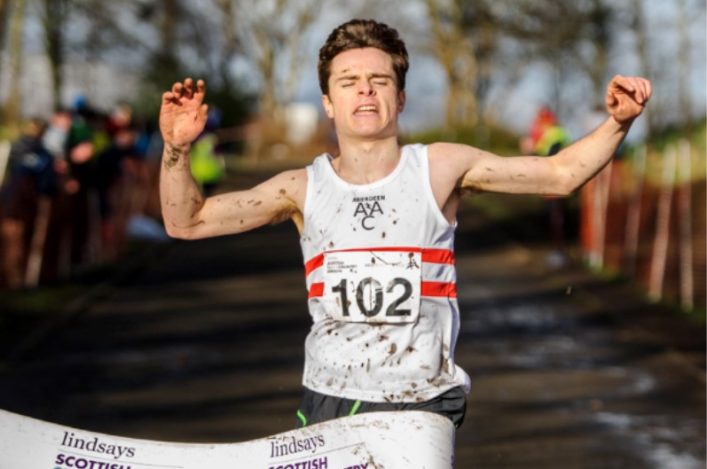 Broc Drury  celebrates his U20 victory at Falkirk (photo by Bobby Gavin)
There was a parallel thread running through the stories behind the two U20 title wins – with both Gillian Black and Broc Drury having recently recovered from injury.
Drury had a short-term tendon problem which cleared in time for a recent good run at BUCS, which acted as a springboard for his win at Callendar Park.
Black, for her part, was sidelined for almost seven months in 2016 with a stress fracture and has only really returned to action in 2017 – starting at the British cross Challenge in Cardiff.
Broc won in 25.45 over the 7.6K course after a tremendous battle with Kilbarchan's Euan Gillham (25.54) and Springburn's Jamie Williamson (25.59), who were second and third respectively. The team prize went to Fife AC.
'It was a good race today and I was never comfortable until I crossed the line,'  said Aberdeen AAC athlete Broc.
'I knew there were strong athletes but pushed it on a bit into the final long lap. There was a lot of support for Euan around the course, and he has run for GB, but hearing that just spurred me on a bit I think.
'I have to thank Ken and Joyce Hogg, my coaches, because I've made real progress with them in the past 18 months or so.
'I train with Michael Ferguson and there is a really good group and team spirit at the club. Even if someone is injured we are all encouraging that athletes and help each other. There's definitely plenty happening in the North-East at the moment and you look back to people like Rhona Auckland and it inspires you.'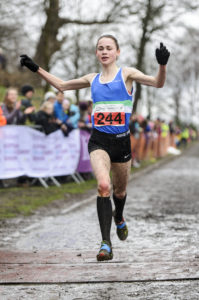 Black (pictured above) turned 19 the day before Falkirk and grinned: 'I had a quiet birthday – by that I mean I didn't get out a run!
'Being out for seven months with a stress fracture was very tough so it is good to put that behind me. I knew it would be hard today because the likes of Anna is really strong, so I am thrilled to win gold.'
The VP-Glasgow athlete won in 25.23 ahead of Forres athlete Macfadyen by 13 seconds and Kilbarchan's Sarah Dempsey (25.57). Kilbarchan topped the team standings after the 6.8K event.
An impressive display of front running saw Edinburgh's Freddie Carcas comfortably finish first in the U17s men's race. He ran 21.25 over 5.9K to clinch the win ahead of Inverclyde duo Ryan Gray and Cameron Watson, who came home in 22.24 and 22.26 respectively. The team prize went to Kilbarchan.
GB international Erin Wallace of Giffnock North won the U17 women's title, clocking 23.56 to beat Aberdeen's Naomi Lang (24.08) and Clare Stewart of Banchory Stonehaven (24.21). Wallace's efforts helped Giffnock North to team victory as well.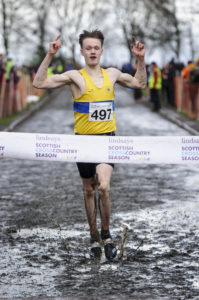 Erin's Giffnock North team-mate, Hamish Armitt (pictured), won the U15 Boys title over the 4.2K route, with another team prize captured by Kilbarchan. The other medals went to Chris McLew (Cambuslang) and Sunny McGrath (Deveron).
For the girls, Lily Jane Evans-Haggerty scooped first place for VP- Glagow, while Giffnock took team gold , too. The other medallists were Heather Barnes of Giffnock and Cera Gemmell of Team East Lothian.
In the first events of the day, the U13 boys title went to Harry Henriksen of Lasswade, who ran 10.44 for 3.2K with Inverness Harriers grabbing the team prize. The other medallists were Lucas Cairns of Inverness and Linlithgow's Andrew McGill.
Edinburgh AC were first girls team, with Fife's Anna Hedley coming out on top in the individual contest from Anya Maclean of Garscube and VP-Glasgow's Valencia Wright.