Congrats to Maria, Blair, Steve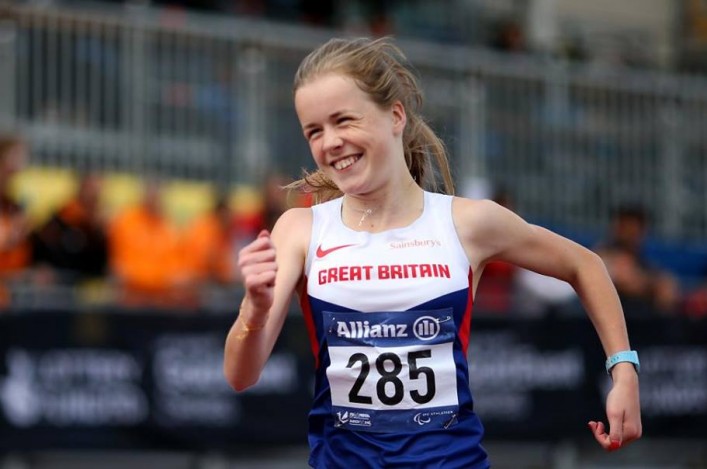 There's significant Scottish impact in the British Athletics annual awards – with recognition of achievement for young Para sprinter Maria Lyle and Blair Pettigrew of North Ayrshire AC.
Jo Pavey was named as British Athletics Athlete of the Year with Eilidh Child having made the short-list for the award from the UK-wide governing body.
And there were Scottish-based winners in two of the total of seven awards handed out by British Athletics following a week-long public vote.
Lyle, the teenager from Dunbar, has been named as Paralympic Young Athlete of the Year following some superb sprinting performances. Sammi Kinghorn was also short-listed in this category. Pettigrew is the UK-wide Volunteer of the Year after being nominated by scottishathletics in that category.
At just 14 years of age, Maria (Tabo Huntley) has followed up a year of international titles and world records with the British Athletics award.
In 2014, para-athletics found its newest star as Scotswoman Lyle burst onto the international scene by breaking the 200m world record in February, before taking over a second off the 100m record in Loughborough three months later.
There was no stopping the teenager as she broke both world records again in Bedford on the same day in May; however her crowning moment came with a double gold triumph at her first major championships in Swansea in the T35 100m and 200m.
The Volunteer of the Year Award was won by Blair Pettigrew from Scotland. Like all volunteers in the sport, Pettigrew has given up a minimum of 20 hours a week for the last 12 months to modernise North Ayrshire AC in every aspect possible and has been described as the driving heart of the club.
Scots-born Steve Fudge, who originally hails from fort William, is British Athletics Coach of the Year. Steve masterminded four European titles for three of his sprinters this year: James Dasaolu, Adam Gemili and Jonnie Peacock.
Other British Athletics winners were: Matthew Hudson-Smith as Young Athlete of the Year and Swansea won Club of the Year, with Edinburgh AC having been in the running.
Hannah Cockroft won the Para Athlete of the Year award with Jo Butterfield and Stef Reid both having made the short-list.
All the British Athletics Annual Award winners are listed on the website.
Tags: Blair Pettigrew, British Athletics, Maria Lyle, North Ayrshire AC, Steve Fudge