Clubs revel in National XC Relays mud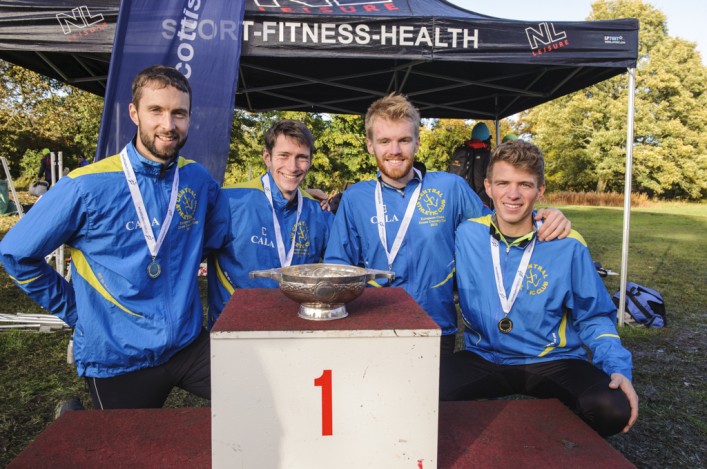 Four in a Row – Central AC celebrate; (left to right) Alastair Hay, Alex Hendry, Scott Green and Andrew Butchart. Photos by Bobby Gavin
RESULTS are on our Events page (scroll down on left) Note – these are provisional
Cumbernauld proved the ideal venue once again for a National XC Relays event which has now become one of the biggest days on the athletics calendar in Scotland.
Central AC's 'yellow train' proved unstoppable in the Men's race as they celebrated a 'Four-in-a-Row' success which suitably underlines their continued dominance on the cross country scene.
But Edinburgh AC prevented Central achieving that feat in the Women's race as the combination of Freya Ross, Rachael Dunn and Maddie Murray took to the top of the podium – with VP Glasgow doing well to edge the holder back into third.
Edinburgh AC had already won the Young Females race by that stage with West champions, Kilbarchan AAC, proving imperious in the Young Males as their lads took home both the golds and the bronze medals as three members of the Addison family won silver for Corstorphine AAC.
Finisher numbers will be confirmed in due course but may well denote the biggest fields in 23 years of this event and, at the peak point of the day shortly as the junior races unfolded, it certainly felt as if a crowd of between 3000 and 4000 had converged on the North Lanarkshire venue which has now hosted the National XC Relays for 15 years.
Photos by Bobby Gavin on Facebook
With Vinco Sport coverage, sponsorship from Lindsays and chip timing, a deliberate attempt by scottishathletics and the Road Running and Cross Country Commission to 'maximise' the most significant events of the year looks to be paying off.
For that to happen, we're hugely grateful to many helpers but most importantly to the clubs who supported this event in such vast numbers as athletes, parents, coaches and supporters made the effort to brave the mud, wind and rain (and sunshine) of a changeable late October day. Thanks.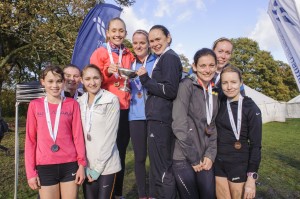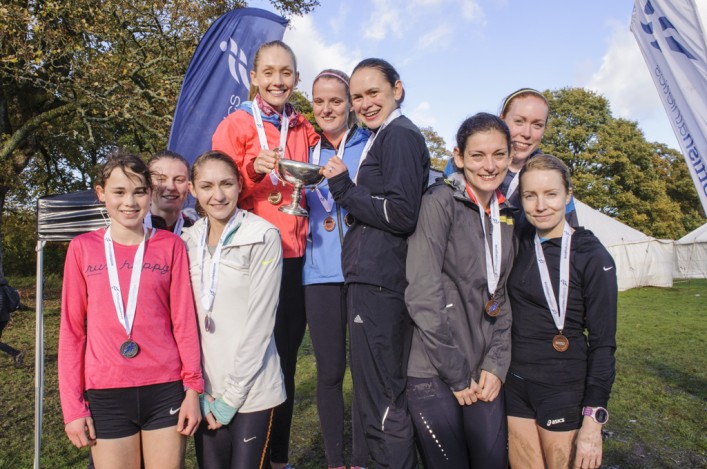 The Senior Women's podium as Edinburgh AC triumphed
'We are delighted to win the Senior Men's race once again,' said Central's Alastair Hay.
'There was a lot of competition again this year from Shettleston, with a strong team, and Inverclyde but thankfully we've seen it through. I think continuing to defend our title simply underlines both strength and depth at the club – our B team was fifth, as well.
'There's a good spirit and everyone is pushing each other on. We've an eye on trying to qualify for the European Cross Country club event – after being there back in 2013. We will go to Liverpool at the end of November and try and get there.'
Andrew Butchart brought it home for Central on a day when Tsegai Tewelde had the fastest lap with 12.07. Hay's fine run arguably made the difference for Central on the third leg as he chased down Mike Deason.
'I'm happy we've won it again and the lads set it all up for me,' said Butchart. 'We will back at the 4K Champs at Bellahouston but first of all four of us are off to Mallorca this week for some warm weather training.'
Freya Ross made her racing comeback on the first leg for the victorious Edinburgh AC team, with Murray proving emphatic on the third leg against Central and VP-Glasgow.
'It is good to be back and very nice to be part of winning team in a National championship once again,' said Freya.
'I've done a few parkruns but nothing like this so it was about getting out there and doing it. Rachael and Maddie had great runs and it's a good day for EAC with success in the Young Females race, as well.'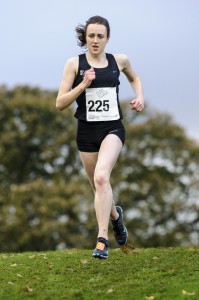 Blistering fastest lap of 13.35 from Laura Muir
Laura Muir had opted for a first leg run this time with Glasgow Uni and she didn't disappoint the crowds around the course with a superb 13.35 run for the 4k distance.
'I enjoyed it and about halfway I did wonder if I had done the first part far too fast,' grinned Laura, in between signing autographs for young athletes.
'It felt good but up the top I was very exposed in the wind with nobody to hide in behind! I am planning to race Bellahouston and will do that one for Dundee Hawkhill.'
VP-Glasgow's silver medals were set-up by a great run on the opening leg by Gillian Black, with the second best U20 lap and seventh overall, with Josephine Moultrie delivering a fine anchor leg, too.
+++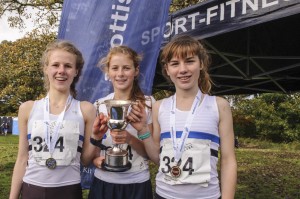 Edinburgh Ac – Young Females winners
In the Young Females race, Edinburgh went through in third after the first leg thanks to Pippa Carcas and Eloise Walker and Zoe Bates took them up to first and held it. Giffnock North B team were only 14 seconds adrift and they managed to beat their A team by a single second as Erin Wallace tried to reel in Sarah Eunson.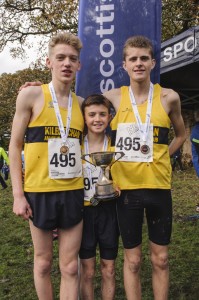 Kilbarchan AAC A team – champions in the Young Males race
Kilbarchan AAC were in second when Jack Patton handed over to Andrew MacAngus and U17 athlete Sam McNair saw them home.
Corstorphine's Addison family of David, Stephen and Anthony made it a special day with a podium place for the silvers with Kilbarchan B too strong for the chasing Lasswade to add bronzes to the club's golds.
+++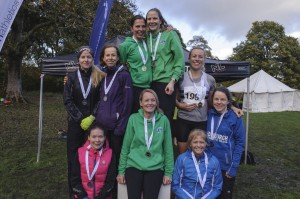 Gala topped the Women's Masters podium
Masters and V50 races continue to prove very popular, with the latter category having developed over the past few years at Cumbernauld.
Gala Harriers are no strangers to success in the Women's Masters category and they claimed gold thanks to the efforts of Fiona Dalgleish, Anya Campbell and Jennifer Forbes. The silvers went to Shettleston Harriers with Edinburgh Ac taking bronze.
In the V50 Women's category, there was a win for a Falkirk Victoria Harriers team led by home by Fiona Matheson after runs by Beryl Junnier and Caroline Lawless. Second places went to Clydesdale Harriers with Kirkintilloch Olympians in third.
Ronhill Cambuslang Harriers enjoyed double success as they took both the Men's Masters race and the V50 category.
Their winning team as Masters level was Kenneth Campbell, Frank McGowan, Kerry-Liam Wilson and Jamie Reid. The silvers went to Kirkintilloch Olympians and third to Corstorphine AAC. That's five Masters title wins in a row for Cambuslang.
There were 14 teams in the Men's V50 section with Cambuslang winning via the runs of Chris Upson, Paul Thompson and Colin Feechan. The other medallists were Strathearn Harriers and Edinburgh AC.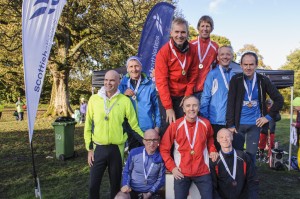 The Men's Masters podium
Tags: Central AC, Cumbernauld, Edinburgh AC, Kilbarchan AAC, Lindsays Cross Country Season, National XC Relays, North Lanarkshire Leisure