Classy Callum pipped – but beats Mo Farah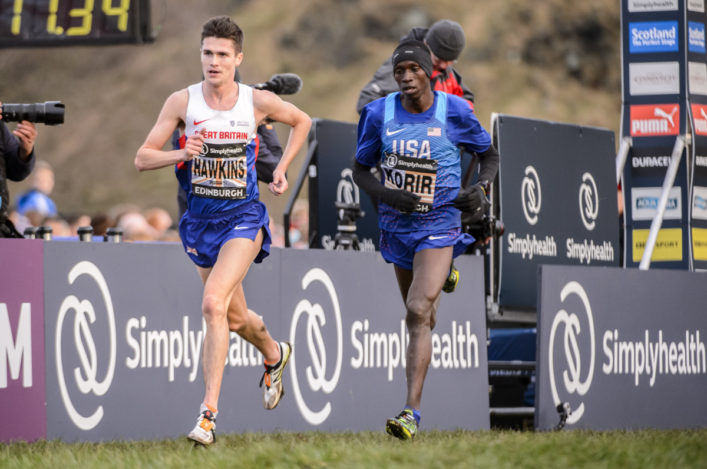 Photos by Bobby Gavin 
RESULTS on our Events page (on left)
Callum Hawkins headed into the Simplyhealth Great Edinburgh XCountry with words of praise from Sir Mo Farah ringing in his ears.
And the Scottish Olympian didn't disappoint with a thrilling performance as he came within just a few metres of a stunning win on a day when Holyrood Park became like Hampden at Glasgow 2014.
American athlete Leonard Korir timed his finish better to pip Callum in the last 20m or so – with the lead having changed hands a couple of times on the final lap of the Senior Men's 8K race.
Korir's winning margin was just a single second with 24.03 to 24.04 with Callum forced to second for a silver medal as the British team finished third overall on 208 points in the team competition won by Team USA.
The upside for Hawkins was he became the first British athlete to beat Mo Farah in any race for Seven years, since Ricky Stevenson and Steve Vernon did so at the same Holyrood Park venue in 2010.
It also served notice once again of a burgeoning Scottish talent, with Callum now determined to turn his full attention to the London 2017 World Champs after his pre-selection for the marathon.
Huge crowds gathered in the capital's most scenic park for an athletics extravaganza – with the action being served by everyone from fun runners to Inter-District athletes to Scotland in the International 4 x 1K Relay and Scots representing Team GB and NI.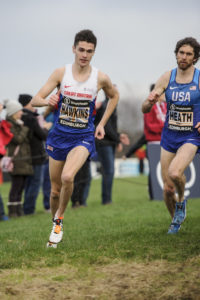 'I thought I had it – I couldn't hear (him coming behind) because of the crowd,' smiled Hawkins, who also beat American athlete and three-times Holyrood winner, Garrett Heath, and the two Kenyan-born Turkish athletes who beat him into third at the Euro Cross.
'I'm pleased with the way I ran, but obviously a bit disappointed to get beaten. I gave it my all. I noticed there was a bit of a gap, but I slipped a bit on one of the last bends. I don't know if that would have made a difference, though, because Kiror is a quality athlete.'
When asked about his decision to take the race on, Callum added:  'Over the last year or so I've just developed the thought of 'just go out, if I die, I die, but just go for the win'; if it works then great things can happen, but if I fall short then I'm still way up there.'
Behind Hawkins came Farah in seventh place after he gradually built into the race after moving through from 16th on lap two, with European Cross team gold medallist Andy Vernon taking a solid 12th place finish.
Speaking to the BBC afterwards, Farah said:  'It was a hard day at the office. You've got to be honest with yourself – it wasn't what I wanted but it is where I am. The last bit of training hasn't gone as well as I would have wanted. But this is a team event and I wanted to come out here and represent my country.
'Cross country is where I started as a kid and it is always fun. It is good for the youngsters (on the team) competing today and getting the support of these crowds.'
Beth Potter, who had been under the weather around the time of her last cross country appearance in Liverpool, performed well to finish in 14th place in the Senior Women's race over 6K.
That was fourth in the contingent of 12 GB women and Steph Twell wasn't far behind Beth in 16th place as the sixth Brit on the day.
There was a 13th place for Sol Sweeney in the Junior Men's race as he finished fifth out of the six GB and NI team.
'I'm reasonably happy with it in my first appearance in a GB and NI vest,' said Perth Strathtay athlete Sol. 'I was in the leading group for a good spell but it opened up a bit on the last lap.'
It was tougher for Erin Wallace as she finished 17th place after suffering a nasty spike injury and a fall in an eventful race. We hope the Giffnock North AAC athlete recovers quickly . . .
*Team captain Laura Muir led GB and NI to victory in the Stewart Cup International 4 x 1K Relay race – with Scotland A taking a fine third place.
Look our for a separate report on that race and one on the Inter-District action over the next 24-36 hours on here.
Tags: Beth Potter, Callum Hawkins, Erin Wallace, Garrett Heath, Great Edinburgh XCountry, Laura Muir, Leonard Korir, Mo Farah, Sol Sweeney, Steph Twell