'Chris will be in mix for Olympics' – Jake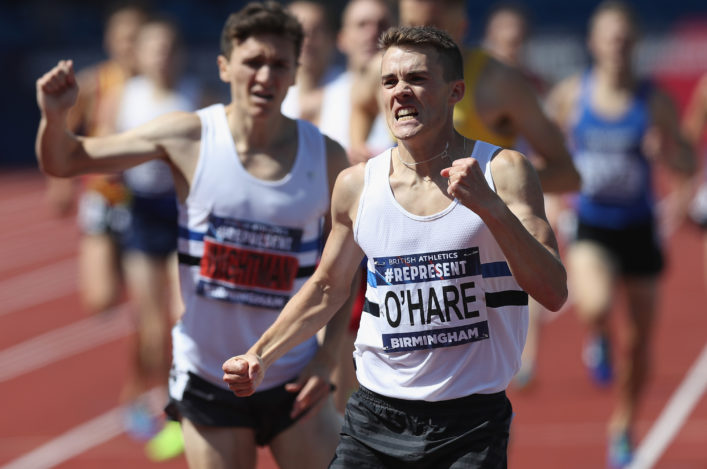 Jake Wightman fully expects a rejuvenated Chris O'Hare to join the intense battle for Men's 1500m places in Team GB and NI at the Olympics.
O'Hare missed out on the World Championships in Doha when Wightman led home a trio of Scots in the final – as he clocked a Scottish Record at 3:31.87 in the process.
But the American-based three-times European medallist has shown good form already in 2020 and Jake is certain his Edinburgh AC team-mate will be in the selection mix for Japan.
'If there is one thing we know for certain with Chris it is that he will fight back,' Jake told scottishathletics on his recent visit to Glasgow to race in the 50th anniversary Allan Scally Road Relays.
'He's had his disappointments and his frustrations over the past couple of years but he has a great capacity to turn things around. I think it is very much in his nature to do that.
'Chris has made a good start to 2020 already and, yes, I am very much expecting him to be right in the mix for the Olympics once again.
'I was over in Boston early in the Indoor Season and we had a chat then. It is always good to see Chris. He was telling me about his two boys and the responsibilities he has as a parent.
'Since I saw him at that stage of the season, he has had a couple more fast runs.'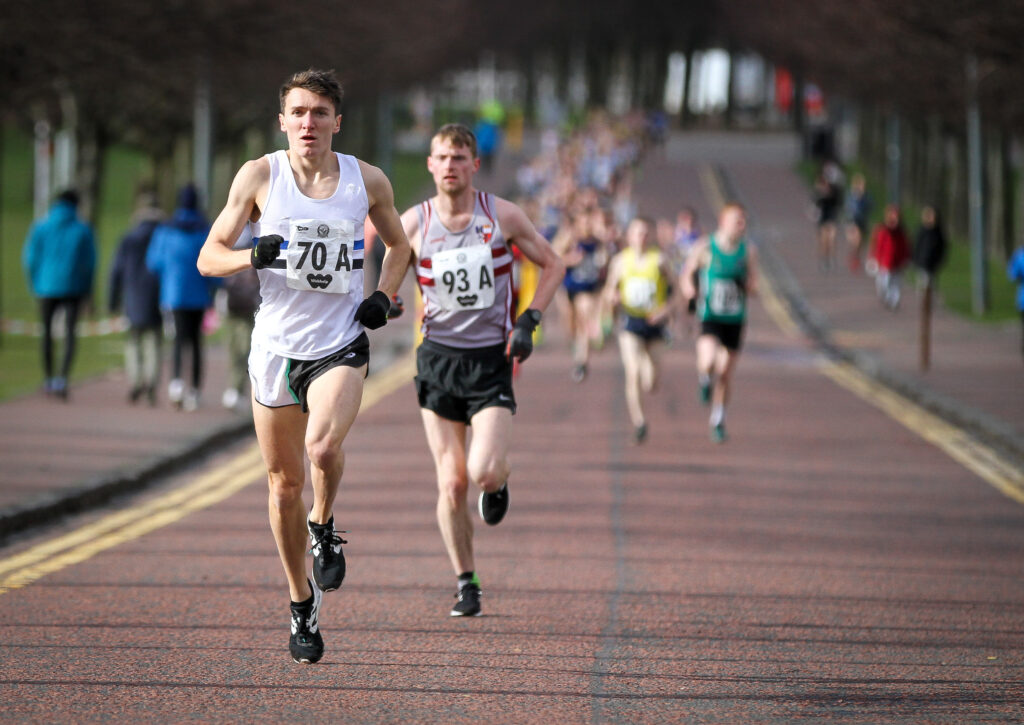 Photo by Steve Adam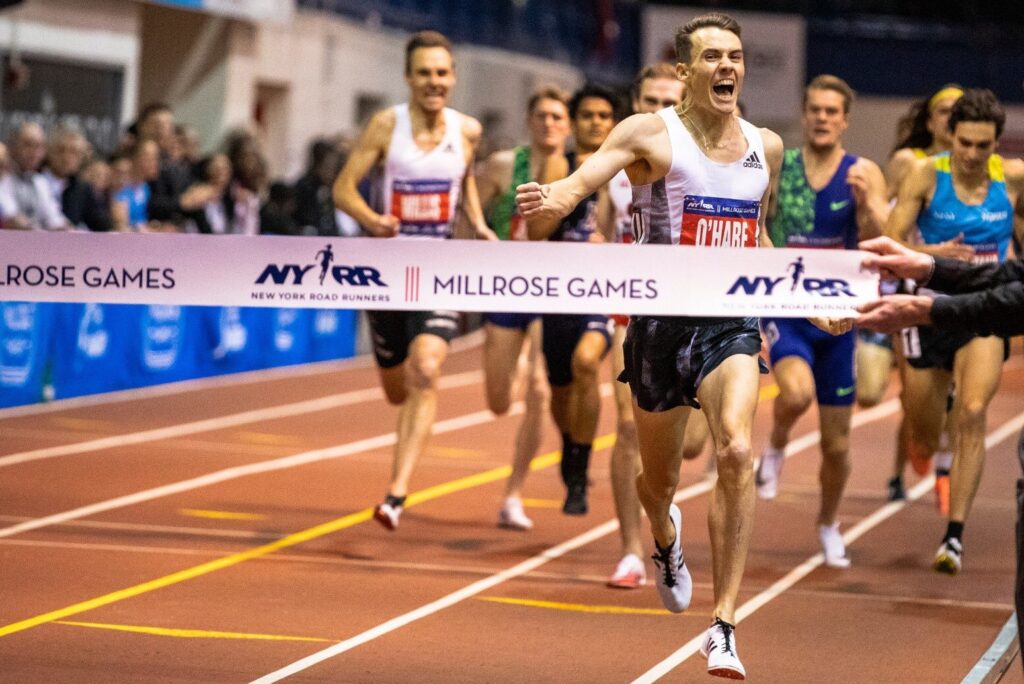 Chris wins a strong mile race at the Millrose Games
Wightman, Josh Kerr and Neil Gourley were the GB and NI picks for Doha. Englishman Charlie Da'Vall Grice topped the 2019 rankings and will also have a say in the race to Japan.
Jake set a British Record over 1000m in his only race of an indoor season cut short by illness which cost him a run at the Muller GP in Glasgow.
'I wasn't well and missed a couple of weeks training and there was no point in trying to run through it,' he said.
'In an Olympic year, you tend to have a focus on the summer anyway.
'I'm looking to go in the 1500m and myself, Josh and Charlie all have the qualifying standard (GB standard is 3:35.90). That means that I 'only' need top two at the trials in Manchester in June to get selected. But saying it out loud is an awful lot easier than making it happen!
'Neil and Chris will have a say and there could be others. I've a couple of road races coming up soon in England and then it is all about getting the preparation right for the outdoor season.'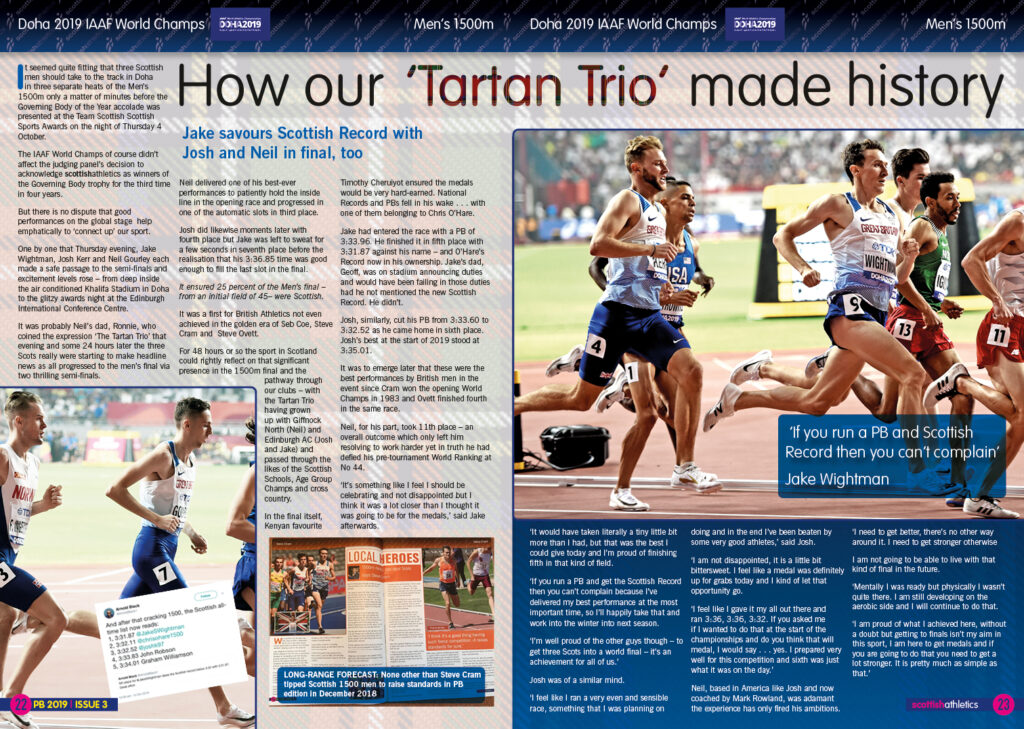 How PB magazine recorded our three Scots in the Men's 1500m final at the World Champs in Doha
Tags: Chris O'Hare, Jake Wightman, Josh Kerr, Neil Gourley