Champions return to Loch Ness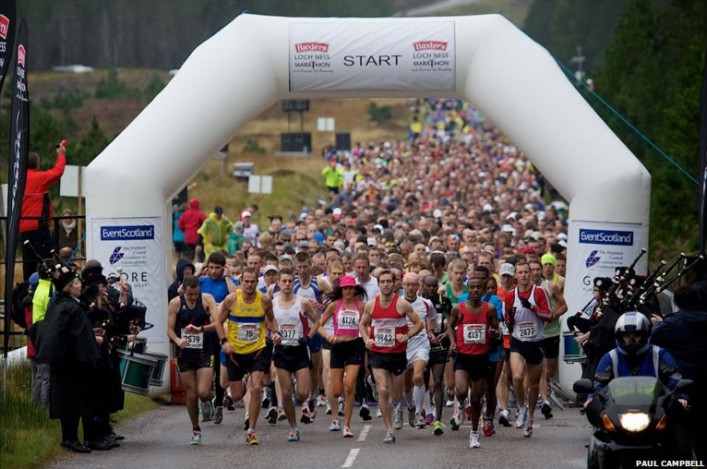 Marathon Entry closing date: Monday 8 September
Runners have only a few more days to sign up for what Scottish champion Megan Crawford describes as one of the most beautiful marathon courses in the country.
The Baxters Loch Ness marathon and festival of running takes place on Sunday 28 September and places are still available for scottishathletics members, members of affiliated UK running clubs, overseas runners, and through official charity Macmillan Cancer Care and other affiliate charities – but only until midnight on Monday 8 September.
Fife AC member Crawford enjoyed a marathon debut to savour at Loch Ness last year when she set a new course record of 2hr 46.37 to win the women's title and the Scottish championship gold medal.
And now the Great Britain mountain running international is looking forward to defending her Highlands crown at the end of the month.
She said: 'I really enjoyed last year's race. It is such a beautiful course and I'd say if you want to run a marathon, then this has to be one of the best places to do it. I doubt if you can get much better.
'I don't have any specific target for this year although I hope to be in the mix at the front of the race again. It looks as though it will be a very competitive field, which is good.'
Men's champion Tarus Elly, a Manchester-based Kenyan, also enjoyed a perfect marathon debut in last year's Baxters race when he powered to victory in 2:27:21, finishing ahead of Edinburgh University's Patryk Gierjatowicz,  who picked up the Scottish marathon title when taking second position overall in 2:30:49. Both men plan to renew their rivalry this year.
Gierjatowicz, who has recently completed a post graduate maths course at Edinburgh University, said: 'I am looking forward to running at Loch Ness again. It is a very scenic course and I like it. I am just training as hard as I can and hoping to avoid any injuries.'
The marathon, now in its 13th year, has been given added spice by hosting the Scottish men's and women's championships for the fourth year in a row and once again offers a fantastic £1,500 cash prize for the first man and woman to finish.
Race organiser Malcolm Sutherland is delighted that last year's winners enjoyed the race so much that they are keen to return and he hopes others will join them before the September 8 deadline.
He said: 'It's brilliant that Megan, Tarus and Patryk are all coming back to compete here again. We are looking forward to seeing how they fare although I'm sure there are others in the field who will give them a good race.'
The Baxters Loch Ness marathon is the premier event on the race day programme but the festival also includes other attractive runs catering for a wide range of ages and levels of experience.
Sutherland explained: 'We try to offer something for all sectors of the running community. In addition to the marathon we have the Baxters River Ness 10Km, including a Corporate Challenge for teams, and this event consistently produces fast times. We also have the Baxters River Ness 5Km fun run, and the Wee Nessie children's run which are always popular.
'More than 9,100 people entered our races in 2013 and it would be great if that total was exceeded this year. There's also a huge number of people who turn out to watch the races, particularly at the finish in Bught Park where the Event Village is located.
'As usual, there will be plenty of activities at the Village to keep everyone entertained and there is always a fantastic atmosphere around the finish area.'
Full details can be found on the event website
*Report by Fraser Clyne
Tags: Loch Ness Marathon, Megan Crawford, Patryk Gierjatowicz