Scots sweep up all seven Celtic Games trophies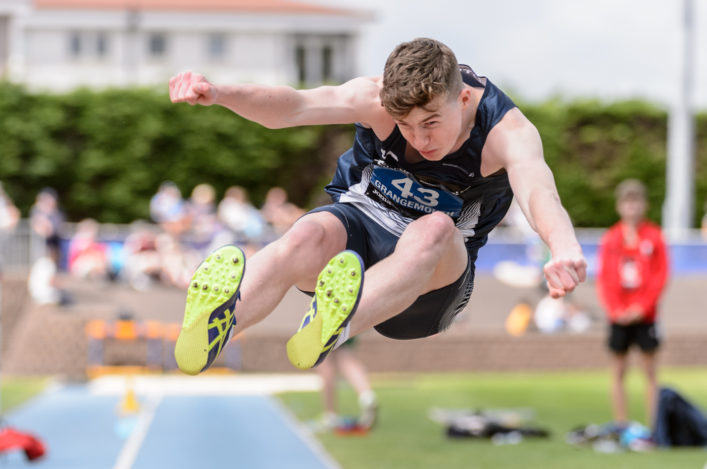 Stephen MacKenzie on his way to a Celtic Games Record in the U18 long jump (all photos by Bobby Gavin)
RESULTS (scroll down on left of page (and not live results link))
Scotland's next generation swept the boards at the Celtic Games U18 and U16 International at Grangemouth.
The home team was powered by a whole string of fine performances which included two Celtic Games Records, two windy jumps performances which went beyond the previous Celtic Games bests, an U17 Age Group Record and an U17 Age Group best for a certain weight in the throws.
It really was a terrific performance with Scotland winning the overall match with 195 points as Ireland scored 167 and Wales 133.
Scotland also won the male and female categories overall plus all the other four male and female categories in the U18 and U16 match to collect the seven available trophies!
Those top performances came from Eloise Walker in the 3000m and Stephen MacKenzie in the long jump, while U18 triple jump duo Ellie O'Hara and Miraji Ahmed were impressive, too, albeit with those windy readings.
Georgia Ledingham, a Scotland Futures team athlete from Corstorphine, delivered a Scottish U17 Record in the 1500m steeplechase and shot putter Teddy Tchoudja came up with a throw of 13.95m which is an age group best for 3kg implement.
Well done to all the athletes and their families and coaches as well as the team management for two teams – Scotland and our Futures team. Thanks, as ever, also to our hard-working scottishathletics Officials.
PHOTOS on Facebook by Bobby Gavin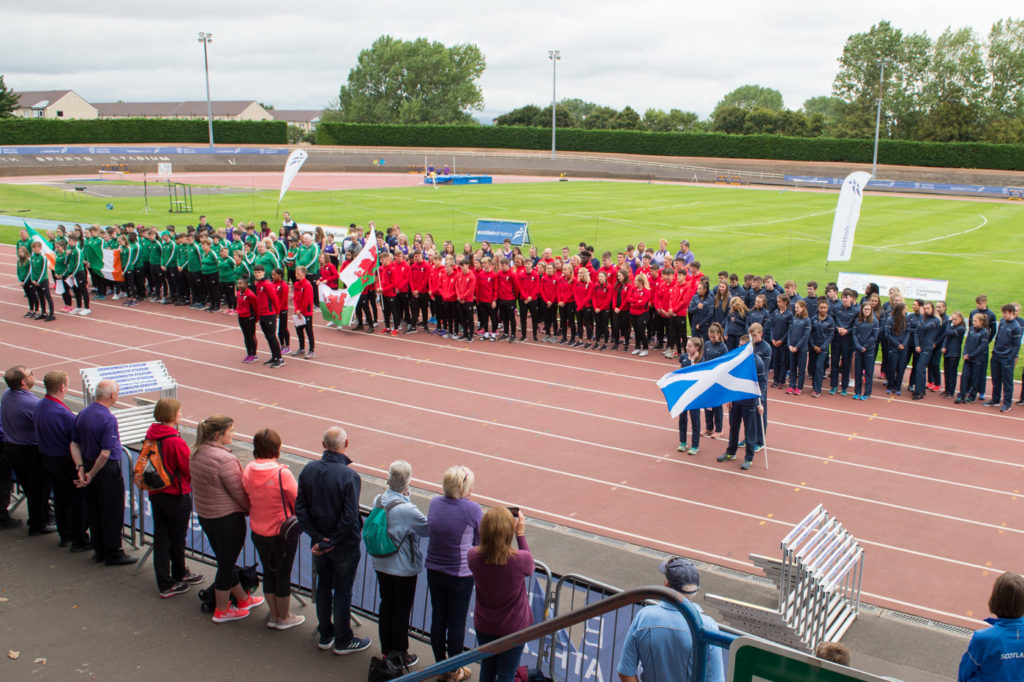 There were a string of Scottish first and second places throughout the day – in both age groups.
Our U18 long jumpers were in top form, in particular, as Ellie O'Hara led the way with a 5.80m PB in her win before then being followed by a superb 7.34m PB for Stephen MacKenzie to take gold in the men's long jump and a Championship Record. O'Hara was later to come up with a 12.41 windy performance in the Triple Jump which is better than the previous Celtic Games Record.
Stephen is an Inverness Harriers athlete who lives in Ullapool and makes a three-hour round trip to training two or three times per week.
'I am delighted with that today – both to get the win while representing Scotland and also to get a PB,' he said.
'I had a couple of really good jumps and the wind was strong but thankfully the 7.34m one was a legal wind. That will push me up in the Scottish U20 rankings to just behind Calum Henderson – one cm behind I think!
'I'm competing at the U20s in Aberdeen in a couple of weeks and it should be a really good competition because we've a number of athletes very high in the British rankings.
'It's a big effort getting to and from training in Inverness but I'm enjoying it. I've another year left at school with advanced highers so the training should be the same for the next year or so.'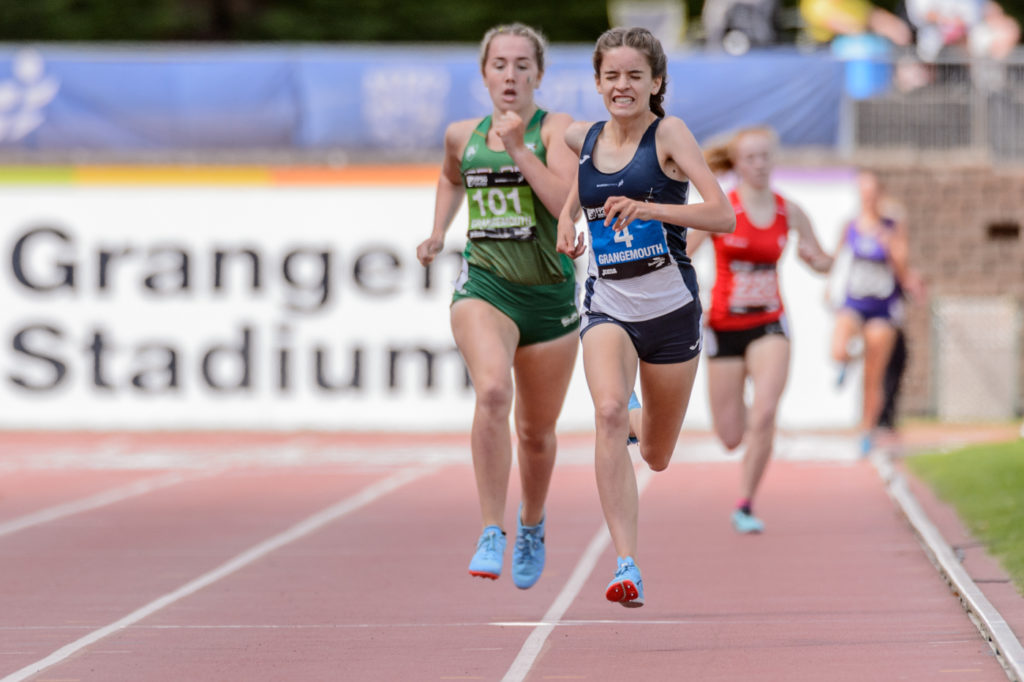 Sarah Calvert grimaces as she holds on for 800m win in the U18 Match
Livingston AC sisters, Isla and Sarah Calvert, came up with 800m track wins within a few minutes of each other as Isla took the U16 race in 2.13.95 and then Sarah won the U18 race in 2.12.74.
The siblings have been in the sport for around five years and were joined at Grangemouth by five others from their club.
'It was good to see them both win and the races were back to back which made it really exciting,' said dad Ewan.
'They are both dong well and credit to their coach, Sandra Hardacre, and their mum, Gail, who has some coaching input, too. They love their running and there's a good vibe at Livingston AC at the moment – I think I am right in saying the seven athletes involved here today (for Scotland and Scotland Futures) is a record for the club.
'That's great because I think young athletes see others coming to training wearing Scotland kit and do get inspired and feel they can maybe do the same – it's good for the development of the sport.'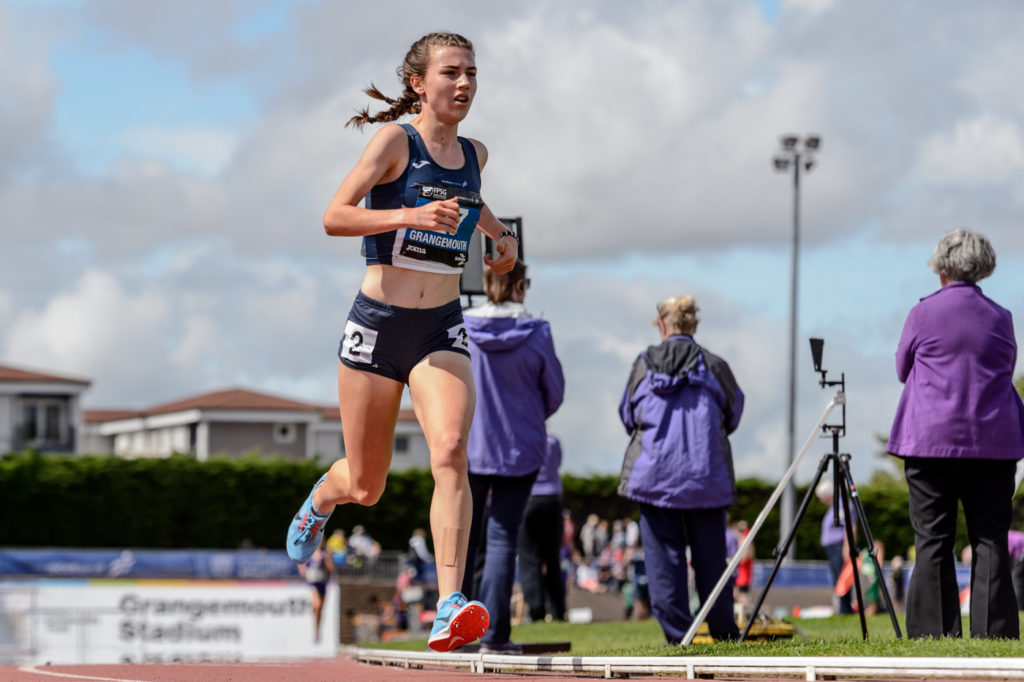 Eloise Walker delivered a terrific 3000m performance – with her second PB in successive age group International matches inside a fortnight
Eloise Walker came up with a Celtic Games record in the U18 3000m as she clocked a new PB of 9.28.50 – seven seconds quicker than her PB at the U20 Welsh International.
'I am thrilled to get another PB like that and improve the Celtic Games Record,' said the Edinburgh AC athlete.
'My coach, John Lees, told me I was in 9.30 shape and I actually had all the splits we wanted written out on my hand. I just followed that and kept going although it is a little bit tougher when you are on your own. I am racing the 800m at the Senior Champs next weekend so I'm looking forward to that and then head off for a London Mini Marathon camp.'
Triple jumper Miraji Ahmed improved his place at the top of the British U17 rankings for his event with a 14.52 (windy) performance.
'It has been a good season and it was good to get the win after a gold at the SIAB, too,' said Miraji, who is with Glasgow School of Sport.
'I am entered for both the U17s and the U20s Champs so hopefully I can push the distance on a wee bit more before the season ends.'
Georgia Ledingham of Scotland Futures came up with an U17 Record in the 1500m steeplechase as the  Corstrophine AAC athlete came home second in 5.08.90 with the race won by Sarah Tait (who held the record) in 5.06.
Then, in the U18 men's 2000m steeplechase, Cameron Wright of Kilbarchan did well to see off the threat of Welsh athlete, Ben Thomas, despite his opponent having a quicker PB by seven seconds.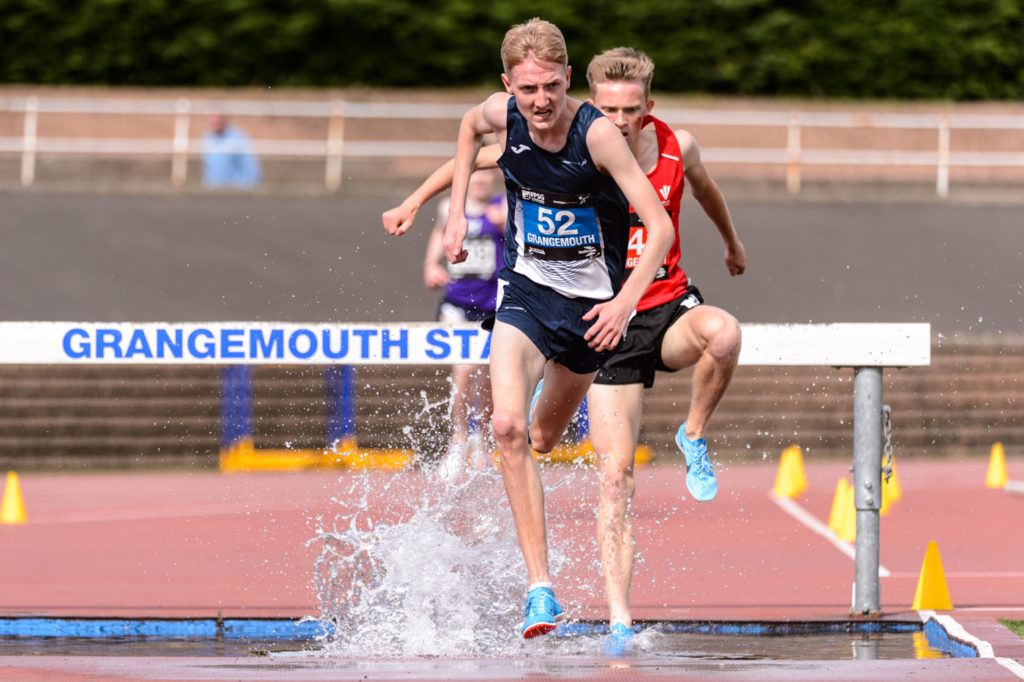 Cameron Wright claimed a fine win in an exciting U18 2000m steeplechase race

Tags: Celtic Games 2018, Grangemouth, Wales