Butchart and Hawkins dominate Liverpool XC again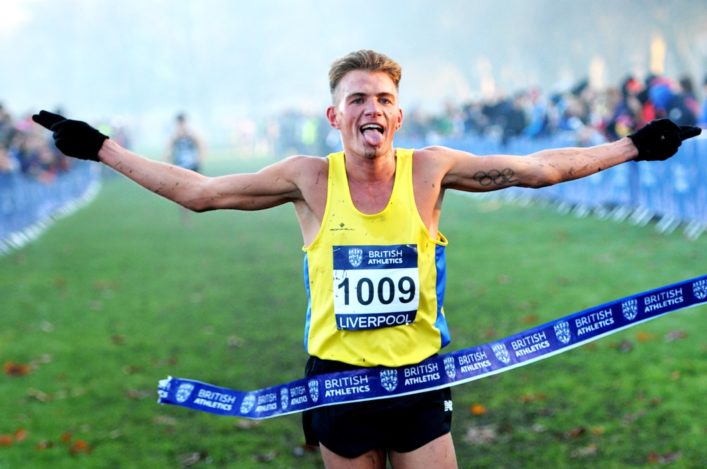 Merseyside marvel – Andy Butchart celebrates his British Cross Challenge win (photo by Mark Shearman)
British Athletics website report (with link to Results)
Andy Butchart and Callum Hawkins put Scotland back on top of the podium at the British Cross Challenge in Liverpool for the second time in three years.
Just like 2014, there was a 1-2 in the Euro Cross trial with the outcome this time different, however, as the National XC champion won the battle of the Scottish Olympians by eight seconds.
Josh Kerr was the other Scot to impress the most on Merseyside as the New Mexico University student returned to take third place in the Junior Men's race and claim an automatic GB and NI vest for the Euro Cross in Italy next month.
Kerr led home five Scots in the top 18 in that race on a day when Josephine Moultrie was best-placed in the Senior Women's race at 16th. It is understood Steph Twell, who didn't race on Saturday, may yet land Euro Cross selection in one of the discretionary places.
The depth of quality at Liverpool can often expose Scottish visitors, with high finishes often hard-earned, but there were maybe 15-20 athletes who could be well-pleased with their efforts.
In that U20 race, there were five Scots in the top 18 and six in the top 14 in the U17 Women's race with good performances from the likes of Connor Maclean, Sol Sweeney, Erin Wallace, Naomi Lang and Eloise Walker.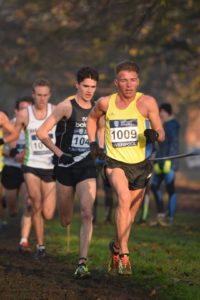 Butchart and Hawkins took control early on (photo by Gus Oakley)
In the men's Senior race, with Andy Douglas at 16th, the best of British had no answer whatsoever to Butchart and Hawkins.
They opened up a lead over the first lap showing their intent early on, with Butchart hitting the accelerator as they started the second lap, opening up a 50m lead on the marathon specialist. When he crossed the line in 28.37 he duly did so with an eight-second advantage over Hawkins.
'It was fun – the conditions suit me, being cold and hard underfoot,' said Andy.
'It could have been totally different if it had been cold and wet. I was really happy to pull off the win today; I've never won here before. It is great to get a win over Callum (Hawkins) because he is a phenomenal athlete.
'We're delighted to have another Scottish 1-2 in this race, although of course I'm happier because I've reversed it from 2014. You always want to win, I guess, but we'd a good time out in the Pyrenees together.
'It was great to see four Olympians competing in this race; that's massive. It just shows how important this race is. Hopefully future Olympians will stay true to where they came from and keep racing at events like this and now  I do think we have a real chance of medals with GB in Italy.'
Gemma Steel took the win once again in the Senior Women's race where Moultrie just edged out Beth Potter (18th) with Morag MacLarty in 21st place.
Steph Pennycook was the best-placed Scottish U23 athlete while that honour in the Senior Men's race went the way of Cambuslang's Grant Sheldon from Jonny Glen and Ben Stevenson.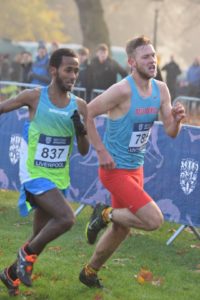 Josh Kerr battles for third on the finishing straight (photo by Gus Oakley)
Read more: Josh Kerr blog post
Kerr did superbly to land his slot for Italy with a finish that saw him burst from sixth or seventh with 600m to go to take third place.
Scotland duo Maclean and Sweeney were 9th and 12th respectively for great runs in a highly-competitive race where Ben Greenwood and Logan Rees also made the top 20.
'I'm delighted to make the selection and it was worth coming back from America for that,' said Josh.
'I've not done that much cross country in Britain for a couple of years so it is a great result and I'd targeted this race for the past three or four months to be honest.'
The joint U20 and U17 Women's race saw Erin Wallace take seventh place overall and second in the U17 category. In that division, Naomi Lang of Aberdeen was fourth and Eloise Walker of Edinburgh AC was fifth.
The best-placed Scot in the U20 division was Forres athlete Anna MacFadyen in eighth place with Laura Stark in ninth.
In the lower age groups the best performances were a win at U13 Girls for Anna Hedley of Fife AC and a second place at U11 Boys for Oliver Patton of Kilbarchan AAC.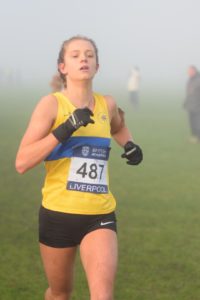 Erin Wallace – seventh place overall in the U20/U17 Women's race and second in her U17 age group (photo by Gus Oakley)
Josephine Moultrie, Ben Stevenson and Tewolde Mengisteab were among those to wear the new Scotland Macron kit (photos by Mark Shearman)
Tags: Andy Butchart, British Cross Challenge, Callum Hawkins, Josh Kerr, Liverpool