Brothers launch Morrisons Great Edinburgh Run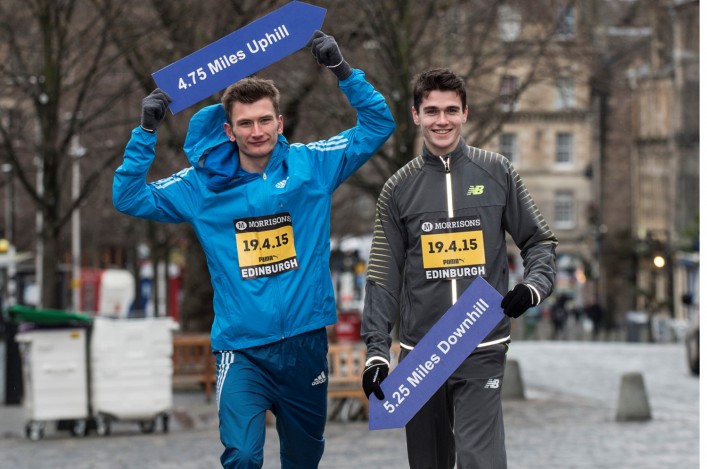 Team Scotland athletes Callum and Derek Hawkins were in Edinburgh to launch the 2015 Morrisons Great Edinburgh Run with a little help from STV Edinburgh.
The Morrisons Great Edinburgh Run will return to the capital on Sunday 19 April with the ten-mile route introduced last year and for the first time will feature the Morrisons Great Edinburgh Run Team Relay.
The new Team Relay event will allow teams of two to complete the ten mile course between them. The first section of the course will cover approx 4.75 miles of hilly terrain and the second section will follow a gentler 5.25 mile route, including a downhill final mile.
Both full ten-mile runners and Team Relay runners will start and finish at Holyrood Park, with the Grassmarket hosting the Team Relay changeover point.
The Hawkins brothers were joined by STV Edinburgh's The Fountainbridge Show roving reporters Zara Janjua and George Ward, who will be taking part in the Morrisons Great Edinburgh Run Team Relay together in April. The presenters were put through their training paces by Callum and Derek ahead of the event, which will see Zara tackle the first section as the more experienced runner and George take on the second part of the course and his first ever run.
Callum Hawkins, who competed in the 10,000 metres at the XX Commonwealth Games and came sixth in the 2014 Bank of Scotland Great Scottish Run half marathon, said: 'The Team Relay option is a great opportunity for runners to be part of an amazing day of running without the pressure of the extra training required for the full ten miles."
Derek Hawkins, who finished ninth at the Glasgow 2014 marathon, added: 'The Morrisons Great Edinburgh Run is a really fun event and takes in a lot of the city's most famous landmarks along the way. I am sure the chance to compete as a team will appeal to lots of runners.'
Andy Mitchelmore, from event organiser Nova International, said:  'The Morrisons Great Edinburgh Run has been a key fixture in the Scottish running calendar since 2005. The introduction of the ten-mile course in 2014 was a great success, especially for those looking for the next step in running to bridge the gap between a 10k and half marathon.
'We decided to include a Team Relay option in this year's Morrisons Great Edinburgh Run to provide an opportunity for runners who are more comfortable with a shorter distance to still be part of the day. This is the only city centre running event in Edinburgh so participants will see some iconic sites in both the full ten mile course and Team Relay. '
In addition to the ten-mile event and Team Relay there will also be kids' events with the Morrisons Junior and Mini Great Edinburgh Run also held on 19 April at 2.5k and 1.5k distances respectively.
Entry for the Morrisons Great Edinburgh Run is now open: www.greatrun.org/great-edinburgh-run/
Tags: Callum Hawkins, Derek Hawkins, Morrisons Great Edinburgh Run