Ayrshire preparation has been perfect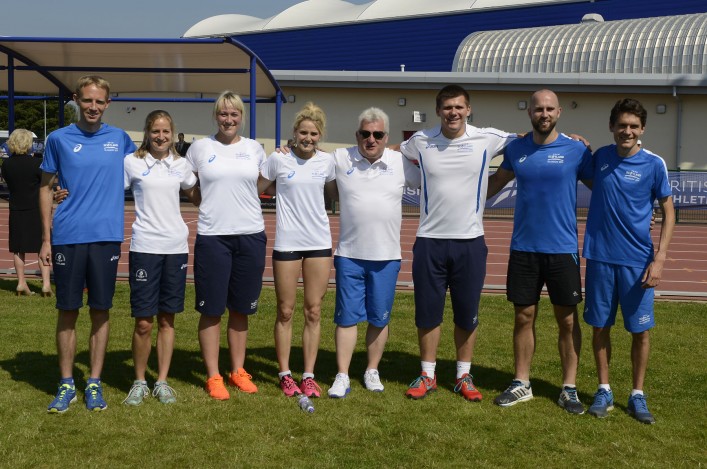 Stephen Maguire believes Team Scotland's track, field and marathon athletes are ready for action at the Commonwealth Games – after the perfect preparation in Ayrshire.
Five marathon runners are first off in terms of the athletics squad when they run 26.2 miles around Glasgow early on Sunday followed by the first track and field session that afternoon at Hampden.
Maguire spoke at a media conference at the Ayrshire Athletics Arena in Kilmarnock, where athletes having been training and preparing for Glasgow 2014 with individuals moving into the Village two days before their event.
He was joined for the session by seven of the 58-strong Team Scotland group with among those presented for media activity ranging from 19-year-old discus thrower, Nick Percy, who is based on the Isle of Wight to 38-year-old Dumfries doctor, Joasia Zakrzewski, who is one of three women in the marathon.
The other athletes who undertook media duties were Jayne Nisbet (high jump), James Campbell (javelin), Luke Caldwell (5000m/10,000m), Alison Roger (shot putt), Ross Houston (marathon).
'We are so close now and you can feel the sense of anticipation within the team camp,' said Stephen.
'I've been operating at the Village and it is huge. There are 24-hour meals and everyone wants to be your friend. It is a massive unreal bubble in many ways.
'So we're delighted to have created our own performance environment in Ayrshire with Team Scotland staying at a hotel in Irvine and training and preparing at the track at Kilmarnock.
'We've some community involvement so it is not completely unreal but it is also the right venue for people to do their training and work with their coaches. The preparation has been perfect in that sense.
'I confess I had no idea where Kilmarnock was when I came to Scotland a couple of years ago. Our chief executive, Nigel Holl, asked me to take a look around the Ayrshire Athletics Arena and see if I thought it might be somewhere we could use in the countdown to the Commonwealths.
'I dropped in at the track and nobody knew who I was. Within a few minutes of my visit I was on the phone back to Nigel to say 'this is exactly the right kind of place for Team Scotland to be immediately before the Games'.
'In terms of the overall performance, I am comfortable where we are at in terms of a stated medal target of 'more than two'. We've a lot of athletes now performing at a good level, being picked for GB teams, competing in major championships.
'But, and I keep stressing this point, every medal will be very hard-earned at these Games. All the nations are here and that's not always been the case. There are world class athletes among the opposition in many disciplines.'
Provost Jim Todd of East Ayrshire officially welcomed Team Scotland today and he revealed the Kilmarnock connection, with Lynsey Sharp's father, Olympian and Commonwealth relay gold medallist Cameron, having a local school trophy named in his honour after being raised in the town.
High jumper Jayne Nisbet said: 'The facilities here are great and everyone is enjoying training and staying at the hotel.
'We've full teams in the high jump with three women and three men competing and that's brilliant for the event in Scotland. I am not sure if that has happened before and it shows standards are rising.'
Shot putter Alison Roger said: 'My dad was a footballer with Airdrie and Clydebank and his last match as a professional was at Hampden. I think it was a Cup semi-final about 1990 or 1991.
'He's always had playing at Hampden over me so to speak so it is brilliant that my first major champs are taking place in Glasgow.
'Now I will throw at Hampden. Is it 1-1 between me and my dad? I think actually I've trumped him because this is the Commonwealth Games . . .'
Marathon runner Ross Houston said: 'I went to watch the marathon, the athletics and the mountain-biking at the Games in Manchester in 2002. I can honestly say that running in the marathon here was nowhere on my radar back then.
'When the standard was announced for Scottish men for Glasgow 2014 at 2 hours 19 minutes, I was a couple of minutes adrift in terms of my PB. But it was something I thought I could make my goal.'
Tags: