Anglo-Celtic 100K – team selections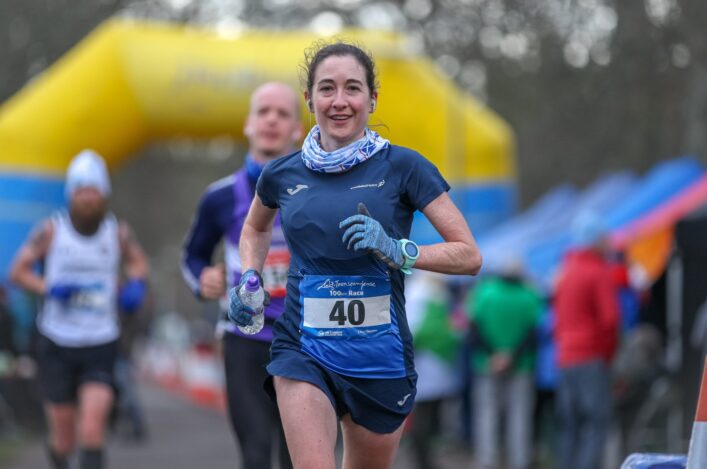 Sophie Mullins on her way to superb PB and victory at the 2019 contest in Perth (photo by Steve Adam)
Selections have been made for the annual Anglo Celtic Plate 100km internationals, to be held near Gloucester in May. The team combines a strong mix of experience with opportunities for some upcoming talent.
Leading the women's team is Sophie Mullins (Fife AC), who claimed the British and Scottish 100km titles when the event was staged in Perth last March. Joining her are Jo Murphy (Carnegie), third at last year's event and two 100km debutants, Alison McGill (Fife AC) and Toni McIntosh (Ayr Seaforth).
Both have had good results over the last 12 months with McGill, who was scottishathletics Marathon Champion in 2018, winning the Devil o' the Highlands Trail race, and McIntosh backing up her win at the River Ayr way 40 miler with another win recently in London's Dawn to Dusk ultra.
The men's team features John Hammond (Carnethy), winner of both the Highland Fling and Devil of the Highlands races in 2019, and Donald McPartlin (Garscube), winner of last autumn's Tweed Valley Ultra. They are joined by two experienced marathon men, Neil Renault (Edinburgh AC) and Nikki Johnstone, (Dusseldorf) who have been making the transition to  longer ultra distance events in the last couple of years. The Men's team is completed by the experienced Jim Mann. Jim is no stranger to mountain and ultra trail runners with a top 20 finish at the classic UTMB to his credit among other achievements. It will be his first 100km road event.
The teams in summary
Sophie Mullins (Fife AC)
Jo Murphy (Carnegie)
Toni McIntosh (Ayr Seaforth)
Alison McGill (Fife AC)
Neil Renault (Edinburgh AC)
Donald McPartlin (Garscube)
Jim Mann (Unattached)
Nikki Johnstone (Düsseldorf)
John Hammond (Carnethy)