Alisha and Nikki land new Scottish Records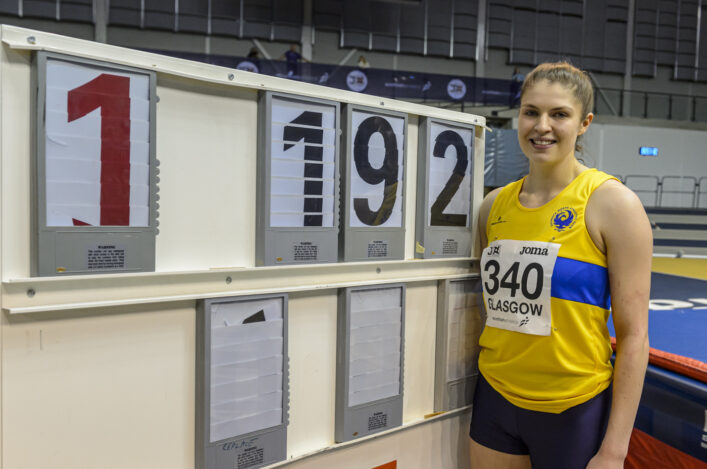 Nikki Manson celebrates her 1.92m Scottish Record leap (photo by Bobby Gavin)
GB internationals Nikki Manson and Alisha Rees lit up the 4J Studios National Indoor Senior and U17 Champs – as they claimed new Scottish Records indoors.
Manson broke her own High Jump mark with a clearance of 1.92m while Rees took down the 60m sprint best with 7.33 and both are Native Records, too.
Guy Learmonth duly followed that to win 800m gold with a Championship Best performance which improved on a run by none other than Tom McKean from back in 1994.
Those were the clear highlights on a day when 606 names on start-lists ensured intense competition and a positive vibe around the Emirates Arena.
James Donald's lunge for the line to win the Men's 1500m gold by a fraction from Sol Sweeney and Michael Ferguson was another moment that will live in the memory on a day when Vinco's live stream showcased athletics in Scotland to a wider audience – with BBC Scotland picking up the stream mid-afternoon, too.
In the U17 Championships, there was a Scottish U15 Record in the shot by Meghan Porterfield, while sprinter Alyson Bell was desperately close to the U17 Record at 60m. There were a couple of gold medal CBPs, too, for Lewis Watt at 800m and Katie Johnson at 1500m.
Rees, the Banchory and Stonehaven AC athlete, now in her third year studying at Loughborough University, clocked 7.33 to win the title and eclipse the 7.35 run by Susan Burnside some 17 years ago.
It also improved a Championship Best set by Katherine Merry at 7.34 back in 1994 and a Native Record. Jenna Wrisberg took a bronze with 7.65.
'I had my eye on that record for the indoor season but I didn't necessarily think it would come this weekend to be honest,' said Alisha, as Irish athlete Dean Adams won the men's 60m in 6.81.
'But I am delighted with it. It worked in my favour that it was two races rather than three and I felt I could really blast out two and see what the times were like.
'In the heat it went well and when it was rounded down to 7.40 that was very close to my PB (7.38). It certainly made me think I was capable of a bit faster in the final and that's what happened.'
Manson for her part raised the bar once again for Scottish women's high jump as she claimed a new National Record indoors. It was also a Native Record.
A clearance of 1.92m is in fact the best by any Scot indoors or out as Nikki improved her own Indoor Record (1.90m) and went beyond Jayne Barnetson's outdoor mark of 1.91m.
It was a superb effort from an athlete showing good form – and the Glaswegian has her sights firmly set on the British Champs back in Glasgow next month.
'I love competing at the Emirates Arena and I came into today confident and feeling good,' she said, with Lewis McGuire taking the Men's gold at 2.09m.
'I'd jumped well at Loughborough and the National Open and was hoping for something high today. I actually heard Leslie Roy on commentary say 'Nikki will have three attempts – if she needs them' when they put the bar up to 1.92m.
'I just thought 'I'm not taking three attempts at this – I need to get it before that'.  The confidence and adrenaline was high at that stage and the support from the crowd gave me a real boost as well.
'I'm back here in a few weeks for the British Champs. I'm from Glasgow so when I heard the British was coming to the Emirates I was really excited. I hope the top English athletes do come here and we have a really good competition.'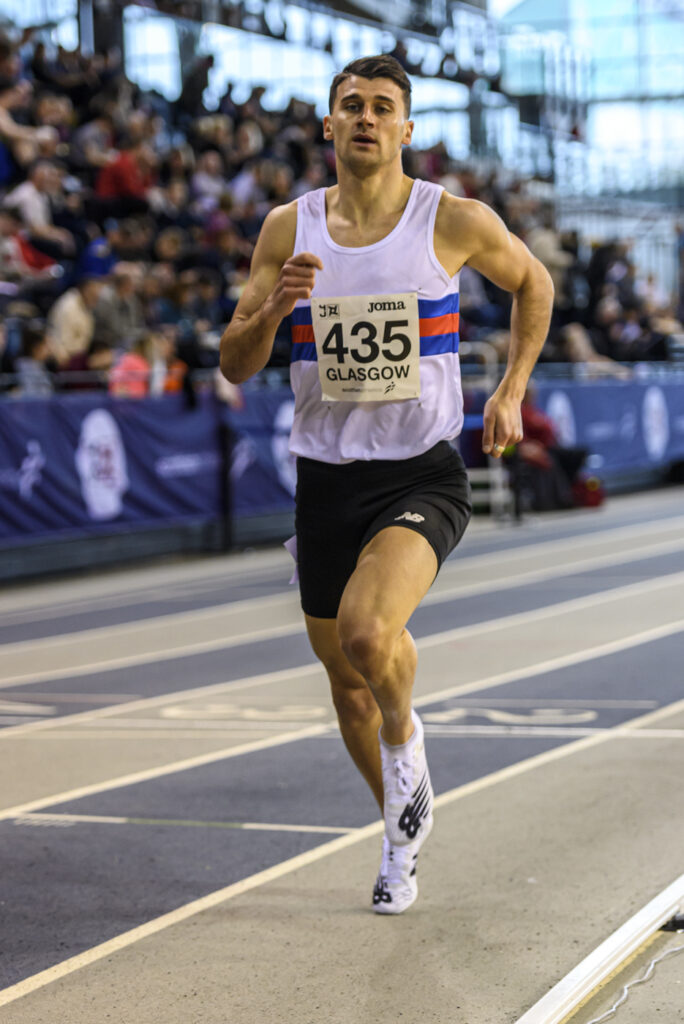 Guy Learmonth returned to the Emirates Arena 10 months on from Glasgow 2019
Learmonth, meanwhile, had to run solo almost from gun to tape and did so well to reach a time of 1:48.77. McKean's Championship Record was 1:49.19.
'It's always good to achieve something which has Tom's name alongside and I've not made any secret that I have to chase his times,' said Guy.
'That's my first race of the indoor season and the first since about late August or September. So it is a decent enough start and I can hopefully drop a better time when I run in Germany a week on Tuesday.
'Then hopefully it will be about coming back here for British Champs. I didn't have a good time at the Emirates at Glasgow 2019 (falling in the heat) so if I can turn that memory around a wee bit then I'm happy. I enjoyed the Scottish Championship experience – it is a great venue and it was a good event.'
Mhairi Hendry won back the 800m with a strong run in a final which ended in a VP-Glasgow 1-2-3 with Philippa Millage in second and 800m debutant, Jill Cherry, in third.
The women's 1500m final delivered one of the best races of the day.
Fife AC's Jenny Selman took it on the line from Erin Wallace of Giffnock North with the champion timed at 4:24.72 and the silver medallist at 4:24.83. Third-placed Eloise Walker was only a second adrift of the top two.
'I've not raced the Scottish Indoors for quite a number of years and loved it today,' said Jenny. 'It was a competitive race and I look forward to coming back here for the British Champs four weeks from now.'
The men's long jump had looked strong and so it proved with a win for Reynold Benigo in 7.69m as Che Richards took silver in 7.62m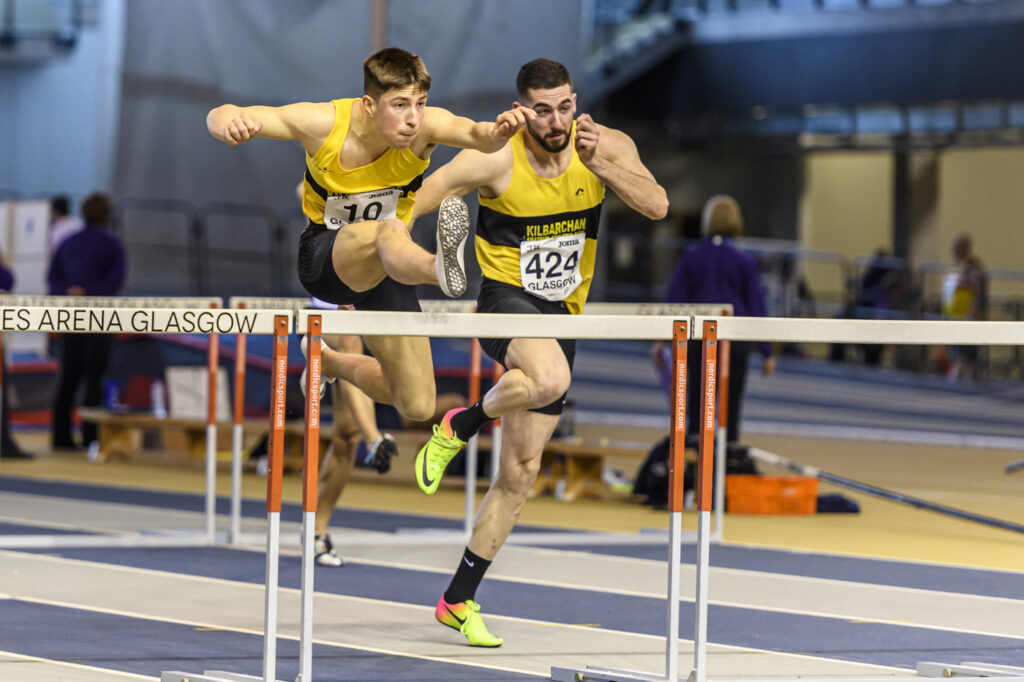 Scott Connal takes sprint hurdles gold
Mhairi Patience won the Women's 400m in 56.41 from Megan Davies with Swansea athlete, Joseph Brier, taking the men's gold in 48.25. Krishawn Aiken, now a Scot on residency rules, took silver in 48.34.
Sarah Warnock and Hannah Lawler have been regular Scottish champions in the field indoors in recent years – and they delivered again on Sunday.
Sarah leapt out to 6.29m with her first round jump and that was more than enough to win the Women's long jump while Hannah took the pole vault gold with 3.64m her best clearance.
Scott Connal won a Kilbarchan battle with fellow CE rival, Andrew Murphy, to take the sprint hurdles gold. Jax Thoirs took gold in the pole vault at 5.09m with a second silver medal there for Murphy.
In the women's triple jump, Nony Mordi took the title with 12.92m. Mhairi Porterfield won the Women's shot with a throw of 13.10m and Lewis McGuire took the Men's High Jump with 2.09m. Gateshead duo Jazmine Moss and Daniel Lennie secured the 200m titles.
+++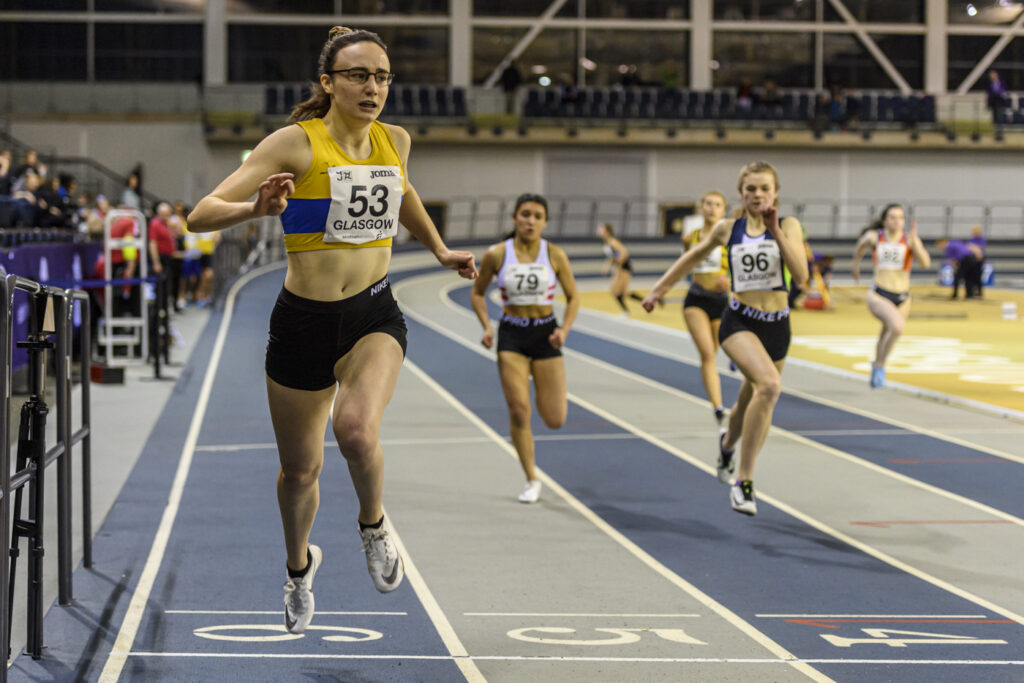 Alyson Bell takes the 200m gold after a strong performance over 60m, too  (photo by Bobby Gavin)
Alyson Bell missed out on 60m gold in the Scottish U17 Champs to an English rival – but the Giffnock sprinter still laid down another marker for her talent and potential.
Bell clocked 7.59 for the silver in photo finish and that was just one hundredth of a second adrift of the Scottish U17 Record held by Linsey Macdonald fully 40 years ago at 7.58. Later Alyson won the 200m final.
Aberdeen athlete Lewis Watt was another to hit form – as he set a Championship Best to win the 800m final in a time of 1:55.11.
In the men's 1500m Glasgow club Giffnock North will savour the podium photo with a yellow vest 1-2-3. Harris Paterson won it in 4:08.27 from his club-mates, Ross O'Brien and Reuben MacDonald.
Katie Johnson won the Women's 1500m with a CBP of 4:36.84 with second-laced Dorottya Csuta also inside the previous championship best.
Meghan Porterfield stepped up to U17 competition from U15 and took a silver medal in the shot. In so doing, the young VP-Glasgow athlete reached 13.15m and that is a new Scottish U15 Indoor Record, subject to the usual ratification processes.
Scots to win gold at U17 level included:
Segae Oluwasegun of Montrose and District in the shot with 13.73m; Ross Morgan of VP-Glasgow in the Men's 60m in 8.27; Aidan Brindley won the pole vault with 3.64m; Sam Turnbull of Pitreavie AAC in the High Jump with 1.91m.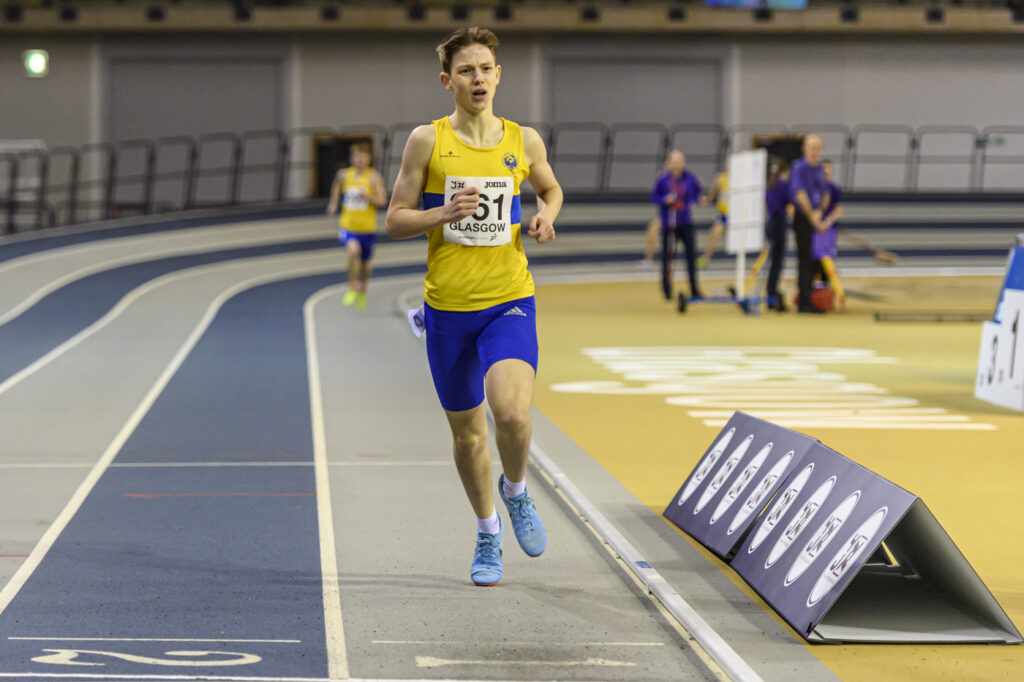 Harris Paterson on his way to a fine win in the U17 Men's 1500m final (photo by Bobby Gavin)
Tags: 4J Studios Senior and U17 Champs, Alisha Rees, Emirates Arena, Guy Learmonth, Nikki Manson