Age Group Champs review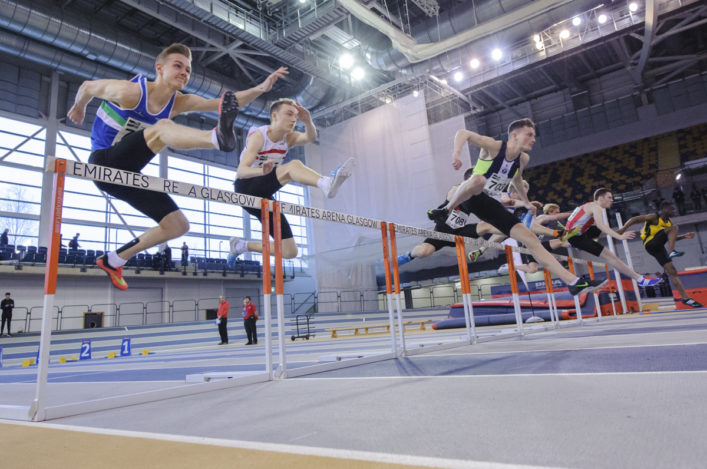 RESULTS from the Emirates Arena
VIDEO footage of six events on Facebook
From Shetland to Shettleston Harriers, from Livingston to Law and District, the Age Group Champs rarely fails to disappoint in terms of both participation and competition.
And it didn't once again on a weekend when young athletes delivered a string of Championship Best Performances at all three age groups in action at the Emirates Arena in Glasgow – with the U13s on Saturday, the U15s on Sunday and the U20 programme spread over both days.
Qualifying standards for the Commonwealth Youth Games in the Bahamas were also achieved and within this report we've sought to try and give a mention to Scottish-based title winners, even though we warmly welcomed visitors from Ireland and England in what is an open event.
(Please do accept in advance any omissions or performance errors herein on a weekend when more than half an eye was also on the British Champs in Sheffield. Thanks)
Performance of the weekend arguably arrived on Sunday lunch-time as Adam Scott broke the Championship best in the 1500m and went within a couple of seconds of a Scottish U20 Record at 1500m.
The Fife AC runner powered away to win in 3.52.1 and take a best performance mark previously held by Ben Greenwood and, prior to that, Chris O'Hare.
There was also a Championship Best from Erin Wallace (Giffnock North) in the Women's 1500m with a run of 4.27.18 to claim gold.
Greg Kelly (East Kilbride) and Alisha Rees (Edinburgh AC) took the 60m titles in 7.03 and 7.55 respectively. Nithsdale landed a national title in the Women's high jump thanks to 1.60m from Katie Reville.
Aidan Quinn (Glasgow School of Sport) won the triple jump with 14.44 and Chris Mackay (Giffnock North) won the high jump with 1.92.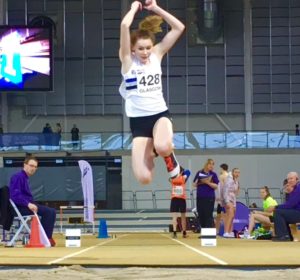 Ellie O'Hara – photo by Sue Gyford
In the U15s, there was a Championship best performance by Ellie O'Hara in the Triple Jump with 10.98m. That added to a long jump gold for the Edinburgh AC athlete and the Triple Jump is also awaiting ratification as a National Record at U15.
There was also a Championship best for Reuben Nairne (Giffnock North) in the pole vault with 3.27m.
And VP-Glasgow athlete, Lily-Jane Evans-Haggerty, came up with a CBP in the 1500m at 4.36.95, with silver medallist Isla Calvert of Livingston also inside the previous CBP.
Hayley Berry of Law and District won the shot putt; Briagha Cook (Central AC) took the 60m hurdles; Christabel Antwi (Edinburgh AC) the 60m and Murray Fotheringham (Giffnock North) the triple jump.
Whitemoss athlete Kyle McAulay took a high jump and long jump double; with the 800m titles won by Alasdair McMonagl (Cumbernauld) and Hannah Anderson (East Kilbride AC). Skye Marshall of Pitreavie AAC won the 300m.
+++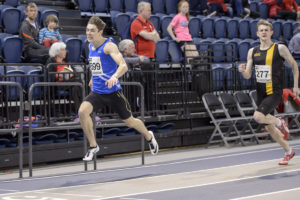 Two sprinters were arguably the pick of the performances in the Saturday action at the Emirates – as the U13s and U20s contested titles and medals.
Fraser Angus has his sights set on the Bahamas this summer and a place with Team Scotland at the Commonwealth Youth Games. Amid the chase for qualifying standards, however, the Kilmarnock Harriers athlete took U20 200m gold with a superb run of 21.81.
Cumbernauld's Lewis Brown is a National Academy member and he once again demonstrated his potential at 400m, with U20 gold at 48.37.
GB and NI Combined Events athlete Holly McArthur picked up gold in the U20 long jump with 5.66m. Henry Clarkson of Lasswade won the men's event with 7.06m as Alessandro Schenini came up with 7.03 to again post a Commonwealth Youth Games standard.
Other Scottish champions at U20 level included Andrew McFarlane (Ross County) in the pole vault with 4.26m and Rosie Browne (Edinburgh) with 2.66m in the same event. The 60m Hurdles were won by Taylor Roy (Pitreavie AAC) in 8.37 and Finlay Marriott (Cambridge) 8.90.
The 800m titles went to Cameron Steven (Laswade) and Nuala McCheyne (Inverclyde AAC) with 1.53.76 and 2.14.85 respectively. Olivia Vareille (Falkirk) won the Women's 400m race in 57.40 and the 200m was won by Sarah Malone (Edinburgh AC) at 25.08.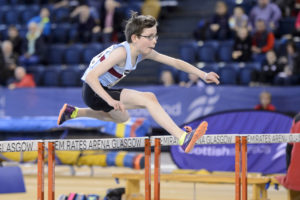 Saturday photo album on Facebook
Connor McNally impressed with an U13 Championship Best in the high jump as the Glasgow School of Sport athlete cleared 1.60.
There was also a U13 800m win for Harmeny's Finlay Ross at 2.19.89, which should be confirmed as a Scottish National Record for the age group subject to ratification. Katy Johnson won the Girls 800m with a CBP of 2.24.74 from the Edinburgh AC athlete.
In the U13 age group there were also Scottish title wins as follows: Euan Wallace (Cumbernauld) 60m Hurdles; Catriona Scott (VP-Glasgow) in 60m Hurdles; Neil Sharp (Falkirk Vics) in the 60m; Rebecca Grieve (Edinburgh AC) in the 60m; David Latham (Inverness) in the shot putt.
Evie Greig (VP-Glasgow) won the high jump and Alexander Douglas (Perth Strathtay) won the 1500m.
Come the 200m finals, and Sharp and Grieve each took gold there to add to the earlier successes in the short sprint.
*There was another big shift over the weekend by our hard-worked team of scottishathletics Officials. Many thanks to them and all the volunteers involved at the Emirates, as well.
Photos by Bobby Gavin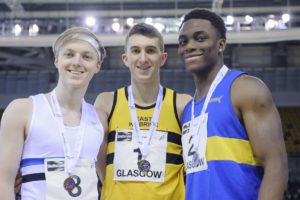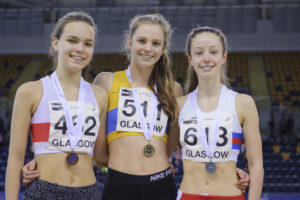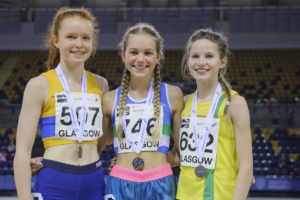 Tags: Adam Scott, Age Group champs, Emirates Arena, Erin Wallace, Fraser Angus, Lewis Brown