Academy duo rip up the record books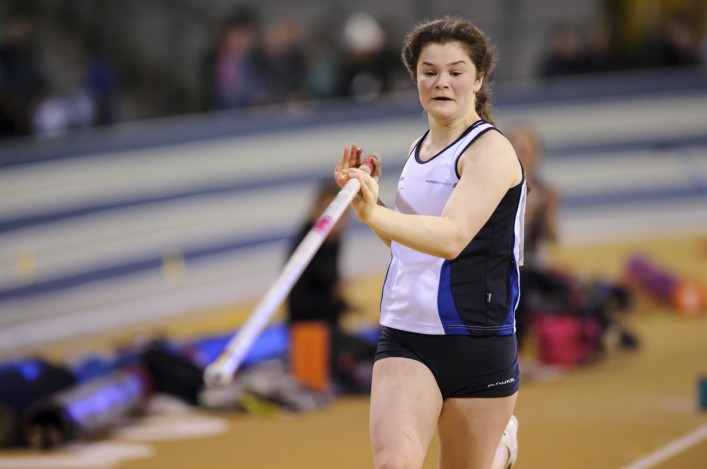 Anna Gordon en route towards a new Scottish U20 pole vault record  (photo by Bobby Gavin)
Photo album from Scottish Seniors and U17s on Facebook
Two young Scottish National Academy athletes had reasons to celebrate after the Senior Champs at the Emirates Arena.
Anna Gordon celebrated her 19th birthday on Saturday and did so in some style with a PB performance in the pole vault as her 3.92m clearance took her to the Scottish U20 indoor record.
And what about precocious 15-year-old Erin Wallace? The Giffnock North youngster had not one but two fine runs at 800m with her fourth place in the final in 2.06.59 leading her to Scottish and British U17 Records for the four-lap indoor event.
It was a great day for Giffnock North with long jumper Alessandro Schenini, another Academy athlete, at 7.00m to match his National Open leap which is awaiting ratification as a new U17 Scottish indoor record (more on this in our U17 round-up).
Pitreavie AAC's Gordon, now at university in Wales, was had to wait a year for the outright Scottish U20 pole vault record after sharing 3.90m height with Kimberly Skinner.
'I'm pleased with that and it just so happens today is my 19th birthday!' smiled Anna.
'I went over 3.90m a couple of years ago so it was good to improve that. I feel that 4.00m is there for me and could have happened today but I will just have to keep trying for that.
'I was ranked No 2 in Britain at U20 level last year and I think that 3.92m will take me back to that position. I will just keep working away and I'm enjoying it at Cardiff Met Uni – the facilities are great.
'But I am glad I came back home for the Scottish Seniors and the atmosphere inside the emirates was terrific. Adding the U17 Champs worked, I feel, because there are so many more people around and that made the whole thing feel better – the Seniors were a bit flat last year.'
It was a good day for Pitreavie in the event with Craig Moriarty, who is also coached by Eamon Fitzgerald, winning the Senior Men's title with a PB of 4.20m.
Wallace did well first in her 800m heat with a really strong finish and then repeated that in the final as Kirsten McAslan, Mhairi Hendry and Maddie Murray contested the medals only a few strides ahead.
It was yet another sign of the potential of the Giffnock girl, who is coached by Dudley Walker, and both her family and the wider Scottish athletics community was thrilled.
Mum Alison Wallace said: 'It was a great run and the time just takes her ahead of English athlete, Tilly Simpson. They are due to meet soon in the England Athletics U17 Champs but there is still a decision to be made if Erin is to do that 1500m or the 800m that day.'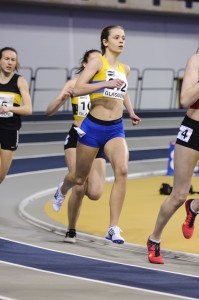 Erin Wallace – once again a record run at the Emirates (photo by Bobby Gavin) 
Tags: Alessandro Schenini, Anna Gordon, Emirates Arena, Erin Wallacde, Giffnock North AAC, Pitreavie AAC, Scottish Seniors