'A long, moving buffet!' – Jo's 24-Hour triumph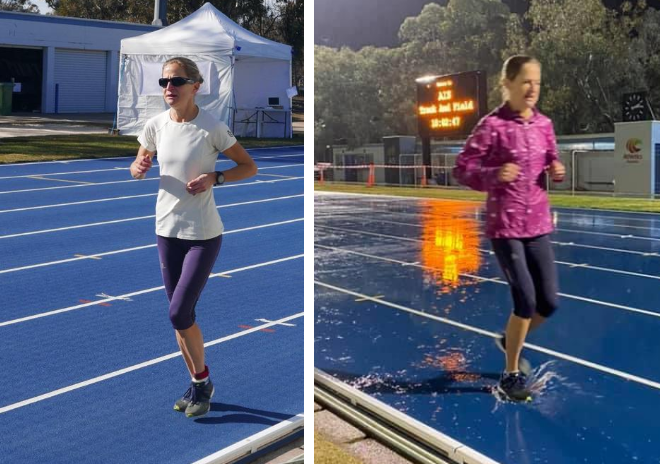 Above: Video highlights of Jo's 24-Hour race
Results from the Australian 24-Hour Track Invitational
Earlier this year, Joasia Zakrzewski found her three week Australian holiday stretching out indefinitely as the country closed its borders due to Covid. The GB and Scotland international turned – of course – to running, to keep her stress levels in check.
When she decided to try a new challenge – her first 24 hour race – she thought it would be an under-the-radar event where she could test her legs at this most demanding of ultras. In fact it was anything but – she hit the headlines after smashing four separate records at the Australian 24 Hour Track Invitational. 
She came away with a new Scottish 24-Hour record (236.561k), British 200k record (18 hrs 53.22), Scottish 100 mile record (14 hrs 47.45) and Scottish 12-hour record (133.4k) – all subject to confirmation and ratification.
We asked her to tell us more…
By Joasia Zakrzewski
I actually came to Australia in early March for a three week holiday. I was going to do a run in the Blue Mountains called the "6 Foot Track" but it was cancelled due to landslides.
Then my flight back to the UK was cancelled due to coronavirus and so I've been here ever since and I believe they do not plan to open up international travel again until next year, but I guess things might change sooner.
I was on a tourist visa which expired so have been trying to sort out work here but running has been my (cheap) way of destressing – though I only brought a wee bit of summer running gear and two pairs of shoes. When this event popped up I thought it might be "fun" to try my hand at a 24 hr somewhere where no one knew me and there was no pressure.
Running in Sydney isn't exactly like a flat 24-Hour track event as there are lots of hills and steps but I think it's great to get out of your comfort zone and try something new every now and again.
There were many doubts about whether the event would go ahead due to coronavirus, and I wasn't sure until I got to Canberra on the Friday evening and went to find the track.
I think this was the first running of this actual event though it was due to be earlier in the year and was postponed by Covid – but there have been very similar events in the past. People had to apply to be "invited" to run it by proving their credentials of a certain standard of running.
The plan had been for up to 30 to be invited to avoid crowding on the track, but then this was reduced by the virus so the number dropped to 13 runners.
It was set up mainly to enable Australians to qualify for the World Champs and a lot of the entry fee was destined to help support the Australian team in travel to the next world champs etc.
It was sub-zero and frosty at the start, then warmed up a lot during the day but clouded over and cooled again in the afternoon. It's winter here, and the last 11 hours (ie overnight) consisted of a lot of torrential rain and splashing through puddles, whilst trying to keep moving and stop shivering.
After the first hour I wondered how on earth I could do another 23 of them but I actually didn't feel sleepy during the whole event – probably because it was just too cold at night. In fact I didn't sleep until the Sunday night back in Sydney.
I didn't stop running at all until after I'd passed the 200k mark, except for multiple toilet breaks – the cold does that to you – you had to exit and reenter the track at exactly the same point when going to the toilet to ensure the accuracy of distance covered on the track.
By the time I first walked, everyone else had already had walking breaks, some planned and some unplanned.
After 200k I walked a lap whilst eating a pot noodle – the best pot noodle I've ever tasted – and I could say that that was my downfall as I just couldn't get running again at all (right up to about the last lap) after that as my muscles protested due to the cold and wet and I couldn't feel my feet and hands any more. I didn't really have a plan except to treat the event as a long, moving buffet, so was really winging it, and if I'd had an experienced crew that would have helped me out a lot.
I have taken up baking whilst being here, as have a lot of people during the coronavirus era, so my homemade banana bread and chocolate chip cookies were great fuel during the run!
I felt really unprepared and hadn't got a clue how I would do so am over the moon to have broken any records never mind so many and such long-standing ones set by people I know and admire.
To find myself now ranked second on the GB all time 24 hr track rankings on my debut seems unbelievable!
I've been asked if I'm interested in the 24 hr World Champs next year, and it's kind of tempting as they're on road so any distance I cover would be a road PB for me!
But who knows what will happen with coronavirus as there still may not be international travel from here by then so I may just have to look a local runs – once I've let myself recover fully – which means more baking, eating and drinking!
Below: ABC News coverage of the event, featuring post-race interview with Joasia
Tags: 24-hour, 24-Hour racing, Joasia Zakrzewski, Ultra running, ultradistance