4J National Indoor Open a success as around 600 compete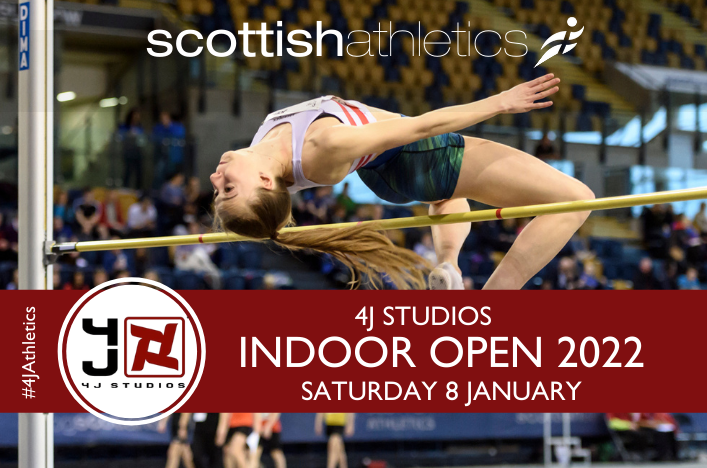 Olympian Zoey Clark led the sprint back to competition as the Emirates Arena hosted the 4J National Indoor Open.
It was the first event indoors in a national context for two years and it was brilliant to have around 600 athletes able to post performances.
We would qualify that, of course, with regrets, frustration and sympathy from scottishathletics for Covid-19 restrictions from Scottish Government and sportscotland which affected certain disciplines and restricted overall numbers in Glasgow.
Nonetheless, with the adjacent velodrome lying empty and cycling events cancelled, the over-riding feeling was relief at the 4J National Open going ahead.
GB international Clark for her part raced for the first time since the Olympics in Japan last summer with performances of 7.55 for 60m and 23.82 for 200m as she worked for the first time in a coaching sense with her partner, Ryan Oswald.
Glasgow School of Sport youngster Dean Patterson was in fine form over 200m with a run of 21.70 which is a Scottish U17 best performance and possibly a Record, subject to the usual ratification processes (with Kris Stewart having run 21.99 in 1996).
Krishawn Aiken of Kilbarchan was just ahead of Dean to win that race in 21.55 while Allan Hamilton clocked 6.87 for his 60m sprint with a 7.37m best in the long jump – after a long absence from the jumps runway. There was a fine high jump PB for Claire McGarvey at 1.78m.
At U15 level, a 300m run of 37.54 seconds by Rory Taylor-Young of Giffnock will be a Record indoors in that age group subject to ratification.
'It was amazing to be back competing,' said Zoey.
'You know winter's always long and hard and you have to get your hard work in – so to have something to look forward to is always great.
'This time last year was when Covid was really bad (and there was even more of a lockdown), Scottish Athletics managed to put on an elite invitational for us and there was no one here and it was deserted.
'So it's really lovely a year later, even though the Covid situation is not great, to see so many people being able to come and compete. You know that's why we train, it's to compete, so it's great that we actually can now.
'Spectator numbers were restricted but the good thing about indoors is you don't necessarily need a big crowd and you can still definitely generate an atmosphere.
'It was a real boost to hear that support today from the sidelines.'
Nothing takes place without our hard-working Officials, of course, and  Technical Official Diane Ramsay spoke for many in our purple and red army about the joy they take enabling competition to happen.
'It was really good to be back here,' said Diane.
'We've missed competition just like athletes and coaches. We had a flavour of it last summer with outdoor champs coming back so I think it would be great if we can get this Indoor Season up and running.
'You want to see athletes doing what they love – and what we love, too, as Officials. We've our own wee family of Officials if you like and it is nice when you can catch up with them.
'You want to see athletes progress and for two years now we've missed big parts of that. You want to see young athletes still involved and see how they progress.'
Tags: 4J National Indoor Open, Diane Ramsay, Emirates Arena, Zoey Clark