Steph's journey: from the Scottish Unis XC to the Olympics . . .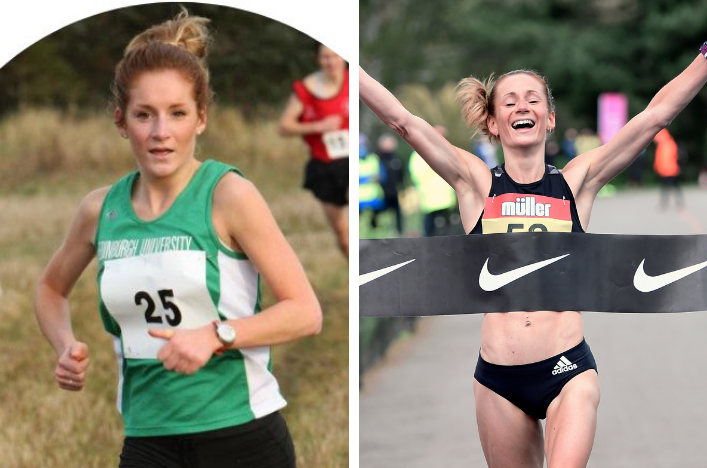 Uni photo via EU Hare and Hounds Twitter, London photo Mark Shearman
Steph Davis Power of 10 profile
Edinburgh Uni Hare and Hounds were quick out of the blocks the other night to wish all the very best to two of their former athletes, as Steph Davis and Sarah Inglis prepared for the GB and NI Olympic marathon trials in London.
So how excited will they be to see Davis become one of their celebrated alumni by clinching her place for Japan with a superb success at Kew Gardens in London.
Steph, who has long since been based in England, recorded a new PB of 2:27.16 and her top two finish ensured automatic selection for her first Olympics after having already posted a marathon time inside the qualifying standard (in Valencia in 2019).
No lesser a figure than Seb Coe himself has mentioned there's almost always 10 years of hard work behind every Olympian and that certainly applies for the 30-year-old, who works part-time in asset management.
A study of Steph's Power of 10 record reveals she was third in the Scottish Unis XC in 2011 as she started showing signs of improvement from a 126th place finish earlier that year in the National XC.
Back at Falkirk in the Olympic year of 2012, she finished 10th and within a couple of years was at Clapham Chasers as she pursued a new career and life in London.
In the past two or three years, the improvements have been spectacular under the coaching of Phil Kissi and a 2:41 marathon debut in Berlin in September 2018 started to catch the attention of the Performance team at scottishathletics.
Marathon Project leader, Robert Hawkins, was at Kew Gardens to assess the performance of Steph, Sarah and Robbie Simpson and won't have been in the least surprised by the performance of an athlete who started out at VP-Glasgow some 15 years ago.
In fact, Kew Gardens commentators Mara Yamouchi and Tim Hutchings mentioned a couple of times that Steph had been keen for an even quicker pace than was laid down by organisers – with 2:29.30 the women's standard required by British Athletics.
Her fitness had been honed by lockdown gym sessions at home, it seems.
'Anything can happen in the marathon, you can't just know that this is going to be your day,' said Steph.
'I felt good out there, particularly during the second half, so a big thanks Josh the pacer for continuing on that was a huge help, especially down this straight, it was a bit more windy. I really noticed that on the last lap when I was on my own.
'It was an amazing event today, flat course, the corners were fine and I am really happy to take the win and secure that spot and a small PB.
'I don't do the high mileage, it's just something I have never done. I do a lot of cross training but with Covid and the gyms being closed, I had to train at home.
'I've been doing six or seven hours a week on the bike and then my running average was about 60/65 miles through the week.
'So the focus was on the big quality sessions and its always worked for us.
'We kind of replicated what I did for Valencia, and apart from Phil throwing in some extra-long hard sessions to test me and push me to that next level, that's really helped to get me there and get me here today with that result.
'I'm absolutely thrilled to have made the selection criteria. It wasn't about the time for me today – it was all about making sure I could finish in the top two and now we've a whole lot of planning to do for the summer.'
Way back even before racing at the Scottish Unis XC, Steph competed at the National XC in 2009 in a joint U17/U20 race.
The then Edinburgh Uni student was 25th with a certain Laura Muir some four seconds behind in 26th place. Perhaps they can discuss it on the long flights to Japan next summer.
(With thanks to Alex Jackson)

Tags: Edinburgh Uni Hare and Hounds, Steph Davis, VP-Glasgow