#SALtogether: Freya Ross on her lifetime of running and club connections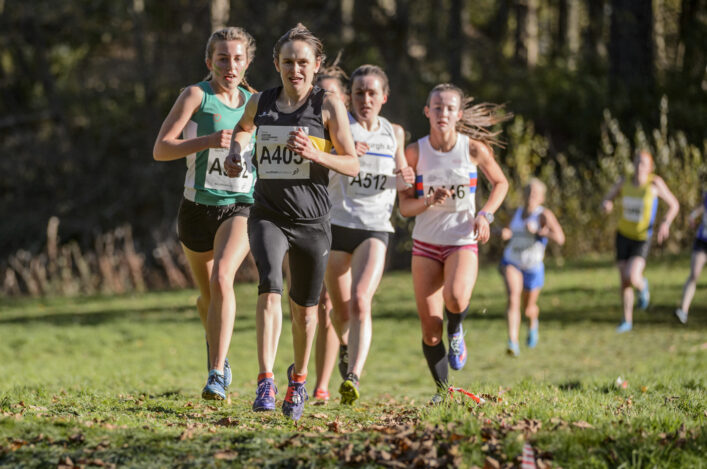 Photo by Bobby Gavin
We continue our #PeopleMakeAthletics series this week with road and cross country runner Freya Ross firmly in the spotlight.
The London 2012 Olympian, and multiple National XC champion, talks about the importance of club athletics from a social perspective – as well a competitive one – and explains why joining Falkirk Victoria Harriers has brought her full circle.
With thanks to Katy Barden, who interviewed Freya for Athletics Weekly, for assistance.
My club journey
'I was quite young when I started athletics because I tagged along with my older brother and sister who were members at Lasswade,' said Freya.
'You know what it's like; you don't want to miss out on anything they're doing. That's how it started for me.
'My brother and two sisters are still members at Lasswade so I still feel quite a strong tie to that club. It's a nice friendly club, it's not massive.
'There are lots of families involved so you get to know people well and it's an ideal environment to start in. I competed when I was there, but I never felt there was massive pressure to compete. It was a good club to start out in.
'I moved to Edinburgh AC when I was around 15 or 16. I had changed coach from David Hand at Lasswade to Carol Sharp so I was training more at Meadowbank.
'EAC were in the National Junior League and Women's League so it was an opportunity to get higher level competition on the track.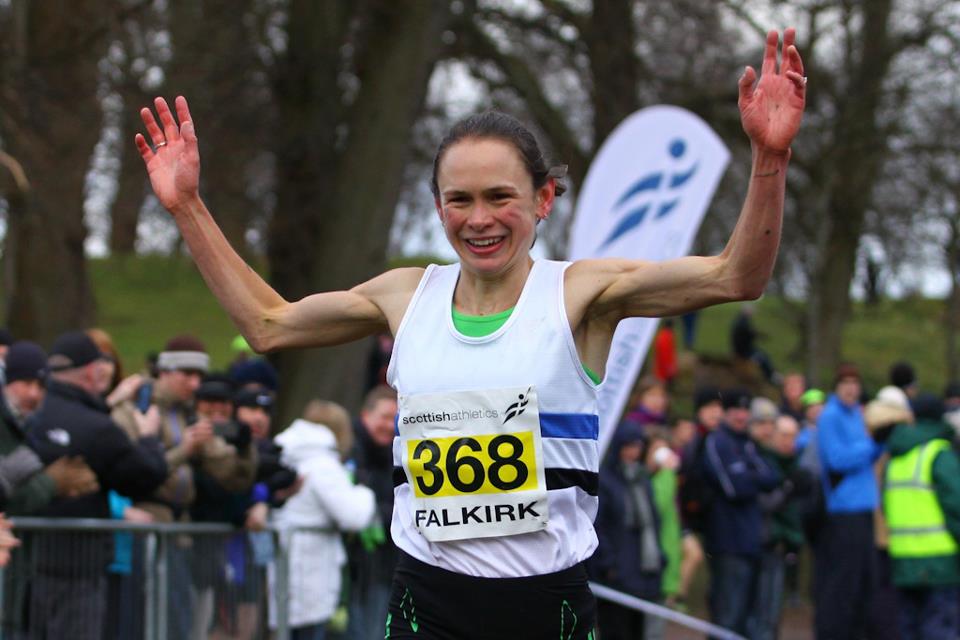 Freya Ross wins the National XC at Falkirk in 2012 when with Edinburgh AC
'I stayed with Edinburgh until I went to University and I ran for Heriot Watt when I was a student.
'I didn't get too involved in the committee at first, but from my second year until I finished I was always part of the committee and it was great to feel properly involved.
'They were a really nice bunch of people and I'm still good friends with some them. Running is such a social sport and it's a nice way to meet people. I met my husband Michael through the University athletics club as well, so that was another bonus . . .
'It was also around about the age when I started to compete for Great Britain. I had the opportunity to run the World University Cross Country Championships which was good fun and really sociable. Heriot Watt did well as a team in the BUSA cross country too, which I don't think many other teams expected.
'The women's team were eighth when I was in my fourth year, and the year after I left they were 3rd. It was nice to know we'd done really well as a club and to feel part of that team.
'When I moved to Sunderland for work I started competing for Chester-Le-Street (around 2006).
'It was really strong at that time and it was brilliant to go out and race in events like the English National Road Relays.'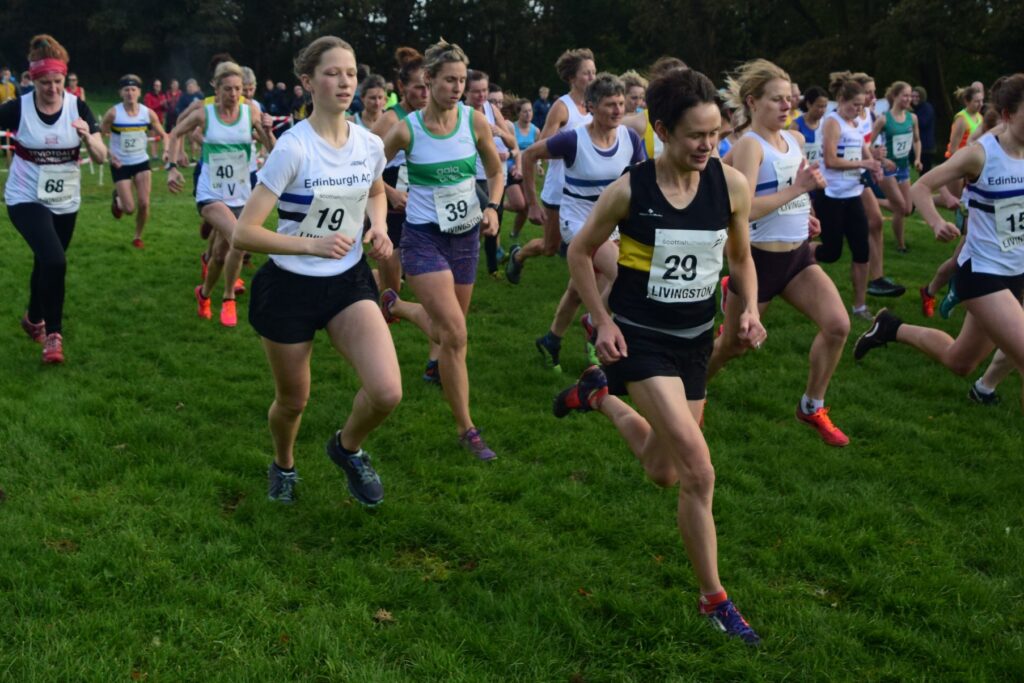 Smiles better . . . Freya in East District XC League action in the colours of Falkirk Victoria Harriers (photo by Neil Renton)
Falkirk Victoria Harriers
'When I moved back to Scotland in 2012, I gave it a go as a full-time athlete and I was back competing for Edinburgh. But, after a few years, I decided to join my local club, Falkirk Victoria Harriers.
'The club has around 250 members, including around 140 juniors. They've got everything from run, jump and throw through to masters athletics. There's also a jogscotland group that runs at the same time and a few others in the area.
'Tuesdays and Thursdays are the main track nights. There's a middle to long distance group that train on the track in the summer and train elsewhere in the winter, then on Saturdays and Sundays there will be a group doing a hill session or something on a Saturday and track on Sunday, while others do a long run on Sunday.
'There are quite a few talented juniors at the moment, including Kane Elliott who broke the club under-20 800m and 1500m records last year and Olivia Vareille, who broke the under-20 800m and 1500m records last year then the senior women's 800m record this summer with 2:06.42.
'It'll be nice to see what happens over the next couple of years with the numbers of juniors they've got.
'Fiona Matheson is a really talented masters athlete who started out with a jogscotland group before joining the club. She only started running in her 40s and has delivered incredible performances including World, European and British Masters titles. She's an inspiration to the younger athletes at the club.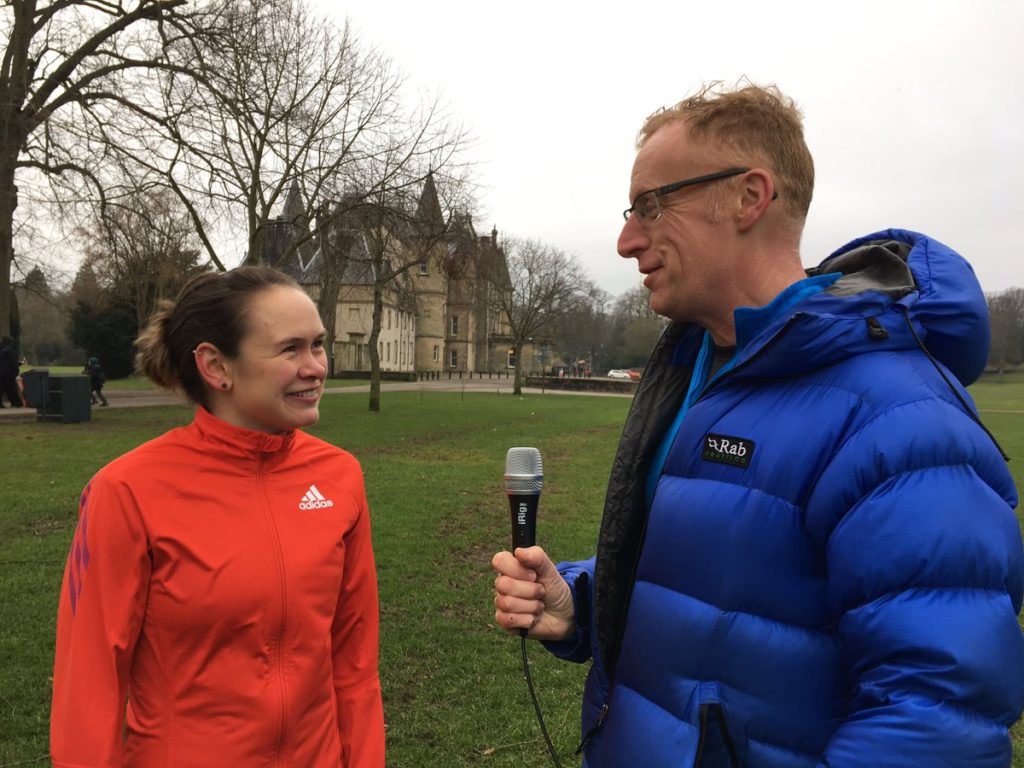 Freya helps us preview a National XC with Bryan Burnett (photo by Sue Gyford)
Giving back
'Michael has always been a member at Falkirk so when we moved back to Scotland, I knew quite a few people through him. His dad was a member at Falkirk too.
'I gradually started meeting up with a couple of people for runs and by the time I was pregnant with my daughter Una in 2017 I'd started going down to help coach. I enjoyed getting involved with the club.
'I mainly coached, but sometimes I'd join in with hill sessions at the weekend or with the warm up and cool down. I was pretty sick during my first pregnancy so it depended on how I felt.
'The group I helped out with (David Lothian's group) was quite varied, so a mix of shorter middle distance to longer sprints type of group. There was quite a wide age range so the idea was that I could offer an extra pair of hands.
'As well as helping out with coaching, I've done quite a few talks at Lasswade and other local clubs and that's something I'd like to do more of in the future. As well as talking about athletics I've been able to use those opportunities to talk about nutrition and my recipe book, Food on the Run.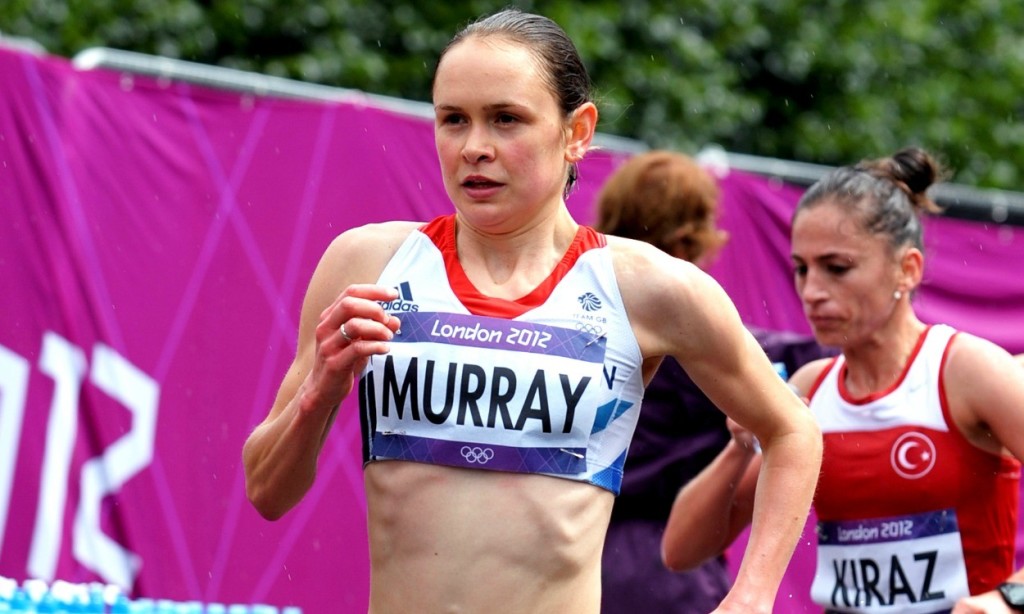 Olympic dream . . . Freya at London 2012 when she stepped into the marathon after a late call-off from Paula Radcliffe
Recipe to enjoy running
'I wrote the book to share my favourite recipes with others and to give people an insight into the kind of food an athlete eats and to show that recipes don't need to be complicated and include obscure ingredients to be nutritious.
'It's important to see the bigger picture and by speaking to young athletes and clubs gives me the opportunity to share my own experiences and hopefully benefit them.
'My continued involvement in athletics will depend on what the children are up to and what we're up to as a family; if they decide they want to do gymnastics or karate or swimming we might not have the same time to give to the sport.
'We won't push our children into athletics (Freya and Michael's daughter Una is two and a half and son Oran was born in October).
'But I think it's really good for them to see us going out for a run. It becomes normal. As long as they're active and enjoy what they're doing then I don't mind what it is.
'If they choose to join Falkirk then I'd say it's a really supportive club. It's a very friendly club – it reminds me a bit of Lasswade.'
Tags: #PeopleMakeAthletics, Falkirk Victoria Harriers, Freya Ross