'New challenge for me but our sport can keep thriving' – Mark Munro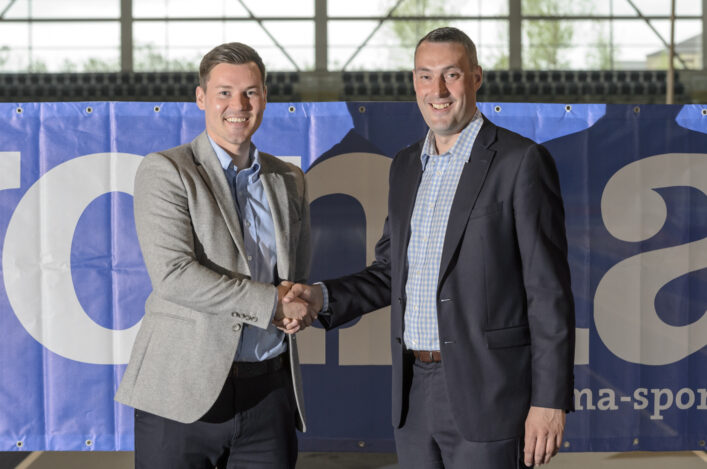 Mark and Andrew Barrowman of Joma Sport shake hands on a new kit deal (photo by Bobby Gavin)
Mark Munro to leave CEO role for post with UK Athletics
Chief executive Mark Munro is leaving his post with scottishathletics at the end of this month to take up a new job with UK Athletics.
It will be the end of 10 years in employment with the governing body and Mark firmly believes the strides made over the past decade or so can continue in the near future.
Here's some thoughts he wrote for us in the current edition of PB magazine .  . .
'AS many are now aware, I will be leaving Scottish Athletics as CEO in 2021 after 10 years working in the organisation.
'I've been really touched by all the good wishes I have received since the formal announcement and I would like to say a massive thank you to everyone involved in the sport in Scotland.
'I've had so many conversations over that time and every day has been a learning day. That's how I try to approach life.
'In 1999, I spent several months at the Scottish Athletics Federation (previous incarnation of SAL) as an unemployed graduate and duly became John McDonald's photocopy and database assistant.
'Years later, to then become Head of Development and then CEO has been a real privilege and honour.
'I am reminded regularly by Alex Jackson of the RR and CC Commission that I raced (unknowingly underage) in a District event in 1986 to help our club to a team medal at the age of eight, so it's been a long time involved in the sport in Scotland.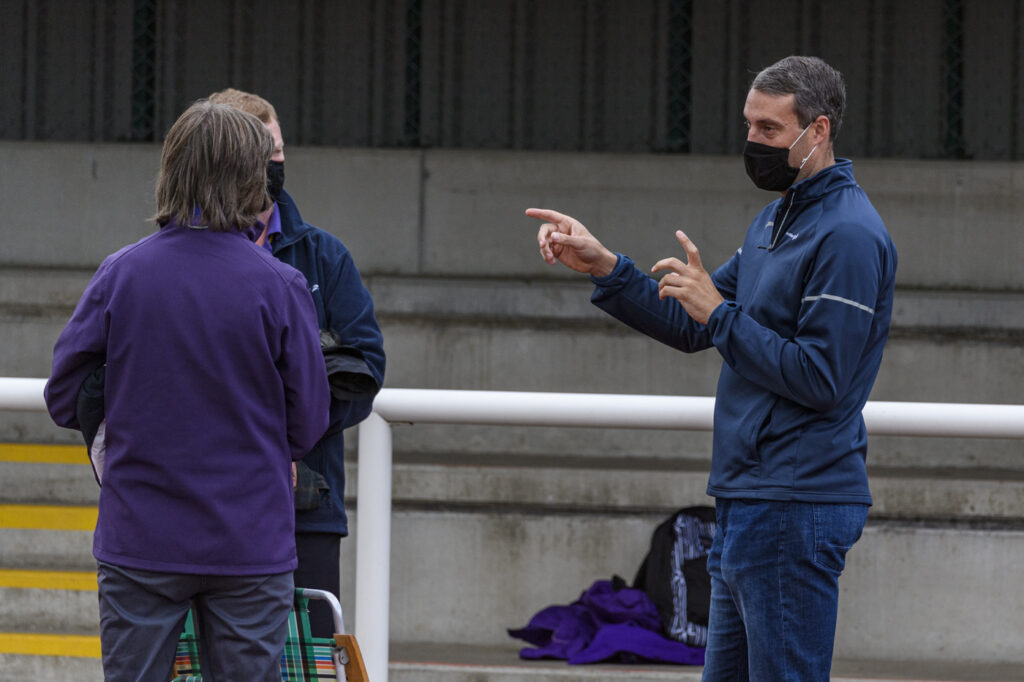 Covid-19 challenges are being met robustly with events delivered where possible and with protocols (photo by Bobby Gavin)
'Ten years ago, I am not sure even I would have believed that Scotland's coaches, athletes and clubs could have reversed the decline in Scots succeeding at a global level so quickly (given the trends of the previous 20 years).
'I remember quite clearly that we only had five Scots at the 2012 Olympics in London and none of them made progressed beyond a semi-final.
'A great deal of credit must go to those who went before me as well. Success doesn't just happen overnight; it takes a long time.
'However, as the staff team have heard me say often, Scottish Athletics are here to serve our members and support our partners, and all credit must always go to those delivering at the coal face.
'If you had told me in 2011 that six Scots would deliver seven top 10 performances within the 2019 World Champs and that our Para stars would deliver six medal-winning performances at the IPC World Para Championships, and that two Scots would literally be on top of the world in mountain running . . . then I am not sure I would have believed it.
'Also, away from competition, we have attained the highest audit level possible, led in the area of equality and have many sector-leading club projects delivering a lot of positive outcomes.

'Moving forward, despite the global pandemic, the sport is in a good place – if we can believe in ourselves and the sport and keep pushing.
'I also think Scotland may be in a position to enjoy a best-ever Commonwealth Games in 2022, assuming the stars align and athletes can cope with multiple championships that year.
'As some will be aware, I am leaving to take up the new role with UK Athletics as Development Director.
'The role will provide the strategic direction and governance across the sport of athletics in the UK, for the following areas: safeguarding; coaching; officiating; facilities.
'The role will also oversee the connectivity of athletics development in collaboration with the Home Country Athletics Federations; focusing on club networks and systems, participation and schools/ education curriculum.
'As such, I will continue to work closely with scottishathletics (and the sport in Scotland).
'Whilst a difficult decision, I know I am leaving the governing body with a great board and fantastic staff team. Despite the pandemic, and thanks to the work of our clubs (affiliation etc), I expect scottishathletics to enter the 2021/22 financial year in April in a very solid position.
'Also, I would particularly like to thank both Ian Beattie MBE (Chair) and Professor Ron Morrison (President) who have invested a significant amount of their time into my development over the period. It was Ian and the Board who provided me with the opportunity to step up as CEO. I will always be grateful.
'Lastly, I would like to thank yourself, the members. You make it all happen and keep driving the sport forwards and upwards.'
Check out our YouTube channel and please SUBSCRIBE (it's FREE)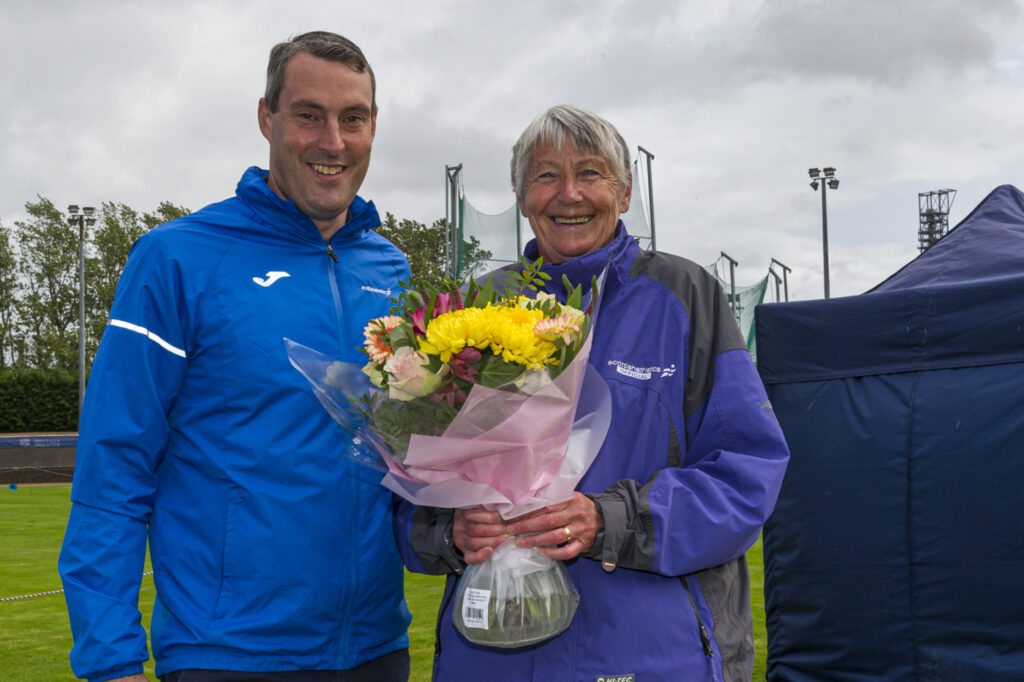 Mark with former Track and Field Commission Convenor, Moira Maguire (photo by Bobby Gavin)
Tags: Mark Munro, UK Athletics