Great to be back! Run and Become 5k pilot event is big success in Fife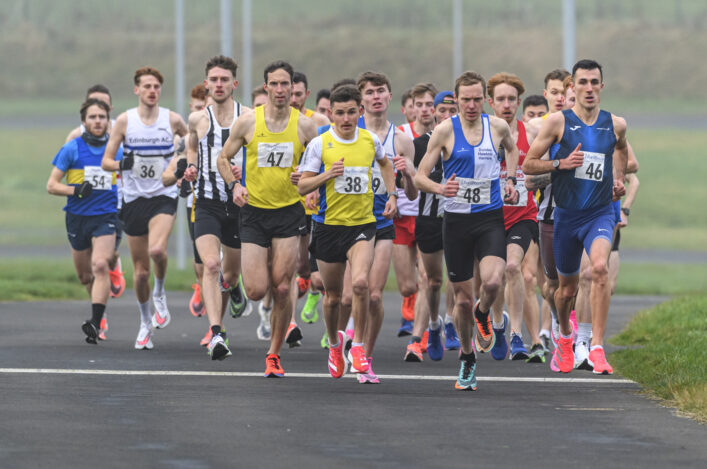 Annabel Simpson and Jonny Glen are no strangers to race victories on the Scottish endurance scene over recent years and it was 'business as usual' for the duo again on a cold Sunday lunch-time in Fife.
But everything else about the scottishathletics Run and Become 5k at the Fife Cycle Park in Lochgelly felt totally different as this kind of small-scale enclosed event with no spectators and other Covid-19 protocols was effectively 'road-tested'.
The sport is hopefully all the better for the pilot experience as we search for ways to keep athletics happening in Scotland through what is obviously and understandably a difficult period.
Road running has suffered significantly in that sense, with very few scheduled events able to take place.
Judging by the sheet enthusiasm, and some very quick times – particularly by the men, the opportunity was both relished and appreciated.
A course of five laps of just under one kilometre, with an additional uphill start, provided the platform on a day when next to no wind resistance definitely helped the athletes.
The course is not completely flat by any means but the uphill slope was cancelled out by a long downhill section on the outside edge of the circuit – and that seemed preferable to the option of three longer loops with several twists and turns (utilising the inside section of the 1k loop).
In fact, nine men went under 14:30 and in the Women's race there were 11 runs sub 17:30 with the top four breaking the 17-minute mark.
Race finish videos on our Facebook page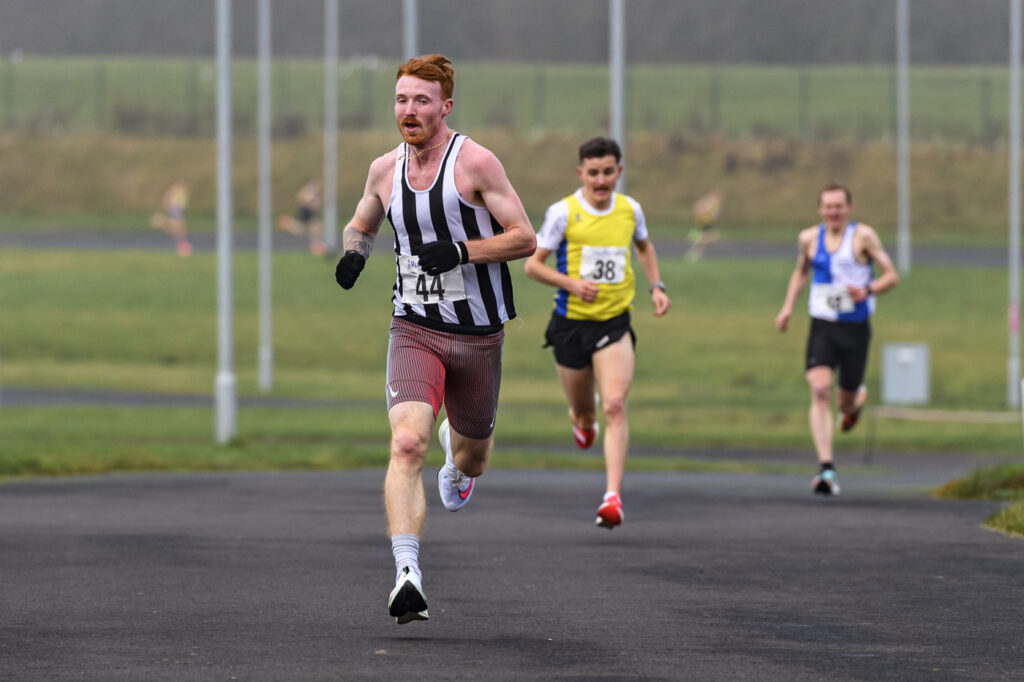 Jonny Glen closes in on the win as he heads Jamie Crowe and Kris Jones on the final few metres (photo by Bobby Gavin)
Photo album on Facebook from Bobby Gavin
Glen, for his part, loved it and no wonder as he broke clear of Central AC's Jamie Crowe over the final 500m or so to win by a couple of seconds in 14.06.
In doing so, the Inverclyde AC athlete reversed the 1-2 outcome from the Lindsays National Xc at Falkirk in February.
'It was just great to be back racing again so thank you for putting it on and to all involved,' said Jonny.
'I cannot recall a Road Champs event in recent years where you have had quite so many of the guys all racing each other and that's led to some very decent times through the field.
'I'm only five seconds or so from a PB and the course isn't entirely flat by any means so I'm happy. Jamie Crowe is probably the most consistent guy around in the past year or two and the most likely to maybe move up another level.
So to put one over on him and turn around the National XC outcome was really pleasing for me. Don't get me wrong – I'm sure Jamie is still well in credit in our head-to-head record.
'But I knew if I could be there or thereabouts with him throughout then I'd be well placed and I felt the wee uphill finish worked to my strengths.'
With Crowe at 14:08, Kris Jones was third in 14:10 followed by Sean Chalmers of Inverness, who finished strongly for that fourth place to edge out Edinburgh AC's Joe Arthur.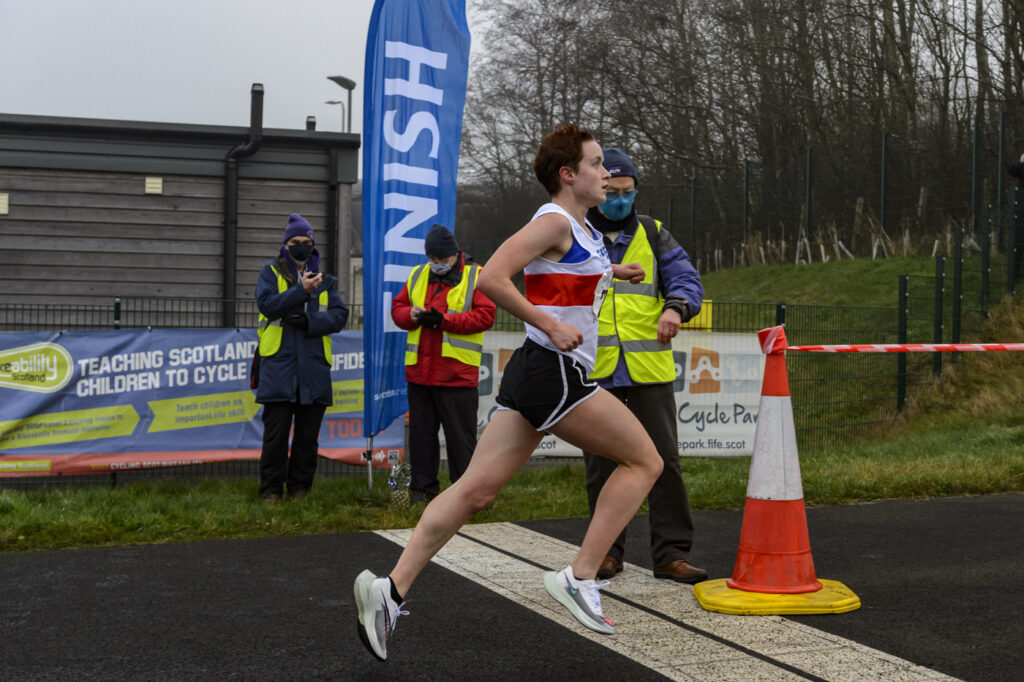 Annabel Simpson is home in 16:28 for a fine win in Lochgelly for the Fife AC athlete (photo by Bobby Gavin)
Simpson led the Women's race from start to finish – getting off fast with Megan Keith for company.
While the Fife AC was to build on that lead, Edinburgh Uni pair Naomi Lang and Rebecca Johnson led the fightback to Keith and the U20 Athlete of the Year ultimately had to settle for fifth with Morag Millar taking an excellent fourth place.
We reckon that must be Morag's first race since becoming a mum earlier in the year!
'I actually feel quite emotional because it is so long since we've all raced and just getting together on the start line with folk was so much fun again,' said Annabel, who won in 16.28 with a margin of 16 seconds to Lang (16:44) and Johnson (16:51).
'I think it is a good venue. I actually fancy asking my coach, Steve Doig, to see if we can come and train here as a group.
'For a Covid-19 event, with nobody else around or out on the course, like members of the public at Silverknowes or wherever, then it worked really well and thank you to everyone who helped make it happen.'
We would echo those sentiments with Adrian Stott of Run and Become and our own Mark Pollard putting in a power of work to make the arrangements and then a series of volunteers helping out.
Thanks, too, to the Road Running and Cross Country Commission for their support and help on the day.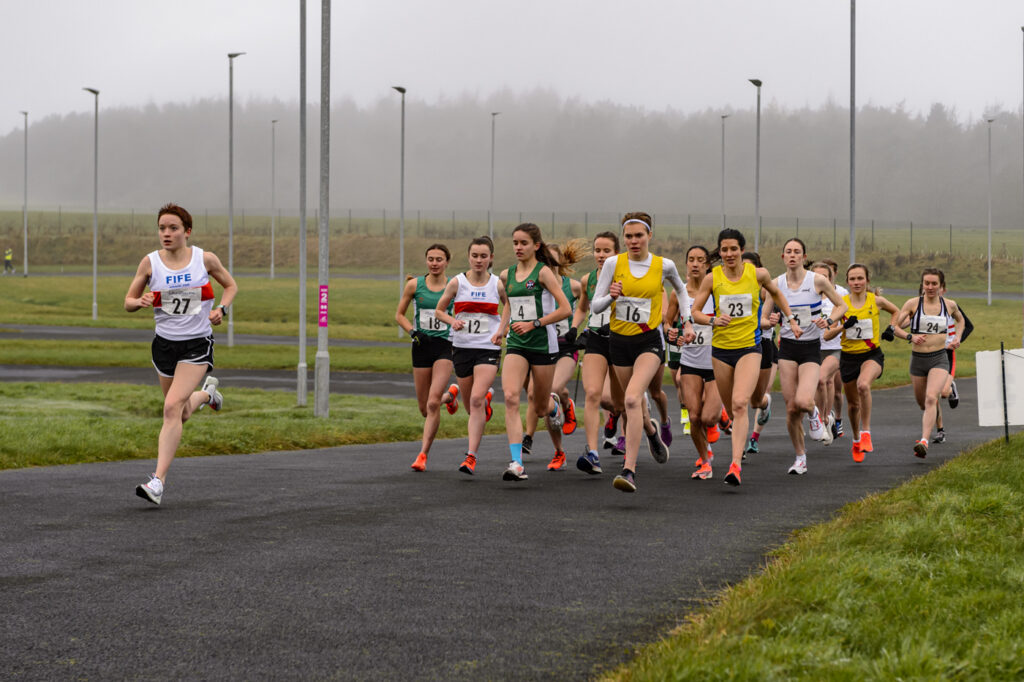 Photos by Bobby Gavin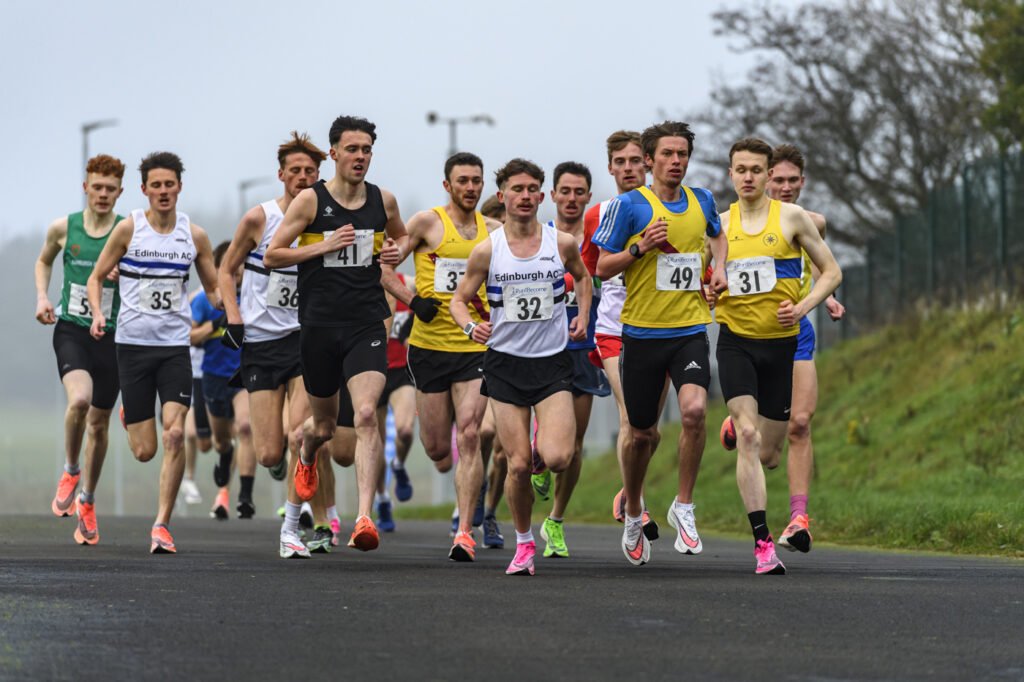 Tags: Adrian Stott, Annabel Simpson, Jonny Glen, Lochgelly, Run and Become 5k