Monument Mile Classic to return next May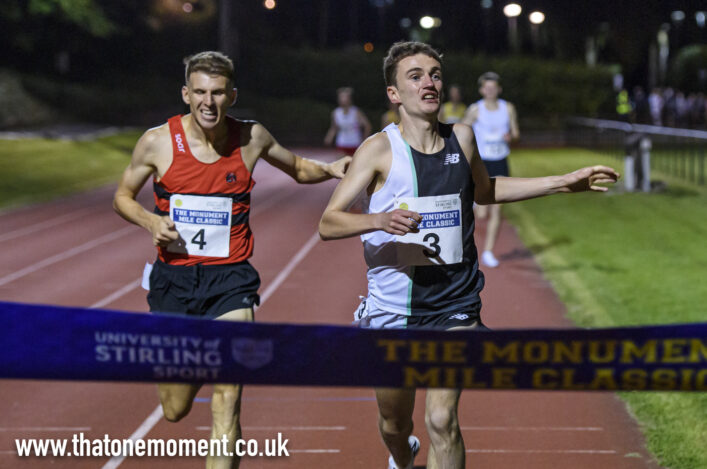 Jonathan Davies and Ian Crowe-Wright take the tape at Stirling in September (photo by Bobby Gavin)
Enter here for Monument Mile Classic on 21 May 2021
The Monument Mile Classic event will return to Stirling for the fourth time next May.
And, after a night of PBs and the first sub-four minute performances witnessed in Scotland for many years, places are sure to be popular!
The 2021 Monument Mile Classic event is scheduled for Friday 21 May with the venue being the track at the Stirling University sports campus.
Organisers Central AC were thrilled with the 2020 version on a Friday night in September as an evening of open graded track mile races unfolded in the shadow of the iconic Wallace Monument.
As it happened, visiting English athletes Jonathan Davies (3:59.36) and Ian Crowe Wright (3:59.61) both went sub-four.
Sub-four! Monument Mile Classic round-up
This event is licensed by scottishathletics and all times recorded will be official and added to Power of 10 athlete profiles.
For the second time, pacers will be offered for some races. This will be provided for the fastest five races, and may be extended out across other races, subject to COVID-19 regulations at the time.
In the event of some tight finishes, we will also be employing photo finish technology.
Places are limited, so do not turn down this opportunity to run this rarely-run legendary distance.
The Monument Mile Classic are also delighted to confirm an inclusive approach for the 2021 event with plans being put in place for Para races, including an option for wheelchair athletes.
Tags: Monument Mile Classic