#4Jawards: Performer of Year and Performance Coach of Year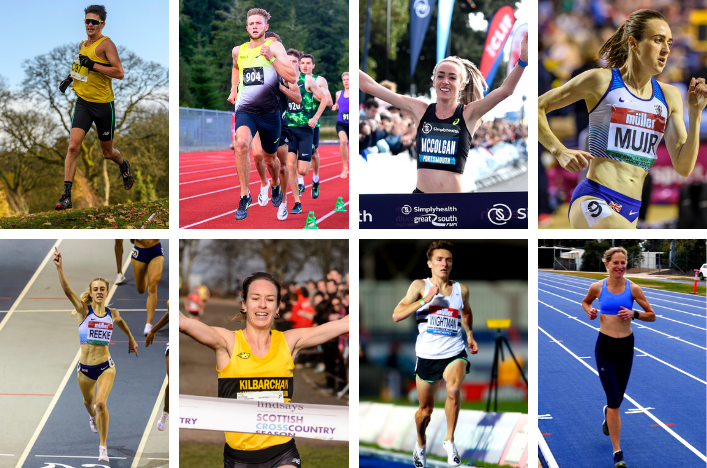 *Montage created by Sue Gyford with thanks to Bobby Gavin, Mark Shearman and British Athletics/Getty Images.
Plan your 'Watch Party' for our 4J Studios Annual Awards
scottishathletics are staging our 4J Studios Annual Awards this Saturday evening – with a special programme on our YouTube channel.
It will be a celebration of our great sport with a number of changes to the usual format as we reflect on the extraordinary circumstances of 2020 and recognise and acknowledge the innovation and creativity of our volunteers to keep athletics on track.
We have also, for this year, altered the title of our Athlete of the Year awards to 4J Studios Performer of the Year given that there were very limited competition opportunities for certain strands of the sport (hill running and Para, for example).
Nonetheless, it has still been a highly competitive year in terms of picking short-lists and our 4J Studios Annual Awards selection panel had to deliberate long and hard before coming up with no fewer than eight names for the main Performer of the Year award.
The world class calibre of Scottish athletes is reflected in the names of the contenders – and our short-list of two for Performance Coach of the Year, where it was felt the work of Geoff Wightman and Andy Young was at a very high level.
Read our online 4J Studios Annual Awards booklet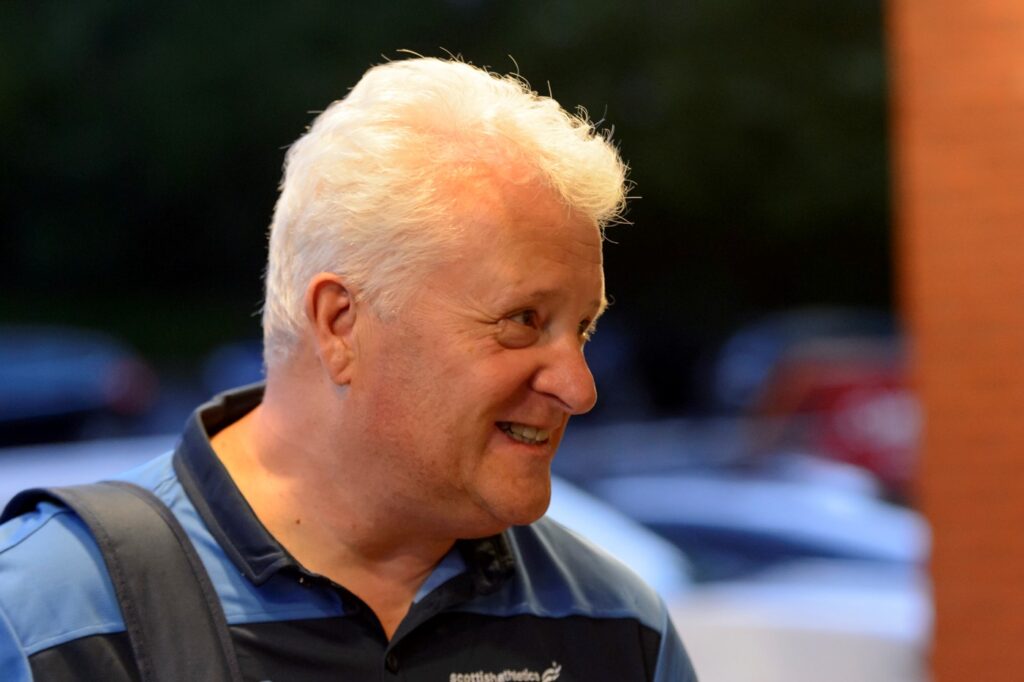 Stephen Maguire, Director of Coaching and Performance, is enthused about 2020 performances (photo by Bobby Gavin)
'It is difficult every year to pick the best Scottish performances because there are usually so many to choose from and that is actually no different this time despite the special circumstances of 2020,' said Stephen Maguire, scottishathletics Director of Performance and Coaching.
'There were limited opportunities in some disciplines and, in track and field, it has been harder for the technical events to come back or for meetings to be available.
'It was certainly a little more straightforward for endurance athletes to continue training to a higher level during lockdown.
'But there is absolutely no doubt our endurance athletes have once again 'smashed it' and in fact that stretches right back to the start of the 12 months in question from mid-October in 2019 which came under consideration for 'Performer of the Year.'
'We've seen Scottish Records, British Records, World Leads, British U23 Records and Meeting Records as well as Scots winning races all over Europe and the United States.
'It looks hugely promising for next year, despite all the difficulties presented by lockdown and the lack of events, group training, physio support and so on for a very long time in the middle of the summer.
'I'm encouraged about the Oympic prospects of a handful of Scots and the initial target once again has to be to have a large representation of Scots on the GB and NI team for Japan next summer.
'For the moment, we firmly offer our congratulations to athletes short-listed in all categories of the Performer of the Year categories and their coaches, support teams and clubs. As we often point it: these performances are only achieved after many years of hard work.
'It's great, even in 2020, to see the way the pathway is there for our young athletes to develop and to try and seek to attain the status achieved by our very best Scots.'
4J Studios Performer of the Year for 2020 (short-list in alphabetical order):
Callum Hawkins: Scottish best at 10k in January and then one second adrift of his Scottish best for half marathon.
Josh Kerr: Four races against strong opposition in America after lockdown saw three impressive wins and one second place.
 Eilish McColgan: Eilish won Great South 10-miler then in early December went second on all-time list for 10k. Solid track performances, too.
Laura Muir: Laura has once again delivered great consistency across her racing – despite the long spell of inactivity via lockdown. Broke British Record at 1000m and clocked World Lead at 1500m.
Jemma Reekie: A breakthrough year, Jemma lost only one 800m race all year. She has run five of the world's top 14 times and led the world indoor rankings with 1:57.91, a superior time to the world outdoor best this year. British, Scottish and British U23 Records along the way.
Steph Twell:  Steph set a new Scottish Record in the women's division of the marathon with 2:26:40 in Frankfurt at the end of October last year (and this inside the 12-month period for Performer of the Year consideration).
Jake Wightman: Wightman's 3:29.47 in his only 1500m race was the best performance of the year, breaking his own Scottish record by 2.4 seconds and ranking third in the world. Fast 800m runs, too.
Joasia Zakrzewski:  Effectively stranded in Australia during Covid-19 lockdown, Joasia landed captured the Scottish 24-Hour Record with a run (on the track) of 236.561k to beat the mark of 233k held by Fionna Ross. And broke other Records, too.
Performance Coach of the Year
 Geoff Wightman:
It's been quite a year for Jake Wightman on the track – and that means a considerable influence off the track for dad and coach, Geoff.
Jakes has revealed that, as he has matured, the role is now very much more coach than parent and the guidance is clear.
A Scottish Record as the first man to run sub 3 minutes 30 seconds is a huge achievement and eclipsed times set by Steve Cram, Seb Coe and Steve Ovett.
Andy Young:
Rightly renowned for his marvellous work with stellar duo, Laura Muir and Jemma Reekie, Young's influence now reaches further.
Records fell to the likes of Eloise Walker and Erin Wallace but of course the continued work with Muir and Reekie has been outstanding and headline-grabbing.
Jemma ends the year with 800m indoor World lead and Laura with the 1500m outdoor World lead – evidence enough of Andy's coaching and no fewer than 11 wins in a six-week spell in seven countries ensured Scottish middle distance running went global.
+++
U20 Performer of the Year:
Scott Brindley (North Ayrshire AC
Joe Ewing (Edinburgh AC)
Megan Keith (Inverness Harriers)
Eloise Walker (Edinburgh AC/Glasgow Uni)
U17 Performer of the Year:
Alyson Bell (Giffnock North AC)
Rebecca Grieve (Pitreavie AAC)
Anna Hedley (Fife AC)
Katie Johnson (Edinburgh AC)
Masters Performer of the Year:
Philippa Millage
Joasia Zakrzewski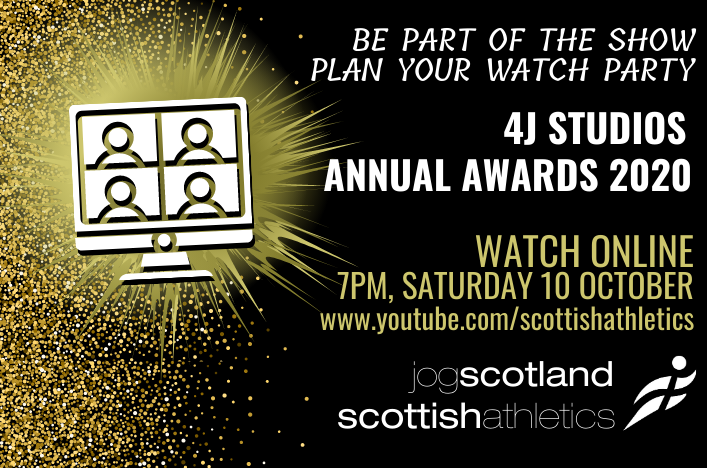 Tags: 4J Studios Annual Awards, Andy Young, Callum Hawkins, Eilish McColgan, Geoff Wightman, Jake Wightman, Jemma Reekie, Joasia Zakrzewski, Josh Kerr, Laura Muir, Steph Twell, Stephen Maguire