'Thanks for all the support and patience' – Alasdhair Love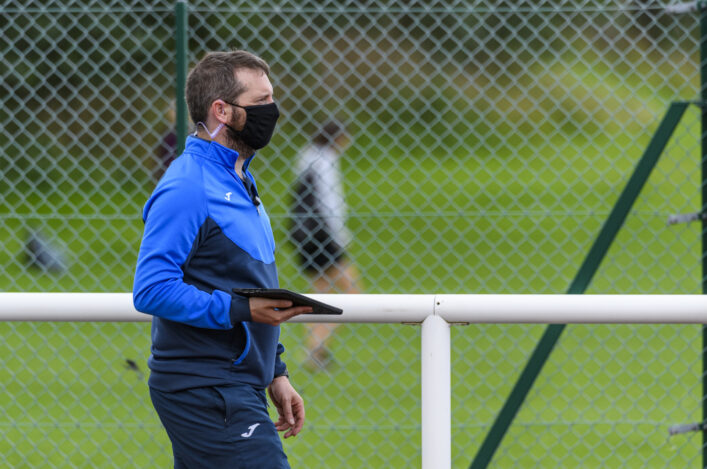 Back on track . . . athletes and Officials helped make the 4J Studios National Open happen (photo by Bobby Gavin)
Message on Monday 9am
Following Thursday's announcements by the Scottish Government and the successful weekend we can confirm that the 800m races scheduled for 30 August will now be run as normal, with a maximum of five athletes in each heat. 
Athletes will break as usual at the beginning of the back straight on the first lap. 
Sprint races will now be run with a maximum of four athletes per race without the need for blank lanes between athletes.
Field Pools will also be increased allowing more athletes to compete together.
As we are aware that some athletes did not enter originally as they did not wish to run in lanes we will REOPEN entries for the 29/30 August at 12 noon today (Monday 24) until midnight on Tuesday 25 (Tues Night/Wed Morning) for all events available on weekend 2.
Coaches wishing to attend August 29/30 can sign-up between noon today and midnight tomorrow here
(Update to Events for weekend of 12/13 September – on the final weekend of the series we are replacing the 800m opportunity with 1500m for all ages).
It's fair to say that Events Manager Alasdhair Love and Events administrator Caitlin Watt have been in the vanguard as scottishathletics seeks to bring about a return to track and field competition.
The 4J Studios National Open Series has started this weekend at Meadowmill but only after a huge amount of hard work by so many people.
Here, in a special message to our members and our Officials, Alasdhair reflects on the past few days – and the weeks prior to that.
'I want to thank everyone involved in staging the event over the weekend,' he said.
'We had great support from the Scottish Government, East Lothian Council and Enjoy Leisure in terms of the venue at Meadowmill – and from the athletics community, too.
'We had 40 Officials working on duty each day and I want to thank them for their efforts.
'Athletes and coaches have shown a lot of patience. In fact, we were very close to cancelling the August 22/23 weekend a few weeks ago. We knew that August 24 was an indicative date for a return to sports events – so calling off was definitely a consideration.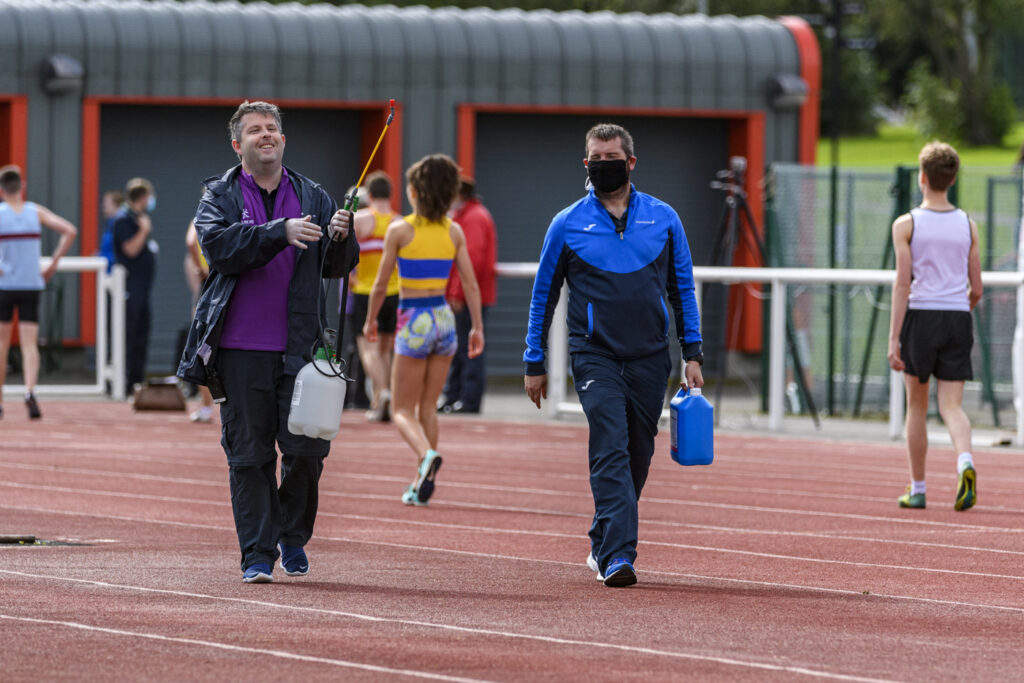 Alasdhair Love with Official Mark Stringer at Meadowmill on Saturday (photo by Bobby Gavin)
'But we then felt it would be a real bonus is we could squeeze in the first weekend of the Series prior to that August 24 date – while carrying out a lot of procedures and conditions.
'We felt we could do with physical distancing on the track and so on. That won't apply now for the remaining events.
I've been as frustrated as anyone that we've said we are going to do something and then had to change the arrangements. I don't like that element of uncertainty for those competing – and for us as organisers and for our Officials.
'When you look at the bigger picture, however, that is happening across sport and many other walks of life because of the pandemic.
'Scenario planning is just something you have to do in these circumstances. You can't sit and wait and see what happens; you have to try and work towards a set of circumstances – and then adjust and amend that as and when things change. And things have been changing!
'So once again thanks for the support and patience. It's only with that understanding that we are able to stage events.'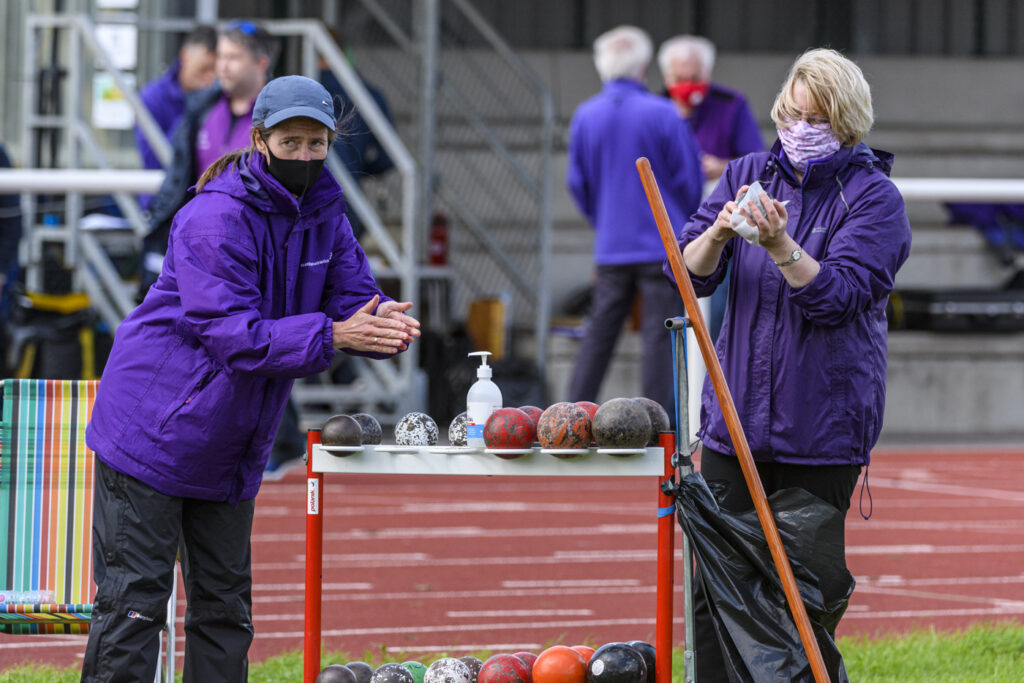 Officials undertake special hygiene procedures in order to make events happen and (below) our Events Administrator Caitlin Watt at Meadowmill (photos by Bobby Gavin)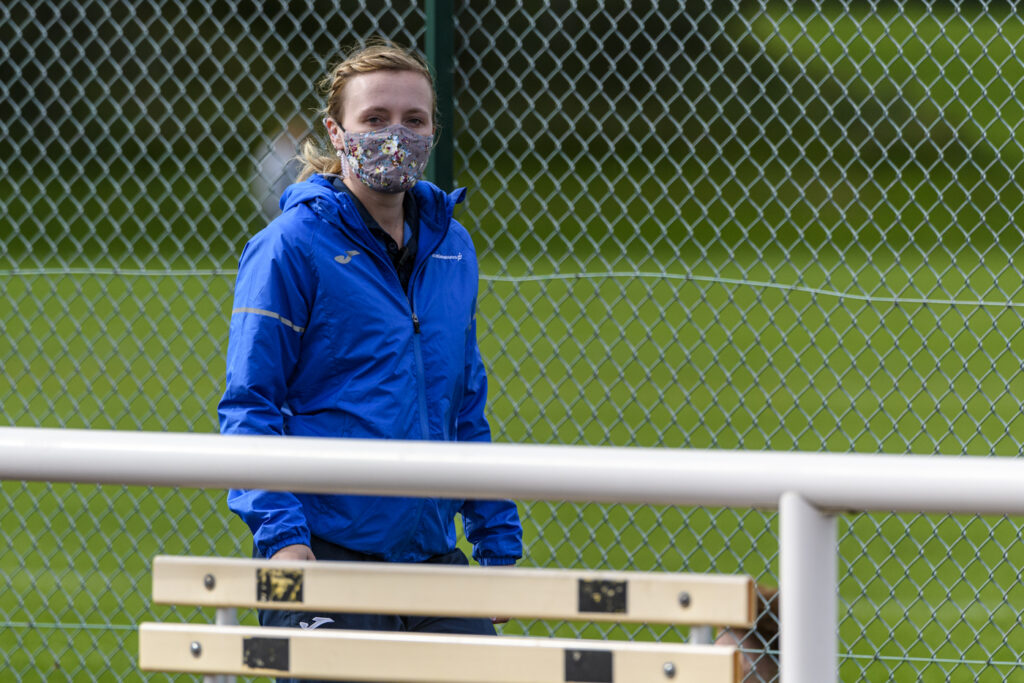 Tags: 4J Studios National Open, 4J Studios National Open Graded Series, Alasdhair Love, Meadowmill, Officials