Gumtree gym equipment, Cram's message and track history – Jake Wightman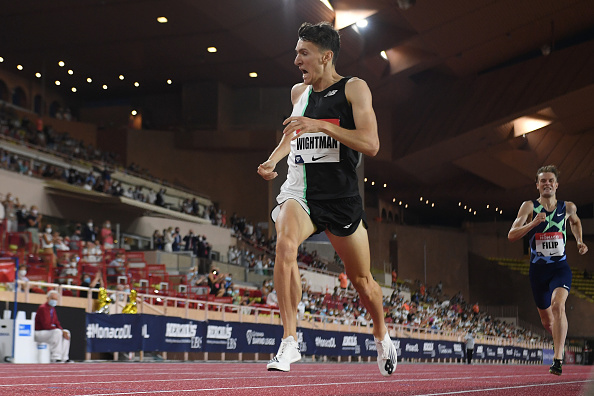 Photo courtesy of Wanda Diamond League and Herculis Meeting
New horizons! Jake sub 3:30 and Laura lands British Record
By Peter Jardine, Head of Communications
Steve Cram's professionalism as the lead athletics commentator on BBC Sport is not in question. The track legend so often brings the right words to the big moments to complement a sense of gravitas.
But he could have been excused for letting the (proverbial) mask slip ever so slightly on Friday night when commentating on the Wanda Diamond League action in Monaco.
First, one of the athletes he coaches, Laura Weightman, came up with a truly spectacular run in the Women's 5000m to set a big PB in a high class race.
Then, a few minutes later, Jake Wightman eclipsed Cram's own 1500m PB to move to second in the British all-time list.
'That must hurt a bit,' gasped co-commentator Tim Hutchings. Cram clearly regarded it as a rhetorical question as no answer was forthcoming.
Cram, we should stress, sent Jake a personal message of congratulations soon after the race.
Jake's 3:29.47 took him to second place in the British all-time list, with only Mo Farah having running the event quicker (also in Monaco).
It took the Scottish Record under 3:30 for the first time and was almost two seconds quicker than his own run in Doha which landed fifth place in the 2019 World Champs.
Join us on YouTube (please SUBSCRIBE) and watch our in-depth Jake interview on Coaching Conversations playlist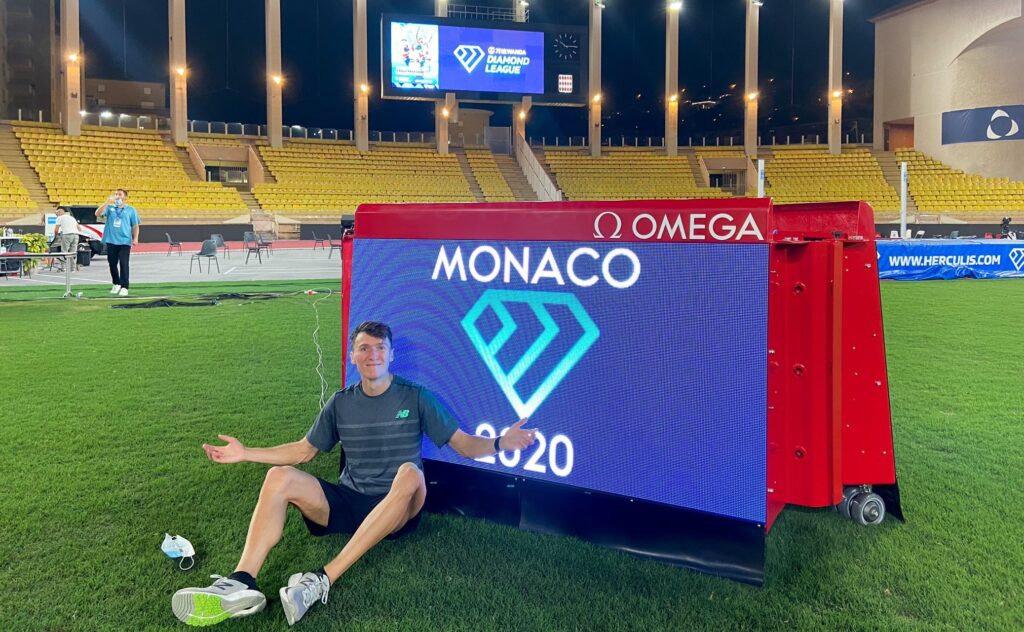 Photo via Twitter
BBC Scotland article on Jake's medal hopes for 2021
'Growing up in the sport the names of Steve Cram, Seb Coe and Steve Ovett are absolute legends so to run quicker than them for 1500m is something which feels very special and will give me a lot of confidence,' said Jake.
'Obviously they'd amazing medal success at the likes of the Olympics and traded World Records. My target now has to be more medals.'
Anybody wondering if Jake will manage to stay grounded despite Friday's success need only have listened to him on BBC Scotland on Sunday afternoon.
Asked about how he coped during lockdown, he revealed that with all gyms close to his London home, he 'went on Gumtree to source some equipment to set up at home' and then just 'got on with it'.
Credit dad/coach Geoff, once CEO of this parish, for making sure the right attitude from Jake will endure despite now being quicker than Cram, Coe and Ovett.
Here are the PBs achieved by that iconic 1980s triumvirate:
Steve Cram 3:29.67
Seb Coe 3:29.77
Steve Ovett 3:30.77
Wightman for his part does have two medals to his name so far – the bronze he won in the Gold Coast Commonwealth Games in April 2018 and a bronze again in Berlin in the 2018 European Champs a few months later.
Coe, who presented the Commonwealths medal at Gold Coast 2018, was moved to comment at the time that he felt it could be 'Jake's breakthrough moment'.
Given the Edinburgh AC athlete went to Australia with a PB of 3:34.17 and is now almost five seconds quicker, the IAAF President may well be proved right on that one.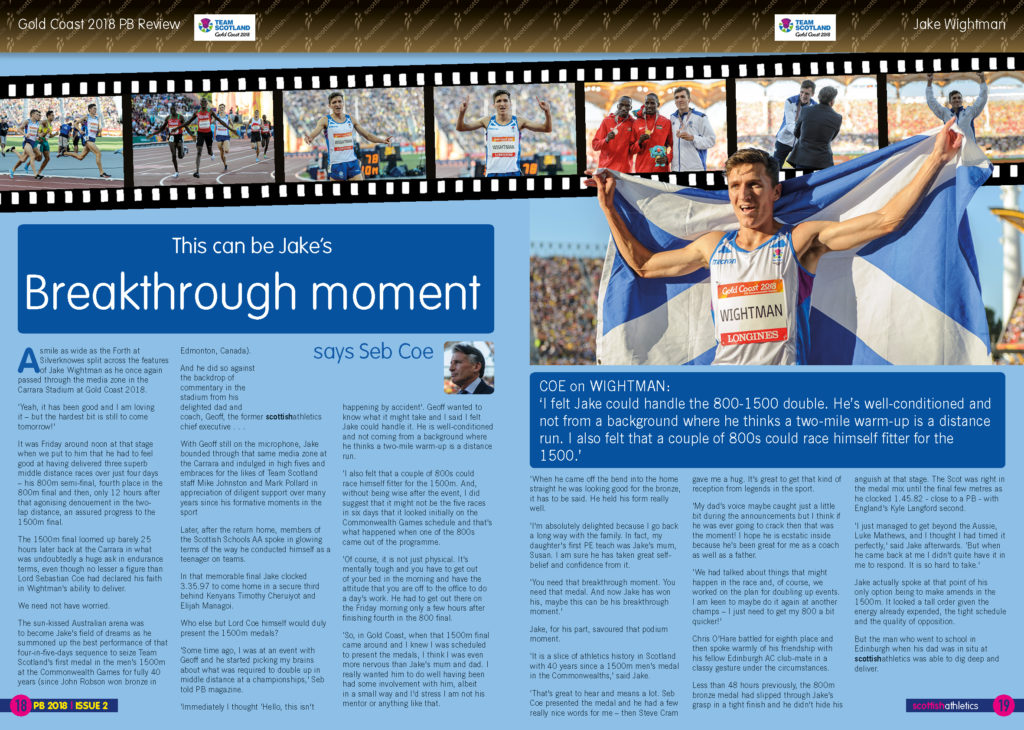 +++
So what about the Scottish Record? How did we reach this point – with John Robson's 3:33.83 having stood for 38 years from 1979 to 2017 before Chris O'Hare spear-headed the charge of our current athletes.
Here's the up-dated Scottish All-time ranking list:
3:29.47 Jake Wightman 14 Aug 2020
3:32.11 Chris O'Hare 20 Jul 2018
3:32.52 Josh Kerr 6 Oct 2019
3:33.83 John Robson 4 Sep 1979
3:34.01 Graham Williamson 28 Jun 1983
3:35.66 Frank Clement 12 Aug 1978
3:35.95 Neil Gourley 15 Jun 2019
We asked the highly-respected Mike Johnston, for many years Head of Endurance with scottishathletics, for his thoughts on the way the Scottish Record has progressed and the current quartet.
'Much has already been written about the current strength in depth of Scottish 1500m running,' writes Mike.
'After the golden eras when John Robson, Frank Clement and Graham Williamson regularly made UK teams and were stars on the World scene, the quartet of Jake Wightman, Chris O'Hare, Josh Kerr and Neil Gourley are not only matching those profiles but are rewriting the Scottish all-time rankings for the event.
'Statistician and scottishathletics Historian Arnold Black recently highlighted the remarkable consistency of O'Hare over the mile event and Chris was first of the new quartet to push his way to the top of the 1500m rankings improving the National record to 3.33.61 in 2017 and then to 3.32.11 the following year.
'Jake followed suit, improving the record to 3.31.87 (in Doha) before breaking the 3.30 minute barrier in Monaco this week taking the Scottish record to 3.29.47. This ranks him second on the UK all-time list and fifth on the European equivalent.
'Jake's improvement really is impressive over the last few years.
'However, his Scottish rivals are chasing him hard and Josh Kerr has moved to third on the Scottish All time list with 3.32.52 last year and has looked superb in his races in the US this summer.
'So what we have now is three Edinburgh AC club-mates (from the current era) at 1, 2 and 3 on the Scottish all-time list. It is only right to acknowledge and credit the coaches at that club over the years for developing this trio early in their careers.
'Meanwhile, Neil has impressed with his racing skills and excelled at being in the right place at the right time in the tactical battles, he has made his way to seventh in the all-time.
'Like O'Hare and Kerr, the Giffnock North athlete honed his skills in the NCAA circuit but he has probably been less exposed to the high level Diamond League type time trials so may well have a lot more to come in PBs at the event.
'But it is not quite totally out with the old guard and in with the new.'
'When when we look at the Blue Riband middle distance event of the mile then Williamson, Robson and Clement currently sit 1, 3 and 6 on the Scottish all-time list.'
One for Jake, Josh, Chris and Neil to ponder, perhaps.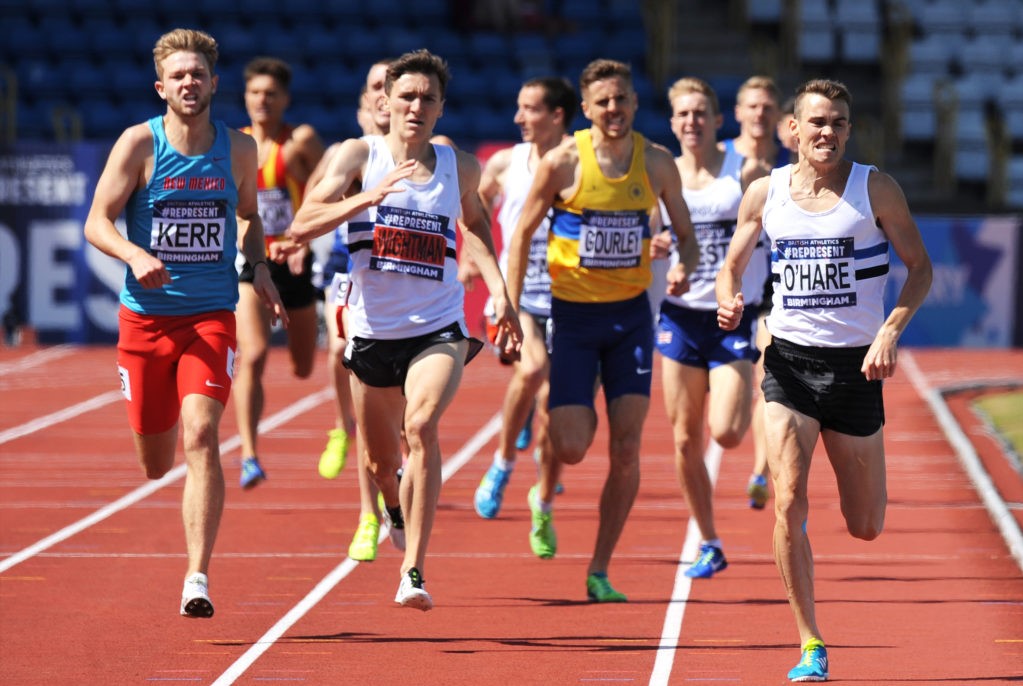 British Champs 2017 . . . and the first real signs of Scottish dominance in men's 1500m in Britain with Chris O'Hare leading home a 1, 2, 3, 4 (photo by Mark Shearman)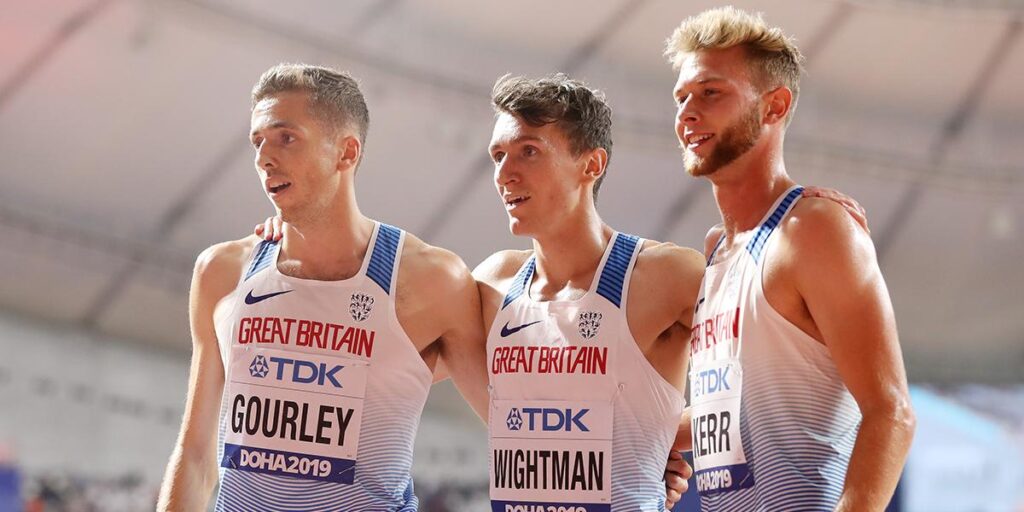 Doha World Champs 2019 .  . . and Messrs Wightman, Kerr and Gourley fill places 5, 6 and 11 in the World final
Tags: Chris O'Hare, Frank Clement, Graham Williamson, Jake Wightman, John Robson, Josh Kerr, Mike Johnston, Monaco, Neil Gourley