Phone a friend? How Laura call helped Jemma to Euro U20 gold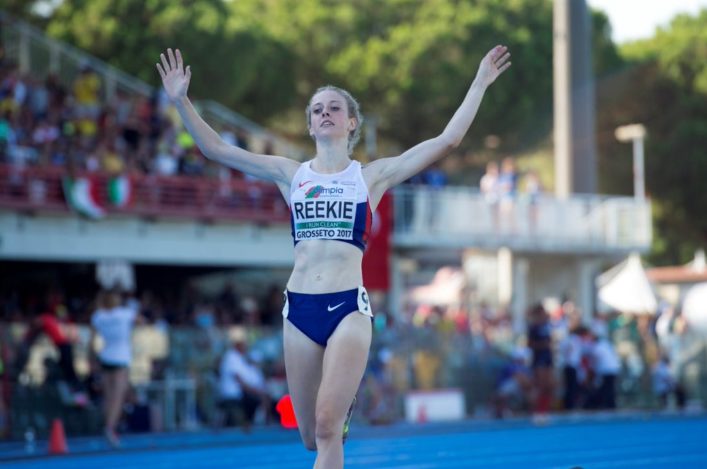 Jemma celebrates her European U20 gold in the 1500m in Italy in the summer of 2017 (photo via European Athletics)
Jemma Reekie has thanked her good friend and flat-mate, Laura Muir, for helping to 'mentor' her emerging athletics career.
The young Scot has been coached by Andy Young for the past five years and training alongside the five-times European champion and double Diamond League winner has brought a rich reward.
Reekie broke three British Indoor Records early in 2020 and recalls a phone-call across Europe in the summer of 2017 as a key moment.
'Yes, Laura has definitely been something of a mentor to me if you want to call it that,' said Jemma, in our Coaching Conversations interview series.
'I remember when I was competing at the Euro U20s and trying a 3000m and 1500m double (in Grosseto in Italy in the summer of 2017). We were not close friends at that stage but had been training together for a couple of years.
'I was able to call Laura after I'd finished fourth in the 3000m final on the Saturday afternoon and had the 1500m final the next day.
'She was travelling up to altitude training somewhere else in Europe but as soon as she picked up the call I knew she would buck me up.
'It was just great to have that chance to talk to someone with Laura's experience – and I went out and won the 1500m gold the next day.'
Please SUBSCRIBE – Join Us on YouTube
Reekie also has huge admiration for the way Muir managed to balance her University degree with her athletics for a number of years.
'Laura is determined and works so hard – that is what you see close up,' said Jemma.
'Athletics-wise, she is good at everything! She is good at speed, she is good at speed-endurance, and she has the endurance for fast 5k sessions, too. She can still knock out a crazy-fast 800m and she can do a crazy-fast 5000m.
'I also respect so much the way she has managed to balance things and do a Uni degree.
'For me, it has been athletics, athletics, athletics in my life but Laura has had two really big careers and at one stage was doing them right together. I think that shows the strength of her mentality. She was still delivering really strong performances while her Uni finals were on.'
Laura for her part feels she's been a perfect 'guinea pig' for coach Young – and now hopes the elite training group based in Glasgow can savour further success in the future.
'There's no doubt in my mind that over the next few years we will have more athletes join the group and they will have success,' she said.
'It is really nice to look back and think that Andy and I have started something significant.
'We now have a situation where we've a couple of younger ones in the group who are taking down age group records that were set by Jemma and myself.
'I feel so lucky that things have fallen into place as they did. If I had not come to Glasgow for Uni then it might have been very different. I don't know if I would even still be running. Maybe I would have been – hopefully I would have been – but it might have been at club level.
'Things slotted into place and after we had some success, it attracted more athletes to the group.
'Looking back, I guess I was sort of the guinea pig for Jemma.
'Andy and I in the early years tried different things and looked to see what would work and what wouldn't. Now we know what works – so there is a template there for Jemma, and others, to follow.
'Jemma can look at the bigger picture of the programme and say 'If I look at where Laura was at a certain stage (or age) and where she is now, then I can keep following the plan'.
'She is probably faster than I was at her age and stage, right enough! Seriously, it is all about having trust in Andy and trust in the training.'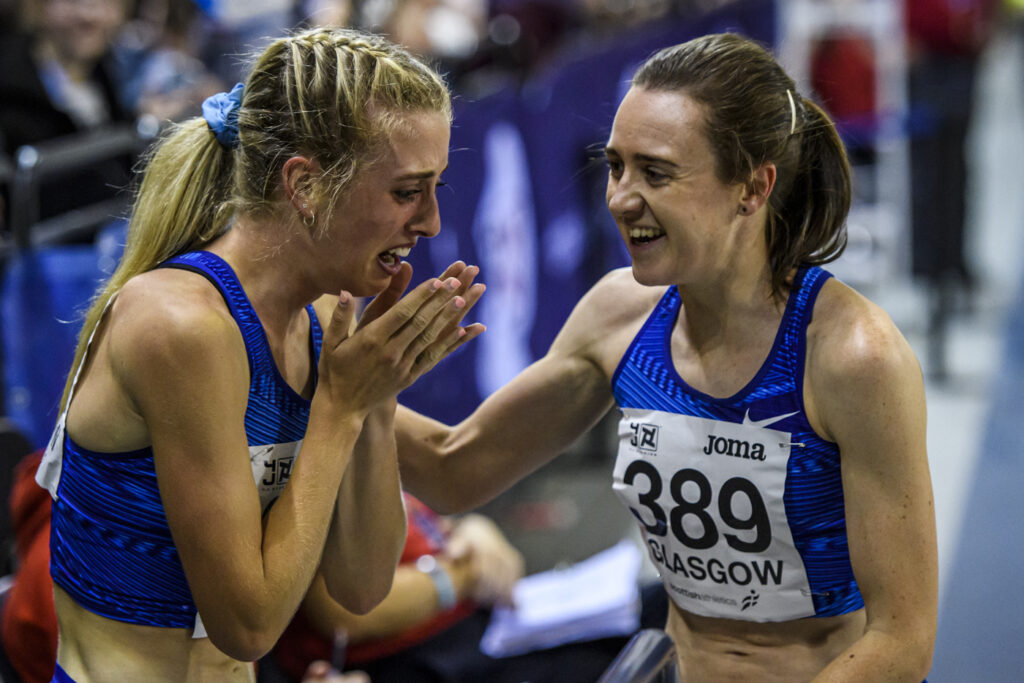 Photo by Bobby Gavin
Over the years, with hard work and consistent training, the now 22-year-old from Kilbarchan AAC athlete has started to 'make up the ground' on Muir over hundreds of track repetitions.
'Before Jemma joined the group (pre-2015) I was running by myself or running with the boys,' recalled Laura.
'She was very keen from the start and prepared to work hard. She had a long way to go but the promise and potential was there. It is really nice to see the way she has developed.
'And for me it has been so helpful to have Jemma progress to a point where we can run together and we are both getting faster.
'Honestly, we're not competitive in training! We have a plan, usually. Someone will take the first rep (repetition) then someone else the next one. If someone is tiring, then someone else might come through and take over leading it to benefit the group.
'Occasionally the shout will go up 'You've got this now' and someone has to take over at the front. So it is good to have that help.
'If you turn up for training one day maybe feeling tired, then the group can pull you along a bit. You have to say to yourself 'I am still going to have to train at this world class level, even if it means just hanging on to someone else'. You focus on getting to the end of the rep. And then the next one.
'When you take the rep, you take some responsibility. Sometimes I find myself thinking 'If I muck this up, then so will Jemma. Let's not muck up.'
'It now feels like I've always been training with her.'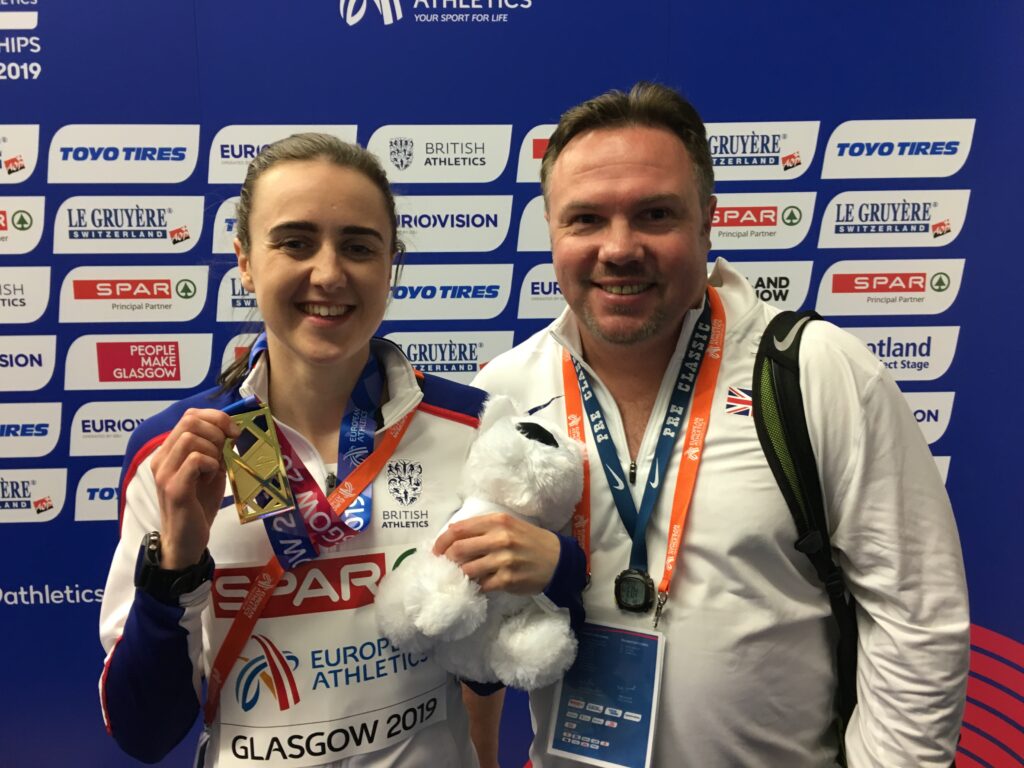 Laura and coach Andy Young celebrate at the Glasgow 2019 European Indoors where the Scots won double gold (photo by Sue Gyford)
Tags: Andy Young, Jemma Reekie, Laura Muir