'PE beep test sparked my love of athletics' – Maria Lyle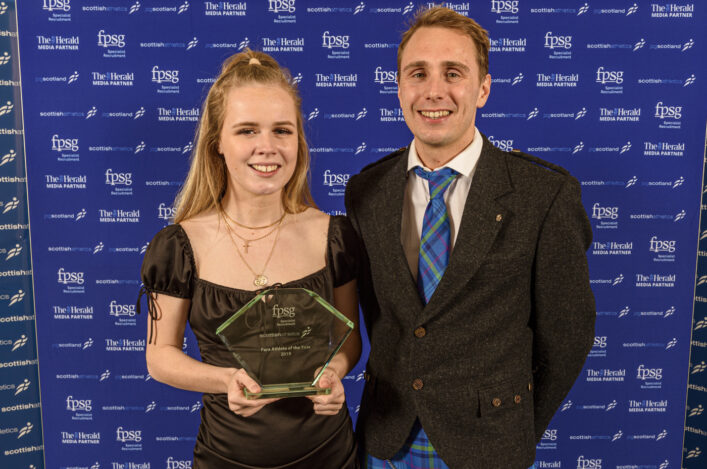 Maria was named Scottish Para Athlete of the Year for 2019 and is pictured with her coach, Jamie Bowie (photo by Bobby Gavin)
Coaching Conversations – our playlist on YouTube
Maria Lyle has recalled the life-changing moment which stirred her love of athletics and propelled her from a nervous nine-year-old to Paralympian.
The Dunbar 20-year-old was Scottish Para Athlete of the Year for 2019 after winning double golds in the sprints at the Para World Champs in Dubai last November.
Lyle and her coach, former GB and NI 4x400m global medallist Jamie Bowie, have been speaking in our Coaching Conversations series about her career and their athlete-coach partnership.
But it was a 'Beep' test in primary school PE – led by her mum Susan – more than 10 years ago which changed Maria's life and set her a road which includes three medals at the Rio Paralympics when aged 16.
'People have perceptions of you when you have a disability (cerebral palsy) and that was the case for me in primary school,' said Maria.
'One day when I was in about primary four, we had a multi-stage fitness 'Beep' test type thing to do.
'I wasn't any good at anything and everything and I wasn't looking forward to it at all – even though my mum (Susan) was the teacher. Running at that stage usually ended with me falling over 90 percent of the time and cutting my knees.
'But I thought I would have a go and, basically, I was the last pupil standing at the end of the test. That one moment sparked my love of athletics.
'I joined the local running club in Dunbar and after a while started competing in disability events. I felt a sense of inclusion with the group at the club and I loved it at Dunbar Running Club.
Join us on our YouTube channel – please subscribe
'That test was the first time I'd felt I could be good at something and felt a sense of achievement. I think everyone was surprise and I was surprised as well. I suddenly thought 'I can do running' so that was a big moment for me.
'Within a few years my mum started looking at Para sport competitions and my parents took me all over the country to compete. Sometimes I was crying on the start-line I was so nervous but I managed to get over that.
'Para sport is different from able-bodied athletics: with less numbers, you can compete at international level at 14. That's normal in Para sport. I did that and managed to cope with it – although I could run the times at the age of 12 I could not have coped with it at that age, being at competitions and so on.'
High profile success at a very young age did not come without issues, however, and Maria has been very candid about mental health issues in her mid to late teens. A move to a base near London did not work out.
'I think I rushed my development as an athlete too much,' she said.
'I moved from a club and group environment to a more specific, performance environment. I was trying to improve but I think athletes at that stage in their teens need a group to help keep the enjoyment going.
'I went to near London and I was in a group with able-bodied guys who were on the UK Athletics Performance Programmes – they were capable of running 10.4 or 10.3 for the 100m.
'It was all a hugely different experience for me and it reached a point where my mental health was not the best. I had to come home. It was too big a step for me at that time.'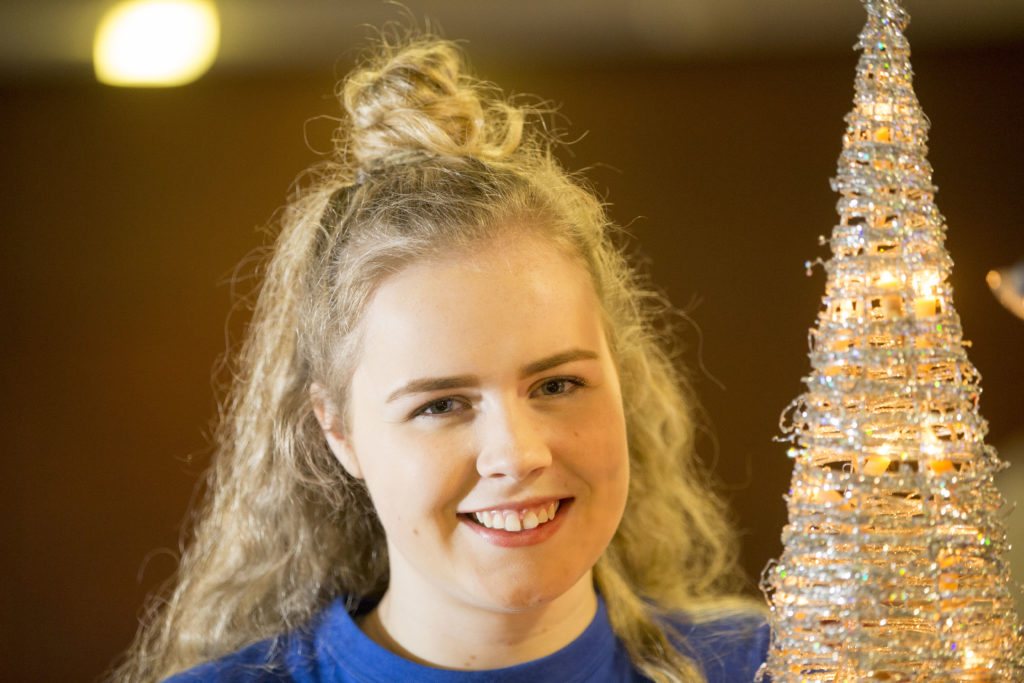 Maria at Christmas 2017 at the Team Scotland announcement for Gold Coast 2018
Linking up with then fledgling coach Bowie provided the right platform.
'I've known Jamie a long time around athletics in East Lothian. When I came back, I was in a bad place and even just the basics of training in the gym and on the track needed sorting out.
'My mum and I approached Jamie and thankfully he had just started getting into coaching. With his help, I went back to basics.
'I struggled again after the Commonwealths in Gold Coast in April 2018 (Maria won silver). I was quite open about my mental health issues and Jamie spoke with my mum and dad about it. He does not just see me as an athlete he sees me as a person.
'When we went to Dubai for the Worlds last November, it was more about enjoying it all again.
'I'd actually reached the point where dreaded race day. But, this time, I was looking forward to it again and it turned out far better than we could have hoped with two gold medals.
'In Para athletics, with the re-classification system, you can be No 1 in the world one day and then all of a sudden you are No 2 or No 3 when another athlete is suddenly in your event. That is part and parcel of Para sport.
'I would not say I was obsessive about it – being No 1 or whatever – but it can be tough to deal with at times. Especially when I was so young.
'Fortunately there is a good wee support system of Scots in the GB and NI Para teams. We've been together a few years now and it is nice when someone can understand what you are saying! Some of them have known me since I was 14.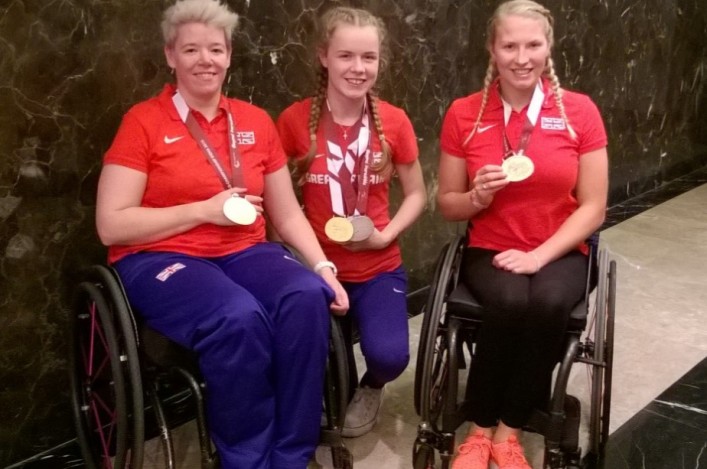 Support system – the likes of Jo Butterfield and Sammi Kinghorn have helped Maria with the trio pictured here in 2016
'Now I want to see how I can get on in a better place mentally. I want to see how I can perform. But even if I wasn't an athlete at this level I think I would still be training because I love keeping fit.'
Bowie for his part hopes changes in the Para pathway, with the introduction of age group events, will help young athletes cope better.
'One of the things in Para athletics is that the competition you face can change very suddenly with reclassification or new athletes appearing on the scene or in your event,' he said.
'Fortunately, there's been an introduction now of Junior and age group Para events. That should help development.
'I look back on my own career and my first big moment with GB and NI came at U23 level. Maria was competing at World and European level at 14. I cannot imagine trying to handle that – competing at an open graded event inScotland and then suddenly pitched into a major event. I think that would be so difficult to get your head around.
'So some of the challenges Maria has faced have come from being in that environment.
'Through all of that, she's become very mature. I give her ownership of much of the training programme and the big picture we're working towards rather than her just following my lead.
'Maria always wants to analyse what she is doing – to the extent that he is now at Uni for a Sports Science and Coaching course.'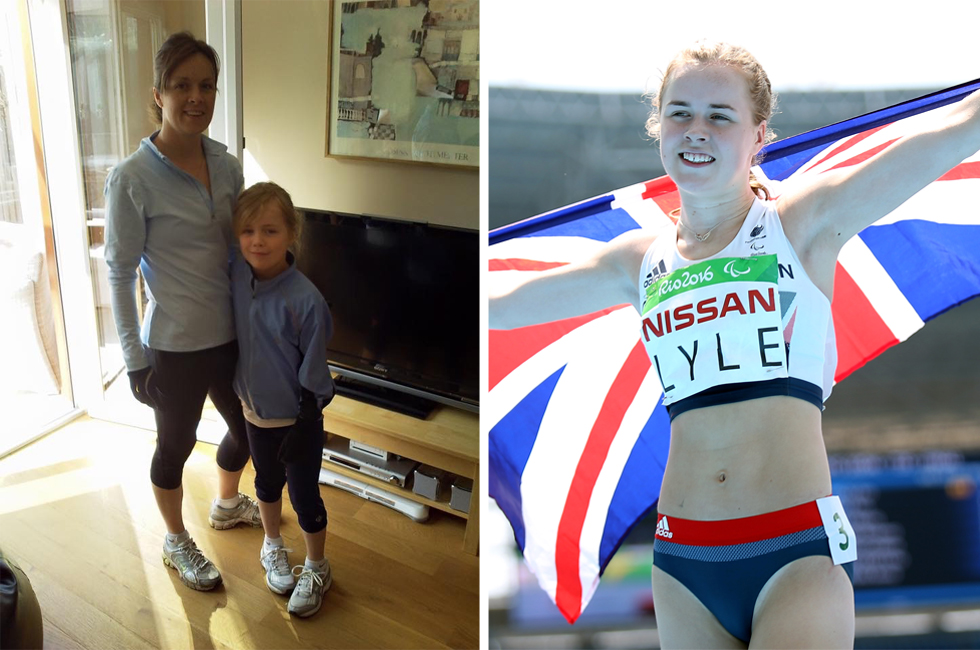 Tags: FPSG Para Athlete of the Year, Jamie Bowie, Maria Lyle, Para Athlete of the Year, World Para Champs