'Why I keep pushing on with training' – Sammi Kinghorn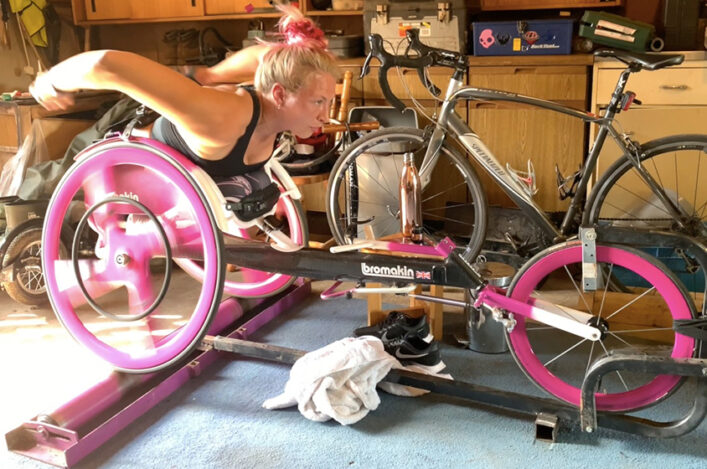 Photo via Athletics Weekly
World Record bid fuels Sammi – report in Athletics Weekly
Sammi Kinghorn is staying motivated with Paralympic and World Record ambitions for the years to come – despite the frustration of curtailed race plans for 2020.
The Scottish wheelchair racer has been spending the lockdown period on her family farm in the Borders and has been spending her time training and caring for new-born lamb, Ruby.
One of Sammi's remaining significant goals in Para athletics is to break 16 seconds for 100m and it is that aim which fuels her hard training sessions.
'I would love to get under that 16-second barrier,' the double 2017 world sprint champion, who already holds the T53 200m world record with 28.61, told Athletics Weekly via an interview with McLeod Media.
'No one has ever done it in my classification before in the 100m. That's what I'm training for, pushing for, right now.
'I always love the thought of breaking barriers.
'To win a Paralympic medal, that's the dream, that's why I'm doing it. It's all about the trying to achieve that goal of being in the middle of that podium one day and hear my national anthem.'
+++
Derek Rae has been lined up for an interactive interview by Scottish Disability Sport.
You can register via the link in the Tweet below for the online event on Tuesday 9 June at 7pm.
+++
And Stef Reid has been busy training at home, too.
The Scottish T64 long jumper has been helping Scottish Disability Sport with their ChallengeAParalympian series of exercises for Para athletes to work on.
Tags: Athletics Weekly, Derek Rae, Sammi Kinghorn, Scottish Disability Sport, Stef Reid