Green shoots of growth at Gala Harriers . . .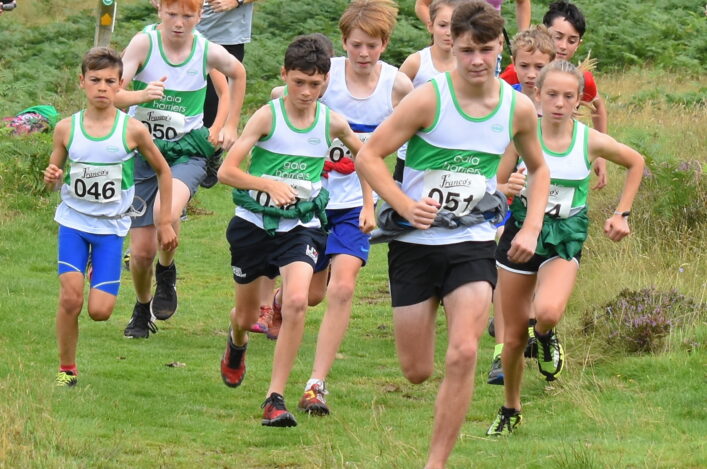 By Katy Barden
Arthur Conan Doyle, creator of Sherlock Holmes, was one of the original patrons of Gala Harriers when the club was formed in 1902.
When the club celebrated its centenary in 2002, former Scotland Manager Craig Brown was a guest speaker and shared his own stories – less criminal and more celebratory. He remains the last Scotland Manager to steer his team to a major tournament (FIFA World Cup, France 1998).
In spite of its famous connections, however, Gala Harriers is less about status and more about driving participation. Any success is a bi-product of the efforts of athletes and club officials.
From its early male-dominated days, it has evolved from a primarily road and cross-country club to an all-encompassing athletics club, a move driven in part by the growth of its junior section from the early 2000s.
'We had a handful of junior members to begin with, but now we have more than 100 junior members which is almost half of our total club membership,' says Neil Renton, the club's Head Coach.
'The introduction of our junior section has made us think and act differently. We were historically an endurance club but not all kids are endurance athletes, so we had to adapt.
'We've also developed an effective coaching structure to support the numbers of athletes we're working with.'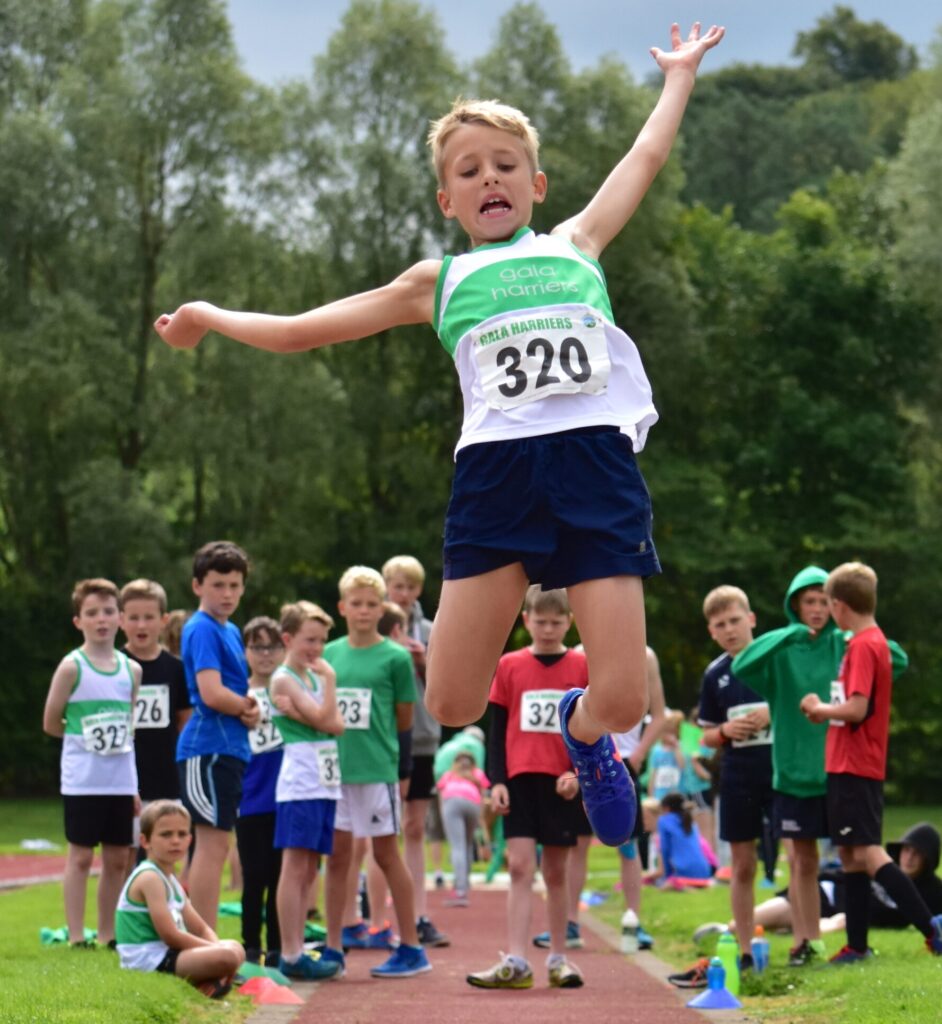 Photo by Neil Renton
As a founding partner of Team Borders, Gala Harriers has played a crucial role in the competitive development of young athletes from across the region and not just within the club.
Created with the support of the Scottish Borders Athletics Development Group, Team Borders was set up to maximise numbers, providing competitive opportunities and ultimately, a performance pathway which didn't previously exist. It's an aspirational concept which brings together athletes from U11 to U17.
Success has come quickly, with the team winning the Forth Valley League for the last five years.
As athletes have progressed through the age-groups, their talent has also been carefully developed and nurtured.
Zoe Pflug – who led Scotland to Celtic XC U23 gold at the Stirling Cross Challenge in January – has benefited from the performance pathway and solid coaching structure put in place by Gala Harriers, in addition to regional funding provided by Live Borders.
The 19-year-old is now an Edinburgh University student and competes for Edinburgh University Hare & Hounds.
'I went straight into Neil's (Renton) group when I joined the Harriers aged ten,' she says.
'My best friends were running too which made it so much easier. I just loved running and the group was so good and Neil was so positive.
'We all trained together from U13 through to U17, boys and girls. There was no segregation and we all knew everyone and we knew how everyone was doing. Even now, all the juniors that I ran with cheer me on in my races and I hope I'm a good role model for them.
'Neil is focused on making you love running. He keeps you healthy and ensures you're enjoying it. He gets you to the point where you're ready to transition to a successful senior and he knows when it's time to step-up and make a change.'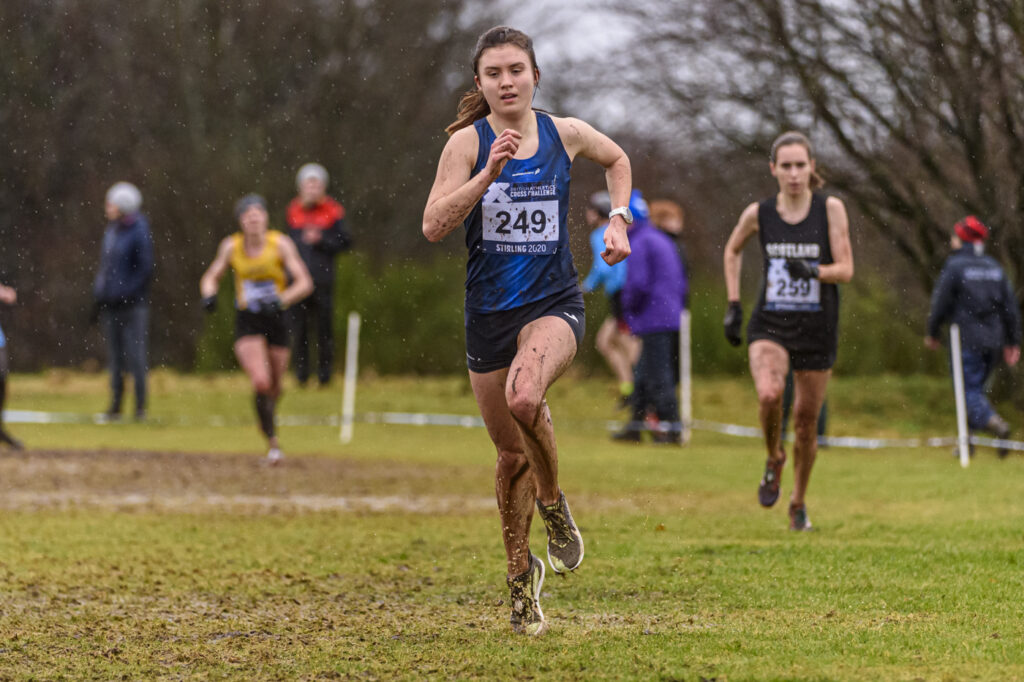 Zoe represents Scotland at Stirling XC early in 2020 (photo by Bobby Gavin)
Although the Harriers loss is the Haries gain, Renton is pragmatic.
'If an athlete goes off to uni, then it's the right thing for them to join the University club or a nearby club – it's life experience,' he says.
'It's a different story if there's no coach to work with, but in Zoe's case, she's got a great coach up there in John Lees.
'John sets her sessions and feeds back to me, and I see her at races. We've helped her by creating a pathway, and although she's no longer a Gala Harrier, that's still something for us to be really proud of.'
Across all age groups, Gala Harriers athletes have earned District and National vests, as well as winning individual and team titles.
'It's great for the club to see athletes progress to district and national standard,' adds Renton.
'But it's equally important to see Harriers of all ages taking part in events throughout the year, such as the Borders XC Series. It's a simple concept, but it's a great vehicle for introducing kids – as well as older athletes who are new to the sport – to cross country.'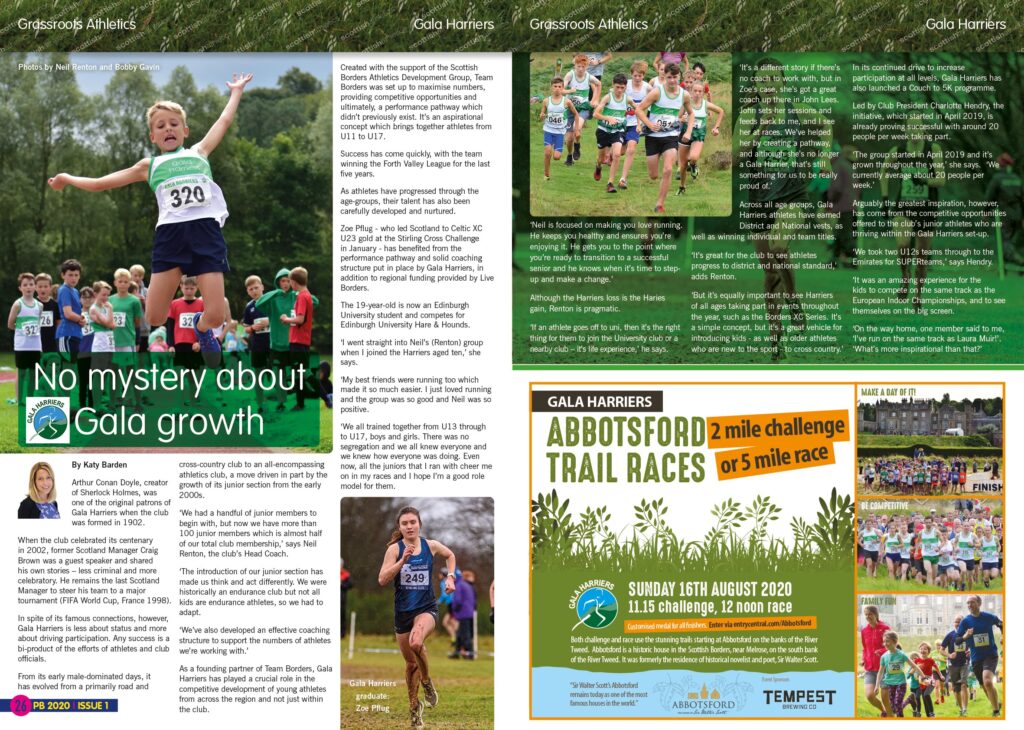 Katy Barden's article on Gala Harriers first appeared in PB magazine in March
In its continued drive to increase participation at all levels, Gala Harriers has also launched a Couch to 5K programme.
Led by Club President Charlotte Hendry, the initiative, which started in April 2019, is already proving successful with around 20 people per week taking part.
'The group started in April 2019 and it's grown throughout the year,' she says.  'We currently average about 20 people per week.'
Arguably the greatest inspiration, however, has come from the competitive opportunities offered to the club's junior athletes who are thriving within the Gala Harriers set-up.
'We took two U12s teams through to the Emirates for SUPERteams,' says Hendry.
'It was an amazing experience for the kids to compete on the same track as the European Indoor Championships, and to see themselves on the big screen.
'On the way home, one member said to me, 'I've run on the same track as Laura Muir!'. 'What's more inspirational than that?'

Tags: Club in Focus, Gala Harriers, Katy Barden, Neil Renton