Athletes declare for Scotland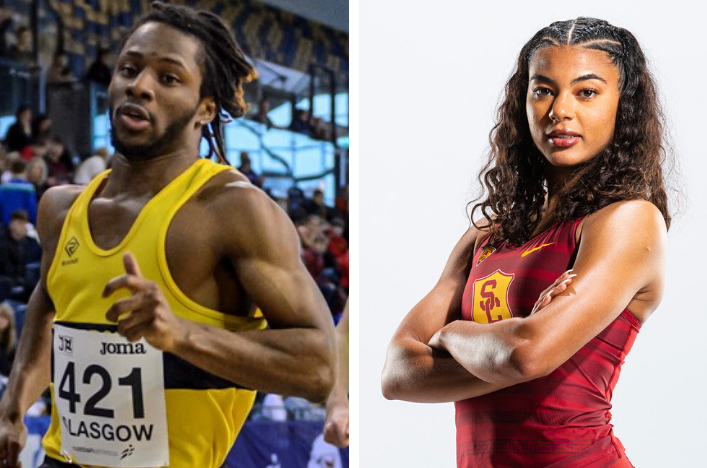 Krishawn Aiken and Nicole Yeargin – the two sprinters have been cleared for eligibility to represent Scotland
A host of athletes have recently declared for Scotland including a trio who look to have significant potential to compete at international level.
Eligibility has been confirmed for all the athletes mentioned herein via the various rule and regulations (see foot of article).
And those newly confirmed athletes include Nicole Yeargin, a 400m runner with 52.76 best for last year; high jumper Will Grimsey, with a 2.24m PB from January; and sprinter Krishawn Aiken, who has a 400m PB of 47.57.
USA-based Nicole Yeargin is at the University of Southern California and recorded bests last year of 23.26 for 200 metres and 52.76 for 400 metres.
This year she recorded 23.54w and 53.91 before the season was suspended. Nicole's mother hails from Dunfermline.
High jumper Will Grimsey (Woodford Green & Essex Ladies) cleared a PB of 2.24m in January and currently sits second in the UK rankings.
Kilbarchan AAC athlete Krishawn Aiken competed at the British Indoor Champs in Glasgow, taking bronze in the 400m.
There is also a new recruit in Combined Events. Decathlete Alex Hookway has a best score of 5,628 points and scored 4,133 points in the indoor heptathlon this year.
Alex is the son of former Scottish international and heptathlon record-holder Val Walsh and competes for the same club his mother did, Tonbridge AC.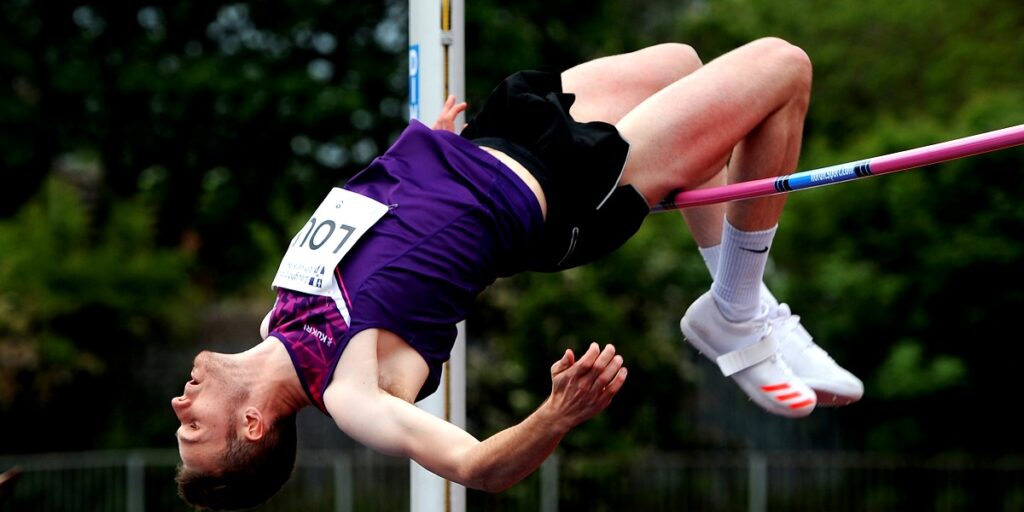 High jumper Wll Grimsey in action for Loughborough Uni (photo via British Athletics)
A number of other athletes have had their status now confirmed as Scottish:
Virginie Barrand (Metro Aberdeen) 80:47 Half Marathon; Cameron Bell (Hallamshire) 3:46.27 1500 metres; Ewan Bradley (West Cheshire, U20) 4.41 Pole Vault; Stewart Greenhalgh (Bromsgrove & Redditch, U20) 6.94 60 metres; Peter Hodkinson (Notts AC & Hunters Bog Trotters) 31:06.95 10000 metres; Christian Volodiev Hristov (Glasgow City AC) 10.92w 100 metres; William Ronald (Corby & Kilbarchan, U15) 2:17.70 800 metres; Cara Terry (Cookham, U17) 4:38.94 1500 metres; Hamish Wolfe (Heriot Watt University) 33:12 10k.
*Athletes are eligible to represent Scotland if they
a) have been born in Scotland;
(b) have either parent born in Scotland
(c) have continuously resided in Scotland for a period of 3 years immediately prior to the date of acceptance of eligibility by Scottish Athletics Ltd;
(d) have been declared eligible, selected for and competed for Scotland in an international whilst previously qualified under (a), (b) and (c) and have not since been rendered ineligible by competing for another country, either in the UK or elsewhere.
With thanks to Arnold Black
Tags: Arnold Black, Krishawn Aiken, Nicole Yeargin, Will Grimsey