Coronavirus update: message from our CEO Mark Munro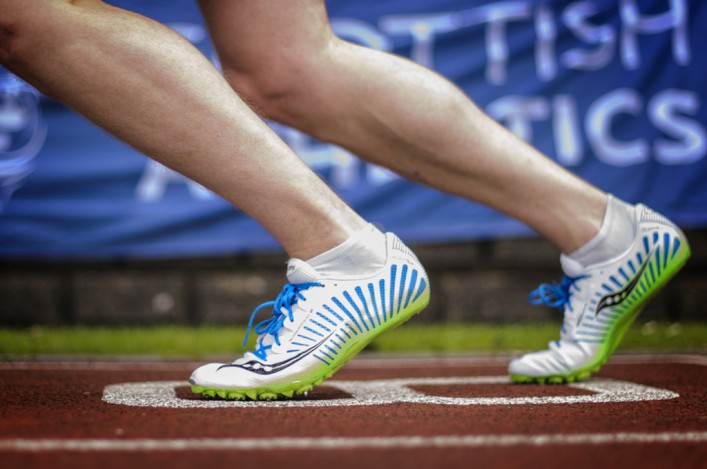 Coronavirus: help, advice and contacts for clubs
Chief executive Mark Munro has urged scottishathletics members to help the sport survive the wide-ranging impact of the coronavirus crisis.
Event cancellations and postponements have been happening over the past couple of weeks as the inevitable consequence of lockdown.
The financial implications for scottishathletics as governing body over the coming weeks and months will be significant and we are making a series of cost savings and looking to see where Government assistance is available.
That's why Mark has also asked members – wherever possible – to keep supporting their clubs and ourselves as an organisation via membership fees.
He has also highlighted a whole range of scottishathletics programmes, measures and activities which will continue to happen during the COVID-19 shutdown and reminded members to seek help around mental health issues if required.
Here's a message to members from Mark:
Dear Member
'I thought it would be useful to bring our members up to speed with the current situation we face as an organisation during this very difficult time for everyone.
'As you are aware, these are unprecedented times and we appreciate that there is a lot of uncertainty and many concerns facing our membership across various levels – work, personal life and beyond.
'It is important that we all stay safe during this period, follow Government guidelines and help each other where we can.
Coronavirus: licence renewals for Coaches and Officials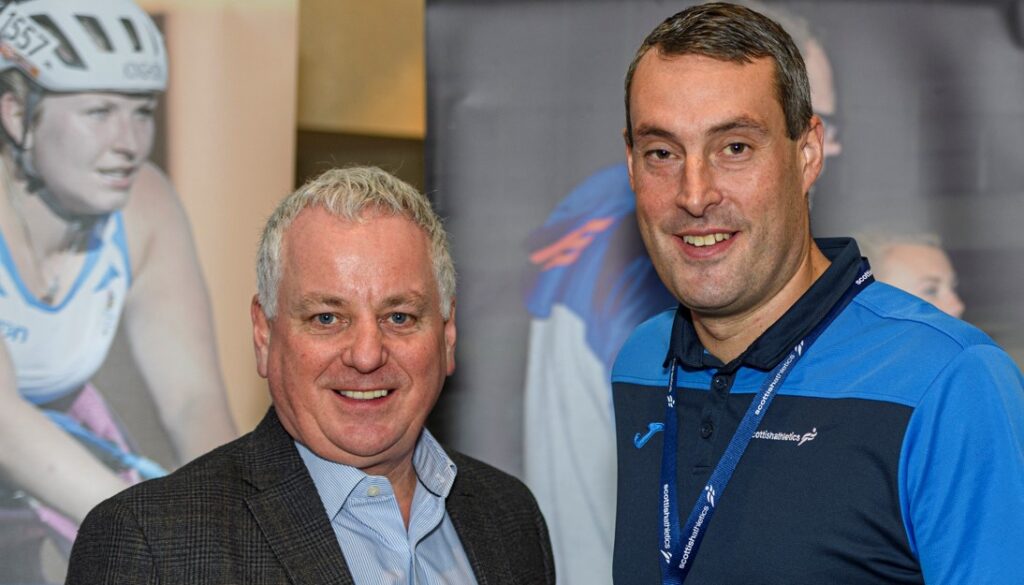 Mark Munro (right) with Honorary President Jack McConnell at our Club Conference last year (photo by Bobby Gavin)
'During this time, we will be adapting our ways of working to ensure we continue to bring an appropriate service to our members and clubs as well as 'events' and programmes of support across the various levels of the sport.
'For example, over the coming week or so you should see information on a scottishathletics Virtual Run Challenge Series; we are developing physical challenge events for athletes/clubs as well as continued training and workshops for club leaders, coaches and officials, delivered via online methods.
'We also have created new partnerships with external experts to provide guidance (financial/HR/club structures) to our clubs during this period.
'Many of you will have seen already, but we are working hard around the website and social media to keep you all engaged in this wonderful sport.
'All of this is being undertaken while we continue to manage the athletics calendar as more advice becomes available and a clearer picture emerges.
'In relation to our financial position at scottishathletics, we have been working hard behind the scenes looking at our projections and impacts for the first and second quarters of the new financial year (April onwards).
Given that we will see a massive reduction in race levies, a potential reduced income from membership, alongside the withdrawal of the UKA annual investment this year and loss of event sponsor income – our projections are that we will lose around £200,000 in the first quarter.
'If the impact is felt on the sport beyond the first quarter and into July, then that figure will be considerably higher.
'We are also very conscious that the global financial challenges will have a major economic impact on the state of the country's finances from 2021 onwards and that funding may be impacted for sport – Exchequer and Lottery funding to scottishathletics is currently circa £1M per year.
Virtual Challenge runs are coming soon from scottishathletics (photo by Bobby Gavin)
'As with any well-planned organisation, we are looking into budget savings as well as seeking Government support that may be available to us. We have also started to streamline the staffing structure to ensure we are making financial savings during the period.
'What we do ask in the meantime is that members, where feasible, and accepting the challenging circumstances in which our members face, continue to support your clubs locally by remaining as paid-up members.
'And, again wherever possible, we urge all members to renew their scottishathletics membership as it comes up for renewal.
'This will provide some additional stability to the sport during this time and allow us to come out the other side in a reasonable position.
'We would also like to remind our members that there is support available to you with regards to people's mental health.
'These are very tough and indeed alien times for us all. If you or anyone you know requires support then please do not hesitate to seek support.
'A link for our partners SAMH can be viewed online. Please do utilise their help if needed.
'In the meantime, we remain fundamentally a membership organisation and look out for communications around our upcoming events and programmes of support.
'Keep active but stay safe.'
Mark Munro

Tags: Coronavirus, Mark Munro